French Open 2012: Why There Are Reasons for Hope When It Comes to Roger Federer
May 14, 2012

Mike Hewitt/Getty Images
World No. 2 Roger Federer is fresh of a win in Madrid, but has yet to make his debut on normal, outdoor clay this season.
As he's questionable for this week in Rome, there's a chance he might go into the year's second slam with no match practice on red clay. 
It's well-known that Federer is without a slam win in the last eight matches, an eternity for his standards.
While the opposition is as daunting as ever—let's face is, Rafael Nadal and Novak Djokovic are pretty good, and Andy Murray, Juan Martin del Potro etc. are not too shabby either—there are a few reasons that Federer just might break his draught. 
Form
Federer is clearly the in-form player on tour. He's a remarkable 45-3 since the US Open, having won seven of the last 10 tournaments he's entered. That's almost Novak Djokovic 2011-like. 
The only problem? He's done it in the long stretch of the season, where only one major is played—the Australian Open—and he fell yet again against Rafael Nadal in that one major.
Did I say only problem? There's also the problem of Rafael Nadal, who—if judging by Monte Carlo and Barcelona (and why shouldn't we?)—is the in-form player on clay. As per usual. And Federer has lost to Nadal a commanding five times at Roland Garros.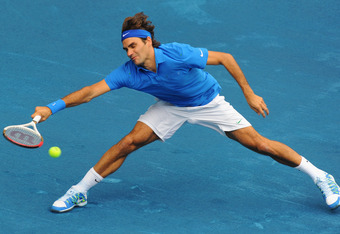 Mike Hewitt/Getty Images
Nevertheless, winning breeds winning and confidence, and Federer should be high on that. 
Mentality
In the past eight slams, Federer has hardly lost a match, he couldn't have been the winner in (with the Australian Open semifinal against Djokovic as the possible exception—but it was a very tight three-setter). 
In fact, he's lost multiple matches he should have won.
Most notable are, of course, his Wimbledon quarterfinal against Jo-Wilfried Tsonga, where he led two sets to love before being served off the court for the remaining three sets. And his US Open semifinal against Djokovic, where he also led two sets to love and held double match-point on his serve. And in 2010, where he also had match points against Djokovic in the US Open semi. 
But both of his defeats to Rafael Nadal were filled with chances. At last year's French Open final, the two were completely equal on points won early in the fourth. However, Nadal led 2-1 in sets, as a Federer drop shot had missed the line by a centimeter at 5-2 in the first. 
All in all, it's safe to say that Federer hasn't exactly been as clutch, as he's known for in the past two years of slam competition.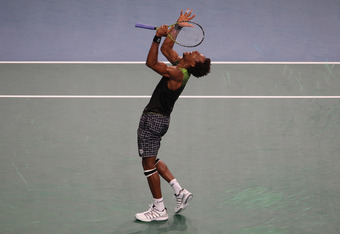 Michael Steele/Getty Images
And that's not confined to the slam season. What have his 2010 loses to Marcus Baghdatis, Tomas Berdych and Gael Monfils all in common?
Federer lost after being up match point. 
From early 2010 through to the US Open 2011, Federer lost multiple matches against lesser players after being up match-point. And multiple matches after having a set lead. 
Is there any reason to believe he will be regain his clutchness in those situations? 
In fact, there is. 
In fact, you could argue he already has. 
After winning the World Tour Finals in London for a record sixth time, Federer admitted that he had had some mental doubts in crucial situations in the past and that he felt he had now conquered them. 
Judging from his results, he's right. 
What could have thrown him completely off the rails—i.e. losing for the first and second time in his life in a major after being up two love in sets and even after holding match points against Djokovic—instead made him contemplate, think and revitalize his game and mental approach. 
And so far, it's worked wonders. You do not get a 45-3 winning streak without coming out as the winner in some tight matches.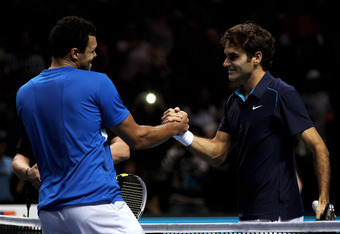 Clive Brunskill/Getty Images
In Madrid alone, Federer rallied from a set down two times against opponents—Milos Raonic and Tomas Berdych—who were basically unplayable for parts of the match. 
He got outplayed for stretches, but still found a way to win. That's the true mark of a clutch champion. 
In the World Tour Finals, he played Tsonga twice and came out on top in matches that he probably would have lost for the better parts of 2010 and 2011. 
There are still lapses, though. Two out of his three loses this year—to Rafael Nadal in Melbourne and to John Isner in the Davis Cup—have come after Federer has won the first set. 
Especially against Nadal in Melbourne, it was disappointing to see how Federer would start off like a whirlwind, then revert from game plan and dip and eventually fold.
His volleys were sub-par almost throughout the match, and you had a feeling he was thinking, "not again."
He missed a crucial overhead from the back of the court (after letting the ball bounce) to tie Rafa in the fourth. That was a bad loss. 
Yet a few weeks later, after falling unexpectedly to Isner in the Davis Cup, he beat Nadal easily on a slow court in windy conditions that should have favored Rafa. 
Mental demons conquered? 
Perhaps not completely, but they certainly have been put to rest to an extent they haven't been for years. 
And this—along with the state of his game of course—is what should give Federer's fans and the man himself hope heading into the French. 
Then again, is being mentally clutch enough to conquer Rafa at the French? 
It certainly can't hurt, and it actually just might have been last year. But this year (at least as of now), Rafa is partially free of that strange phenomena Novak Djokovic, who beat him twice in straights on clay. His doubts have been put to rests too—and that makes him all the more daunting in Paris.