7 Players Whose Return to Health Will Give Oakland Raiders a Huge Boost in 2012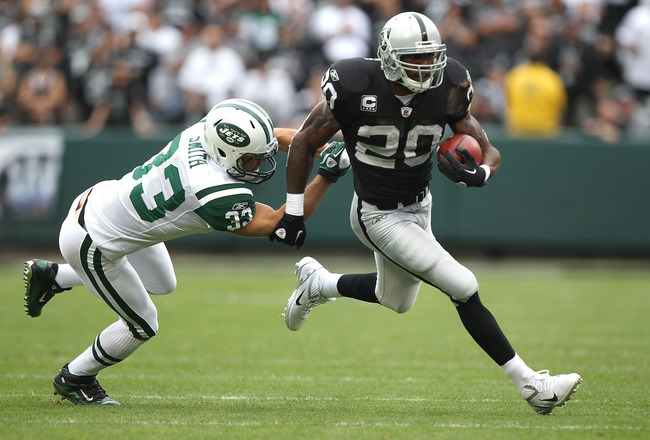 Jed Jacobsohn/Getty Images
Injuries resulted in the demise of the 2011 Oakland Raiders' season, one of the more interesting seasons in years.
Multiple key players missed large chunks of time and while injuries are part of the game, it's certainly easier to go without a star player for a week or two than for a month or two.
A return to health is vitally important for the team's prospects of a successful season and the Raiders hope these key players can return to health and give the team a huge boost in 2012.
Darren McFadden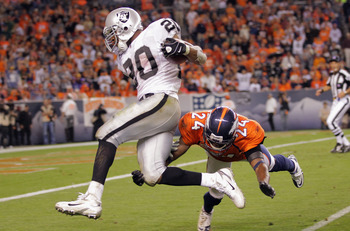 Doug Pensinger/Getty Images
2011 Games Missed: 9
Record Without: 4-6 (Including game of injury)
Darren McFadden was on pace for 2,000 total yards from scrimmage in 2011 before his injury and it's fairly obvious that he is the most important weapon the Raiders have on offense.
So important is McFadden, even competent quarterback play could not salvage the Raiders season. Carson Palmer was brought in by Hue Jackson to pair with McFadden, but struggled when the running game wasn't working.
McFadden and Palmer have yet to play together, but it is McFadden that must stay healthy if the Raiders are to return to the playoffs for the first time in a decade. The offense was good, but not good enough without McFadden to make up for the inabilities of the defense.
Matt Shaughnessy
Ezra Shaw/Getty Images
2011 Games Missed: 13
Record Without: 6-7
Matt Shaughnessy seemed poised for a breakout season in 2011. Coming off a seven-sack 2010 campaign, Shaughnessy dominated during training camp.
Three weeks into the season Shaughnessy injured his shoulder and it took the Raiders weeks to realize their best option was Desmond Bryant.
While Bryant did an admirable job filling in for Shaughnessy, the Raiders had a hard time creating pressure against the opposition team's best offensive lineman.
A healthy Shaughnessy should mean an effective 4-3 defense for the Raiders. In a league driven by quarterbacks, the Raiders hope one of their best at rushing the passer will be fully back to form.
Jacoby Ford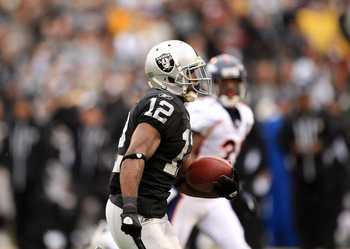 Ezra Shaw/Getty Images
2011 Games Missed: 8
Record Without: 4-4 (Including game of injury)
Expectations were high for Ford because of a rookie year that featured late game heroics against the Kansas City Chiefs and three kick return touchdowns in 2010.
The Raiders missed Ford more in the return game than at receiver as the team was only able to milk 11 returns out of him in 2011.
If a receiver is going to breakout it's likely going to happen between his second and fourth year. Ford still needs to transition from track star to receiver and the Raiders are hoping he can accomplish that this season.
Ford is penciled in as the slot receiver and kick returner. If he can stay healthy he should be able to help the Raiders in at least one area in 2012.
Chimdi Chekwa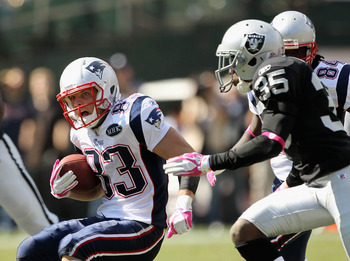 Ezra Shaw/Getty Images
2011 Games Missed: 12
Record Without: 6-6
The Raiders released two veteran cornerbacks and signed two more in the offseason, but it is Chimdi Chekwa and DaMarcus Van Dyke that will battle for a role as the nickel cornerback.
In the case of Chekwa, a hamstring injury landed him on the injured reserve list last November and he missed most of the season.
Chekwa got the start in Week 4 against the New England Patriots, but never had another opportunity to play. It was a tough first start, but he didn't play terribly.
A defense is only as good as the third cornerback and Chekwa has the chance to be the Raiders' third cornerback, but he'll need to fully bounce back from his hamstring injury to help the Raiders defense.
Taiwan Jones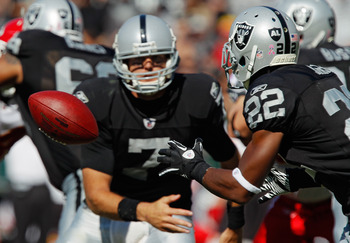 Brian Bahr/Getty Images
2011 Games Missed: 6
Record Without: 2-4
Jones was hardly utilized during the 12 games he was healthy, but the Raiders might try to do more with him in 2012. Michael Bush left via free agency and Jones will help backup McFadden along with trade acquisition Mike Goodson.
Like a multitude of other Raiders in 2011, Jones was suffering from a hamstring injury. New strength and conditioning coach Al Miller will want to take a deeper look into the cause and see if he can do to prevent the injuries in the future.
Provided his hamstring issue doesn't continue to be a problem, Jones could really do damage in the zone-blocking system with his speed. His thin build could actually be a trait that helps him squirt through running lanes.
Travis Goethel
Sam Greenwood/Getty Images
2011 Games Missed: 16
Record Without: 8-8
Travis Goethel hasn't played a down in the NFL since 2010, but if he can stay healthy, he will give the Raiders a legitimate backup middle linebacker.
Goethel will be pushing hard for a roster spot as the new regime in Oakland brought in several linebackers via free agency and the NFL draft.
The team can be held hostage by the play and personal life of Rolando McClain without a legitimate backup.
The Raiders drafted a near clone of Goethel in Nate Stupar and it will be interesting to see how the Raiders utilize the linebackers
If the Raiders plan to play more of the 3-4 defense, they need to find quality linebackers to execute the variety of different roles. Goethel isn't the fastest guy, gets the job done when healthy.
Michael Huff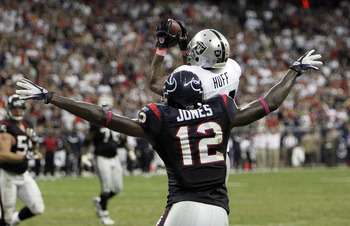 Bob Levey/Getty Images
2011 Games Missed: 5
Record Without: 2-3
Michael Huff might be one of the more versatile players on the Raiders. Huff found himself playing a lot of cornerback last season, but figures to move back to free safety full-time in 2012.
Huff missed a total of five games in 2012, but the final three of the season were crucial games.
An ankle injury lingered for weeks and Huff was trying to play through the injury for most of the year.
With a healthy Huff at free safety full-time the Raiders secondary will be in much better shape than it was last season.
The Raiders also will bring in a new defensive scheme and plenty of players in the front seven that can rush the quarterback.
Pressure is often the key to keeping an average secondary from being exposed. Huff is better than a lot of people think and it was an injury and playing cornerback that hurt him last season.
Keep Reading

Oakland Raiders: Like this team?