Arsenal FC: 20 Reasons for Fans to Be Excited About Next Season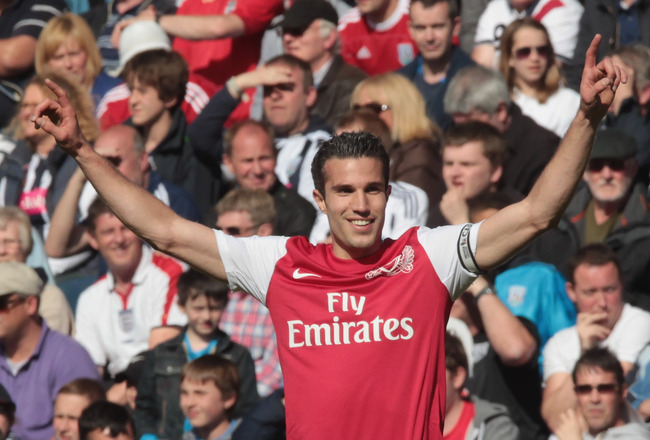 Ross Kinnaird/Getty Images
Arsenal finished third in the English Premier League on Sunday May 13, 2012 with an exciting 3-2 win over a tough West Bromwich Albion side that fought desperately to send off Roy Hodgson as he departs to take control of the English National Team after 18 great months at the Hawthorns.
Arsene Wenger will be happy the year is over, and the fans finally got to celebrate finishing above Spurs on the last day of the season.
In what was a frustrating season that turned to a success (though not as great as was desired from any party), the Gunners faithful can take solace in the future as next season promises to be much better.
Arsene Wenger Still Knows How to Get the Job Done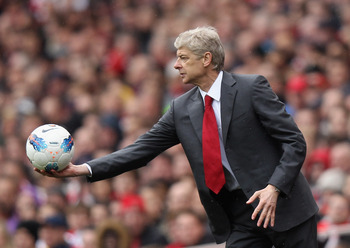 Bryn Lennon/Getty Images
The Gunners had a rough start to the season, but despite some hard-to-stomach results and the loss of Cesc Fabregas, Samir Nasri and Gael Clichy, he pulled his club back together to take third place.
Who Is Laughing Now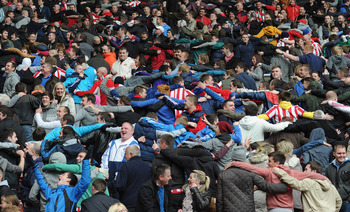 We Won, oh wait, nevermind
Michael Regan/Getty Images
Manchester United got the better of Arsenal in their 8-2 demolishing of the Gunners at Old Trafford.
However, despite that game seeing everyone write off the London side back in September, their humiliation will never be remembered as bad as the Red Devils fans and players celebrating at the Stadium of Light, only to get the call that Manchester City scored two goals in three minutes to come back and take the EPL title.
Robin Van Persie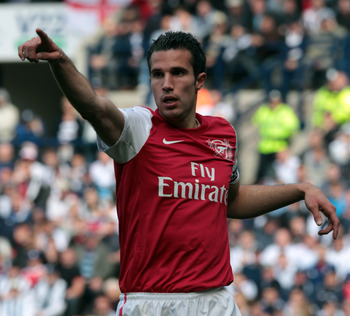 Ross Kinnaird/Getty Images
The rumors continue that Robin van Persie will leave Arsenal during the summer.
However, he still has one year left on his contract and if Arsene Wenger gets a few more signings like Lukas Podolski before the summer is up, RVP is likely to stay.
St. Tottenham's Day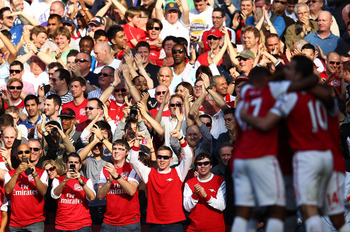 Julian Finney/Getty Images
Although it was left till late—very late—North London's Arsenal fans finally got to celebrate St. Tottenham's Day on the last day of the season.
For those of you that don't know, St. Tottenham's Day is the day Gunners fans celebrate the point in the season where Tottenham has no further chance of finishing higher in the table than Arsenal.
It also means that Arsenal go into next year still the top club in North London.
Lukas Podolski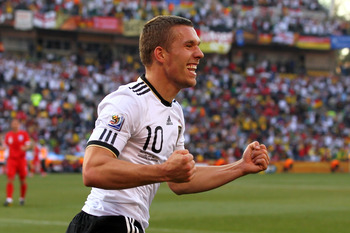 Clive Rose/Getty Images
I may not be a born-and-bred Arsenal fan, but I am a born-and-bred German national team fan.
My appreciation for Lukas Podolski on the international scene has me psyched to see how he performs alongside RVP and Theo Walcott.
Jack Wilshere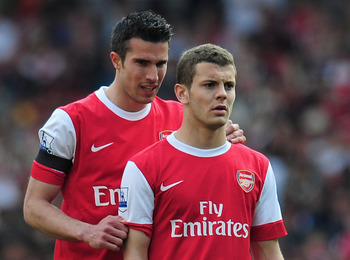 Shaun Botterill/Getty Images
Jack Wilshere was supposed to take center stage this past season following the departures of Fabregas and Nasri.
However, Wilshere never stepped foot on the pitch with a season's worth of injury problems keeping him out.
This summer, he is skipping the Euros and the Olympics just to be back next year.
Mikel Arteta Returns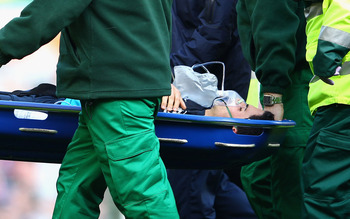 Clive Mason/Getty Images
When Mikel Arteta joined the Gunners at the end of the 2011 summer transfer window, there were groans that he was not good enough.
However, the more he learned about the squad around him, the better he got before an unfortunate injury kept him out the remainder of the season just as he was hitting his stride.
Alex Oxlade-Chamberlain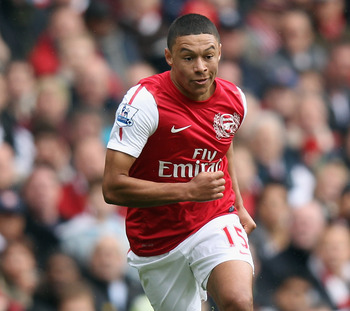 Bryn Lennon/Getty Images
The former Southampton star has burst onto the scene for the Gunners as his blistering pace and youthful exuberance have made him already a fan favorite.
Watching him develop right before the eyes of all who see him gives hope of a bright future at the Emirates.
Tottenham Could Be Gutted
Clive Rose/Getty Images
While Arsenal will be worried about losing RVP, there is much less for them to worry about.
However, their lifelong rivals across North London at Tottenham are still at risk of losing Gareth Bale, Luka Modric and even more of their key players that could see them back under Arsenal's boots for some time.
Getting Rid of Dead Weight
I knew I dove too soon.
Clive Mason/Getty Images
Arsenal should free up a lot of wage room with the sale of much of the club's underperforming dead weight this summer.
Sebastien Squillaci, Nicklas Bendtner, Carlos Vela, Manuel Almunia and also even Andrei Arshavin or Gervinho should all get the boot.
Players Want to Come to Arsenal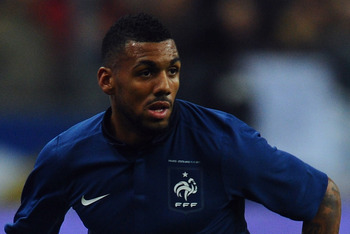 Mike Hewitt/Getty Images
Finishing in third place ensures players that doubted Arsenal that even when they lose big names at the start of a season, they can pull together and have a great season.
Yann M'Vila and others are highly linked with the club and there is still a great draw for players to join the only club to win an EPL title undefeated.
Bacary Sagna Returns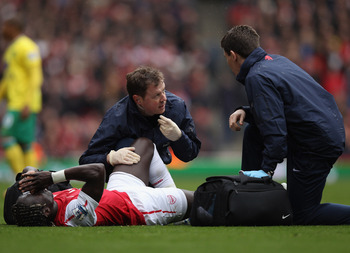 Bryn Lennon/Getty Images
Another set of injuries that hampered the Gunners this season were those of Bacary Sagna.
The French international managed to break the same leg twice in one season, but a full summer recovery should have him back in place for the club next season.
A True Attacking Partnership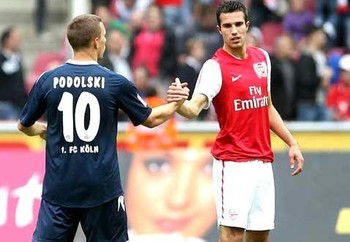 Time to make that much more common
It has been a long time since the Gunners have had two world-class strikers on the pitch together.
This coming season, the Dutch and German partnership of Robin Van Persie and Lukas Podolski will be a great one to watch develop.
The Value of Arshavin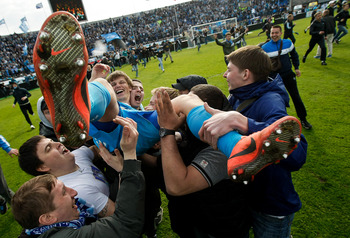 Arshavin carried off the pitch buy Zenit St. Petersburg fans
Epsilon/Getty Images
While the current Andrei Arshavin that Arsenal loaned out to Zenit St. Petersburg is a far cry from the Russian international that put four goals past Liverpool's Pepe Reina at Anfield in the 2008-09 season, this summer's European Championship provide the Gunners with a unique opportunity.
With Russia in what could be believed the easiest group of the 2012 UEFA European Championship, Arshavin could rediscover the form that inspired him to lead Russia on a great campaign in the 2008 Euros.
It was his form in the summer of 2008 that inspired Arsene Wenger to sign him, and it is likely his form in that same tournament that could either make him a valuable asset to the Gunners once more.
Granted, that value is likely to be from his transfer out of London, and the better his summer, the better his price tag will be as he enters the last year of his contract.
Better Finish Than Last Season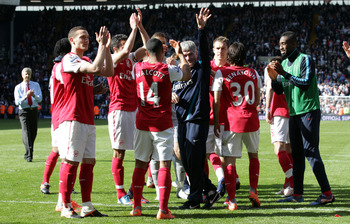 Ross Kinnaird/Getty Images
While many will have thought this was not the greatest of seasons for the Gunners, it was in fact their highest finish in the league since their 2009-10 campaign saw them finish third in the league as well.
It was not their greatest points return in third, but marks an improvement in the table.
Straight to the Group Stages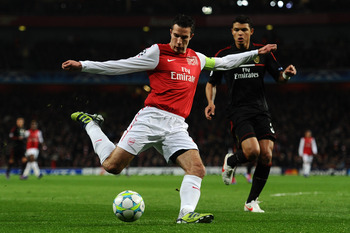 Laurence Griffiths/Getty Images
Not only do the Gunners get to return to the Champions League, but they punched their ticket without the need of qualification rounds this season.
Tottenham Could Miss out on Champions League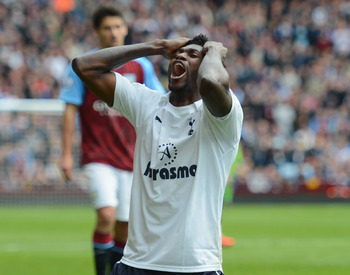 Shaun Botterill/Getty Images
Although the chances are slim, Chelsea could actually keep Tottenham out of the Champions League altogether if the Blues win in Munich next weekend.
However, that double-headed snake would mean that Chelsea would be the first London club to win the Champions League.
Financial Fair Play
While many clubs will be worried about the changes they will have to make because of the financial fair play rules, Arsenal fans can remain unworried.
Why? Because Arsene Wenger is a financial genius in the transfer market.
Yes, sometimes he gets it wrong, but the majority of the time he makes the right "cost effective" decision.
15 Years of European Nights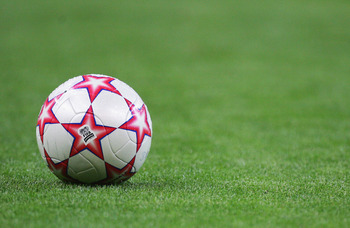 Laurence Griffiths/Getty Images
Next season will mark the 15th straight European campaign that Arsene Wenger has led the club.
I don't care if you love or hate the Frenchman, that is a fantastic accomplishment.
A Chance to Overtake United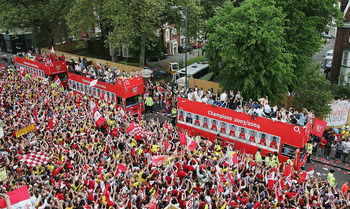 Clive Mason/Getty Images
With Manchester City knocking the defending EPL champions off their high horse, Arsenal will be presented with a chance to push further up the table this coming season.
Arsenal have youth and momentum on their side going into next season, while Manchester United are in desperate need of rebuilding.
This coming season is prime time Arsenal can push back to the top two of the EPL for the first time since 2004-05.
Conclusion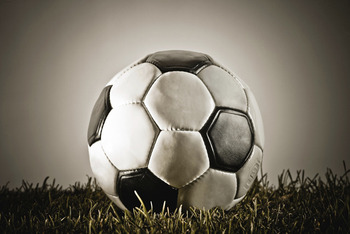 Arsenal have finished at third and fourth too many times the past few years.
It is time for them to jump back to the top and with the weaknesses of Manchester United exposed in the last few months, Arsene Wenger's club are sure to start taking advantage.
Thanks for reading, you can follow me on Twitter @thedailyatz, Facebook and Pinterest.
Keep Reading

Arsenal: Like this team?