Tiger Woods at the Players Championship: Par-5s Haunt Tiger at Players
May 13, 2012
Sam Greenwood/Getty Images
Ponte Vedra Beach, Fla.—Still struggling with his swing, Tiger Woods concluded The Players like Jekyll and Hyde, with a front-nine 40 and a back-nine 33.  
"We were looking back on it and didn't hit any bad shots, and here you are at two over for the day," Woods said after his round.   Technically, he was one over, but you get his point.
He said his week was a reflection of the way he played the sixth hole. 
"I pulled my tee shot in there, and I had just a nasty lie out of the fairway bunker," he began.  "It was sitting down, ball above my feet, and I hit it just absolutely perfect into the worst spot you could possibly put yourself."
But perhaps the best summary of his current predicament is his performance on the par-5s.  He knows it, said it last week and repeated it this week.  
Historically, in 2007, when Woods played a full season and won seven times in the US, he was second in scoring average on par-5s with 4.48 for the year.  That's a half stroke better than par for each par-5 on most courses.
That's more than a shot per round on most courses.  That's four shots per tournament, if he birdied all four par-5s for a week.  Granted, that is hard to do.  And there would have to be some eagles, bogeys and pars.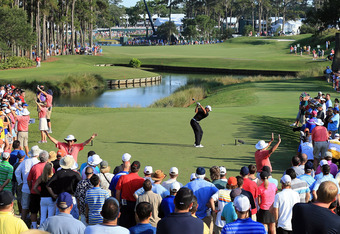 David Cannon/Getty Images
This week, Woods birdied 7-of-16 par-5s.  He parred the rest of them, for an average of 4.56.  He was in 21st place, late Sunday afternoon. 
If he birdied just half of the par-5s and had no other bogeys or birdies, he would have been minus-8 for any tournament.  Woods' inability to capitalize on the par-5s, which have been his bread and butter for the last 15-plus years, is the most significant reason his scoring has not been what it should have this week and last.
Woods' best round of the week came on Friday when he had six birdies, including three of the four par-5s and posted a 68.  
"I was just very consistent, and nothing spectacular, [it was] just real solid golf," he said about Friday.  He was trying to shoot a 66 because he felt he would still have a good chance to advance on the weekend with that total.  Four 68s would have given him a minus-12
"I felt that I did it well in spurts again," Woods said. "As I said earlier in the week, I just got to play the par-5s better than I did.  That's something I didn't do.  I had a lot of irons into the par-5s and didn't take care of them."
Equipment note:  Woods added metal spikes to is footwear last week at Quail Hollow, which helped with the athlete's nagging knee trouble. "My knee is finally healthy enough to take the pounding," he said.
Kathy Bissell is a golf writer for Bleacher Report. Unless otherwise noted, all quotes were obtained first-hand or from official interview materials from the USGA, PGA Tour or PGA of America.