Players Championship 2012: Rory McIlroy Hasn't Earned World No. 1 Ranking
May 12, 2012

Mike Ehrmann/Getty Images
For a second consecutive tournament, there is no sign of World No. 1 Rory McIlroy anywhere. In fact, his tournament is now over after failing to make the cut going into the third round of play.
The 2012 Players Championship has been as competitive as any, with five players atop the leaderboard at eight-under heading into the third round of play. Top talents Zach Johnson and Matt Kuchar continue to impress as they now battle it out with the other three leaders.
This is not only a tournament in which McIlroy should be among the top 10 in the competition. It is one which the Irish talent should be competing for with two rounds of play still remaining.
In spite of being the World's No.1, McIlroy has been struggling to put forth any sort of consistency in his play. 
These are the results of his last four appearances in 2012:
World Golf Championships - Cadillac Championship: 3rd place, (-14)
The Masters Tournament: 40th place, (+5)
Wells Fargo Championship: 2nd place (-14)
The Players Championship: missed cut (+4)
Talk about some inconsistent, unlikely numbers from what should be the No. 1 golf talent in the world.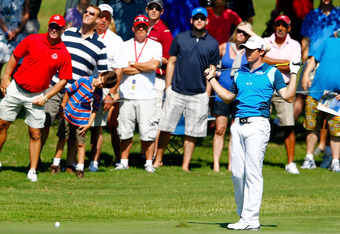 Mike Ehrmann/Getty Images
There is no denying McIlory's talent, as he has played especially solid golf over the last two years. Make no mistake about it, there is no denying that he has the ability to keep his No. 1 ranking and eventually earn it. 
This year, McIlroy has driven the ball as well as he has his entire career, averaging 302.3 yards per drive, a mark that ranks No. 10 in golf. Not to mention he boasts a save percentage of 69.6 percent, the third most in the world.
Yet to fail to bring any sort of consistency to the table is something that will continue to be an issue for McIlroy. Consistently performing is to dominate the field, which is something that McIlroy has failed to do just yet.
McIlroy will continue to compete and make the most of his tournament appearances, yet if he fails to win at a consistent rate and perform at tougher tournaments like the Masters, his ability and dominance in the sport will continue to be questioned.