Roger Federer: 10 Matches That Will Ultimately Define His Legacy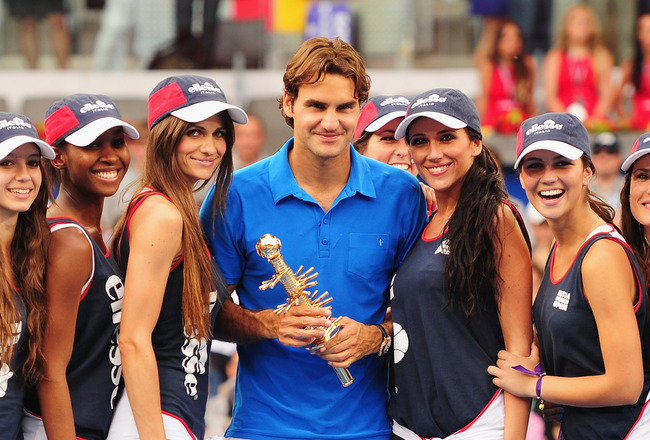 Mike Hewitt/Getty Images
Roger Federer is widely regarded as the best player to have played the game—no doubts about it at all. Some might point to Rafael Nadal and talk about his dominance over Federer, but Roger is beyond all this talk.
His statistical achievements speaks volumes of the man's single-minded pursuit of glory and greatness. For being so consistent in his career, Roger Federer stands apart from his illustrious peers as well as other legends in the game.
If one were to look back at his cherished career, there are some matches that will help one understand his legacy better.
Let us look at 10 such matches.
2008 Olympics Doubles
Roger Federer does not have an Olympics singles medal. Yet.
Fedex has a gold medal thanks to his win with Stanislas Wawrinka.
This year being an Olympic year, Roger will be eager to set his record straight at the hallowed lawns of Wimbledon.
Wimbledon 2003
It was destiny that Federer's first Grand Slam win came at Wimbledon in 2003.
After being ousted in the early rounds in his previous appearances, Federer found his sublime touch to defeat players like Andy Roddick and Mark Philippoussis on the way to his first Wimbledon title.
Not many would have predicted Federer to win four successive Wimbledons after this victory.
Australian Open 2004
Following up on his success in 2003, Federer notched his first Australian Open win in early 2004.
Justifying his reputation as No. 2 in the world, Federer reached the final after dropping only two sets in the entire tournament.
Defeating Marat Safin in the final, Federer would prove that his win in Wimbledon was not a fluke.
US Open 2004
After winning Wimbledon once again, all eyes were on Federer (who had also become No.1 by then) to win the US Open for the first time.
Roger did not fail his fans this time—convincing performances against the likes of Andre Agassi, Tim Henman and Lleyton Hewitt meant that the Swiss Master won the tournament while dropping only three sets on his way (Hewitt was bagelled twice in the three-set final).
Federer won three Grand Slam singles titles for the first time in his career.
Australian Open 2009
Dropping just two sets on the way, Federer was confident to take on top-ranked Nadal in the tournament final.
Despite winning the first set and taking the match to the final set, Federer could not break the shackles of Nadal in the final.
The post-match ceremony saw Federer break down inconsolably.
Fedex would come back the following year and win back the crown, however.
US Open 2008
Ranked No. 2 at the US Open for the first time after his heady success, Federer defeated Murray and Djokovic on his way to the fifth US Open title.
Federer was rarely troubled throughout this tournament, and it showed in the number of games he dropped in the win.
Wimbledon 2009
In the Wimbledon final, Andy Roddick lost to Federer in five sets.
The match included a fifth set made up of 30 games (match itself was over four hours long).
With that victory, Federer broke Pete Sampras' record of 14 Grand Slam titles.
French Open 2009
The 14th Grand Slam crown for Fedex came when his nemesis was out injured.
By winning on clay, Roger finally completed his Career Slam to join a very small group of illustrious legends.
Will Federer's reputation as an all-court legend get tarnished by the footnote that Nadal was absent in the finals when he won the French Open? Not sure. It was not his fault that Rafa was defeated in earlier rounds!
It is also remarkable to note that Federer has reached the finals of the French Open five times in the last six years. Not bad for a player who has only one title to show there.
Wimbledon 2008
After losing to Rafael Nadal in straight sets at Roland Garros, Federer would lose to Nadal once again in Wimbledon, bringing to an end a great run of five successive titles.
The match had all the makings of an epic, with Nadal and Federer trading blows till the very end.
The last set ended at 9-7 Nadal, marking a shift of supremacy in men's tennis toward Rafael Nadal.
Federer picked up soon after by winning yet another US Open title, but it was clear that Nadal had the upper hand from then on.
Wimbledon 2007
Five titles in Wimbledon for Roger Federer.
A great achievement for the legend who vanquished his famous opponent, Rafael Nadal, in the final.
Once again, three sets were dropped by Federer in the tournament on his way to the title.
Keep Reading