Madrid Open 2012 Schedule: 4 Matches You Can't Miss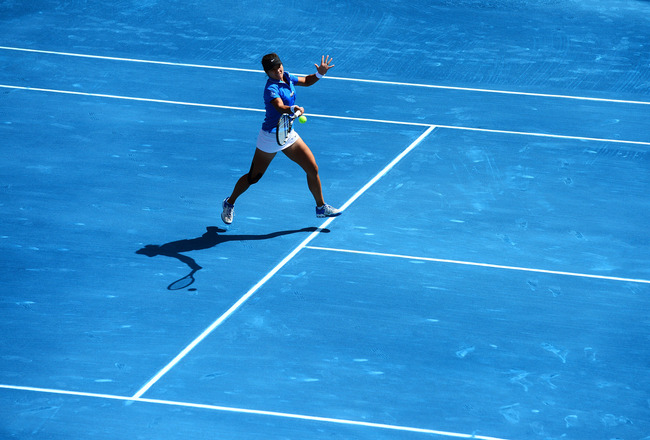 Jasper Juinen/Getty Images
The draw at the Madrid Masters is developing beautifully, providing quite a few can't-miss matches.
This year's event is the first to be played on blue clay, which is supposed to make tennis easier to follow for the viewer.
The surface has been called "smurf clay" by a few of the players, many of which have a difficult time keeping their footing on this slippery surface.
The best clay-court player in the history of tennis, Rafael Nadal, was upset by fellow Spaniard Fernando Verdasco in the third round.
Nadal spoke out against the blue clay whenever he got the chance, and who could blame him? He's dominated every clay court tennis tournament and is reluctant to see his beloved clay change.
Being in the later rounds of an important clay court tournament without Nadal is strange, but it also gives other players an opportunity to make a statement.
For example, on the women's side, Victoria Azarenka is attempting to solidify her status as the No.1 player in the world.
Here are four matches that any true tennis fan can't miss.
Roger Federer vs David Ferrer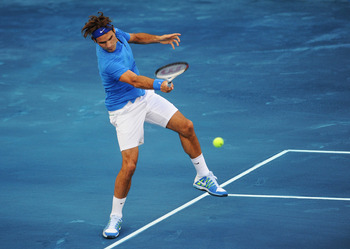 Jasper Juinen/Getty Images
Roger Federer owns a perfect 12-0 record against David Ferrer.
Unfortunately for Ferrer, the two will meet in the quarter-finals in Madrid.
Ferrer, who is solid from the baseline, needs to be more aggressive if he hopes to dismiss Federer.
Federer possesses more weapons than Ferrer, and must be excited to see the Spaniard next to his name on the draw.
This will be their first match on blue clay, and the unfamiliar surface adds a new level of uncertainty to this encounter.
If Federer wins this tournament, he will usurp Rafael Nadal as the No. 2 player in the world.
There is a lot riding on this match for both men. Ferrer has the chance to end his run of inadequacy against Federer, and a lot of ranking points are on the line.
With the blue clay presenting a new set of issues, the player that adapts best will be the victor.
This match promises to be played at a very high level, and is a can't miss match for any Federer fan.
Prediction: Federer in straight sets
Novak Djokovic vs Janko Tipsarevic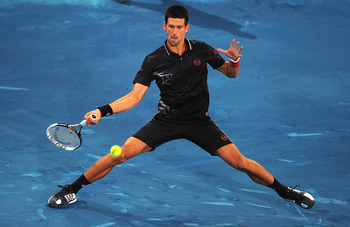 Mike Hewitt/Getty Images
All of Serbia will be watching as their two top ranked players–Novak Djokovic and Janko Tipsarevic–will face off in the quarter-finals in Madrid.
Djokovic currently owns a 4-1 record against his countryman, and is a heavy favorite to advance.
The two have only met on clay once, in Belgrade in 2009. That match went the distance. On that day, Djokovic separated himself in the third set, winning it 6-0.
Tipsarevic's lone victory came in last year's season ending World Championship event. However, Djokovic was exhausted for that match and was in desperate need of the offseason.
Djokovic had one of the greatest seasons in tennis history last year, incredibly beating two all-time greats in Roger Federer and Rafael Nadal several times to put together said season.
At the start of the clay court season, Nadal beat Djokovic in straight sets in the final at Monte Carlo. The match was reminiscent of how Nadal would beat Djokovic prior to the 2011 season. But outside of that match, Djokovic has looked very good on clay.
Tipsarevic will be eager to prove to Djokovic that he is a formidable opponent, and should provide a strong challenge to the world's No.1 player.
Djokovic routinely makes unbelievable plays, and is a must-watch anytime he is on the court.
Prediction: Djokovic in 3
Victoria Azarenka vs Agnieszka Radwańska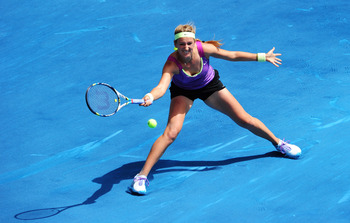 Jasper Juinen/Getty Images
Victoria Azarenka will face off against Agnieszka Radwanska in the semi-finals, with the victor most likely facing Serena Williams in the final.
Azarenka is having a terrific year thus far. She won her first major at the Australian Open, and compiled a 29-2 record coming into Madrid.
Radwanska has had little success against Azarenka recently, after loosing her last five matches against her.
Azarenka is still trying to prove that she's the best player in the world. A win in Madrid would go a long way in doing that.
If Azarenka's strong play continues, then she will be the heavy favorite to win.
However, if Radwanska is able to jump out to an early lead, this match is up for grabs.
Prediction: Azarenka in 3
Serena Williams vs Lucie Hradecka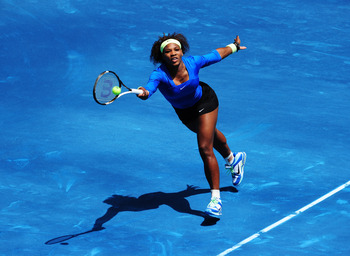 Jasper Juinen/Getty Images
Serena Williams always has a bull's-eye on her back. She has the ability to take months off at a time, then come back and win whatever tournament she enters.
In the semi-finals, Williams will face off against Lucie Hradecka.
Hradecka was ranked 98th coming into this tournament, and had to go through the qualifying draw to earn her spot.
She beat the third seed, Petra Kvitova, in the second round and will leave Madrid ranked inside the top-70.
That being said, Hradecka's nice run will surely come to an end against Williams.
Hradecka will be outplayed in this match from beginning to end. Williams has the offensive firepower to completely dictate play.
Williams will be the heavy favorite in this match. She has looked excellent on the blue clay thus far.
It appears as if we are in store for a Victoria Azarenka versus Serena Williams final. If the tennis world is lucky, the two will face off many more times this summer.
Prediction: Williams in 2
Keep Reading