Roger Federer Is One Step Closer to World No. 2 as Rafael Nadal Loses in Madrid
May 10, 2012

Matthew Stockman/Getty Images
The stunner of the day was without a doubt Fernando Verdasco beating Rafael Nadal 6-3, 3-6, 7-5. I didn't get to see much of the match, so I can't report too much on it. 
But Verdasco's post match celebration—falling to the ground, tears in his eyes—shows us just how much this victory meant to him after being beaten 13 straight times and 29-4 in sets won in previous meetings against Nadal. 
Understandably, Verdasco was up in the sky after the win (via tennis.com): 
"After losing so many times against honestly the best player on clay ever, to beat him on clay is the maximum. I don't have words. I am happy for the win, although it is difficult to hold myself together now. I need to calm down, rest and get ready for the next match."
Meanwhile, Nadal threatened to boycott the tournament next year if they chose to stick to blue clay. 
But the loss may have ramifications beyond Verdasco's joy and Nadal's boycott. It means that Federer could overtake Nadal in the rankings and, if things go his way, stay there come Roland Garros. 
And if that happens, we could potentially have Nadal and Djokovic face off in the semifinals, opening up the draw for Federer. 
Here's how it looks, point-wise. 
Federer is now at 8.520 points, and Nadal is at 9.615 points—the Madrid points from last year have already gone.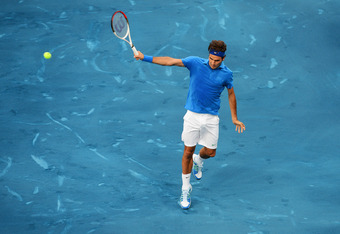 Jasper Juinen/Getty Images
Nadal earned 90 points from Madrid, getting him to 9.705 points. He has 600 points to defend in Rome, while Federer has only 90. 
Federer needs a win in Madrid to have a realistic shot at the second spot. That would put him at 9.520 points, 185 points behind Rafa going into Rome. 
Federer would then need Rafa to not win Rome. That's a big ask. 
If Rafa gets a runner-up, Federer needs a semifinal. If Rafa falls prior to the final, Federer just needs to make it out of his first match. 
Realistic scenario? Not so much. 
But given that Nadal is out, Djokovic is struggling and the blue clay favors the aggressor, there are reasons to believe Federer is the favourite to win Madrid.
Berdych looks like a dangerous dark horse, but you never quite know with him. 
If Roger wins Madrid, "all" he needs is for Rafa to not win Rome. Pretty big ask, though, given Rafa's record there. 
But it can happen, and it could open up the French Open draw for Federer, who would want to avoid Rafa—or have him face off against Djokovic first—at the French. 
Correction: As EsteL pointed out in the comments, Roger actually will get to second with a win in Madrid. Why? 
Because the Rome points drops (presumably at least), just as the Madrid points dropped at the start of this week. 
So with a victory in Madrid, the points will read as this: 
Fed would have 9430 points (if he wins Madrid) and Nadal would have 9105, making Federer no. 2 for at least the next week.
It does not, however, change the overall calculation for the French, which is the main topic. Roger still needs Rafa not to win Rome. And to make the semis if Rafa makes the finals.