Funniest WWE Memes on the Internet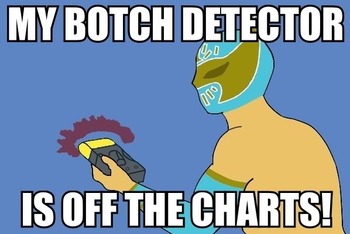 The internet could easily suck hours out of your day long before memes came around.
These funny text-on-photo combinations about the WWE won't be enjoyed by the general public.
There are too many inside jokes and references some folks just won't get, so it's up to us wrestling fans to enjoy these wonderful creations.
John Cena is made fun of. Dolph Ziggler's selling ability is praised.
Where available, there's a link to a meme generator so you can add your own brand of funny to a new edition of these funny WWE memes.
Deep Thinking Cena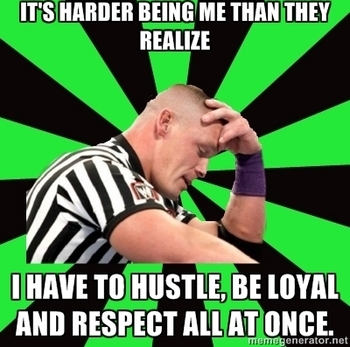 Made at memegenerator.net
There are a number of quality Deep Thinking Cena memes out there.
This one is the finest, most on point one. John Cena is a frequent target for meme makers.
Cena's famous mantra is analyzed through the lens of sarcasm.
Make your own version here.
Mew Mew Mew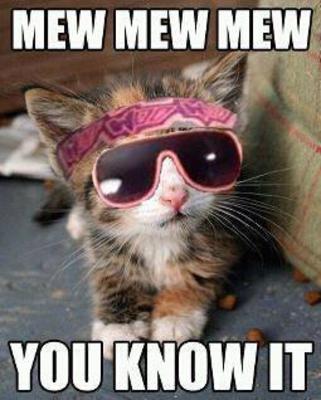 Zack Ryder's popular catchphrase, "Woo, woo, woo, you know it," is imitated here by the cutest of kittens.
Dressing up an animal is silly and often irritates them to no end.
Superimposing a pair of broski shades and a Ryder headband via Photoshop is simple comic brilliance.
It's fitting that the self-proclaimed Internet Champion would have one of the better WWE memes out there.
I Whip My Chair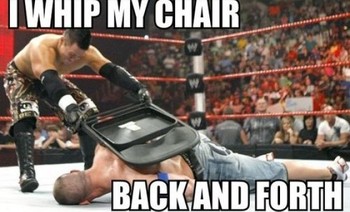 See what they did there?
They changed the 'hair' in Willow Smith's hit song "I Whip My Hair" to 'chair.'
If only The Miz had backup dancers swinging steel chairs behind him, the reference would make even more sense.
Memes don't seem to be kind to John Cena even when he isn't the focus of them.
Hipster Jericho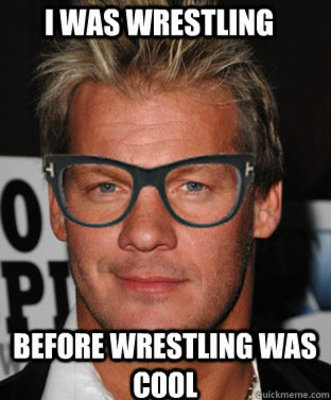 Made at quickmeme.com
Hipster memes are abundant. Hipsters make for an easy target.
What better WWE wrestler to throw into that niche than Chris Jericho?
Slapping on some fake glasses over his trademark smug face leaves us with a chuckle-producing photo.
Jericho was certainly claiming to be the best in the world before it was cool.
Mason Ryan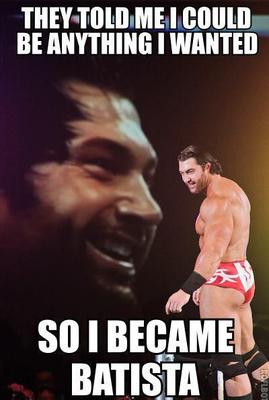 A power move-heavy repertoire, aggression and intensity aren't trademarked qualities owned by Batista, but here someone takes a shot at Mason Ryan for paralleling the Animal's style.
The "They told me I could be anything I want" series covers a wide variety of subjects.
Everyone from an old man planking on a bottle to an overly muscular dude has been thrown in.
Ryan's is one of the finer examples of the series.
Dolph Ziggler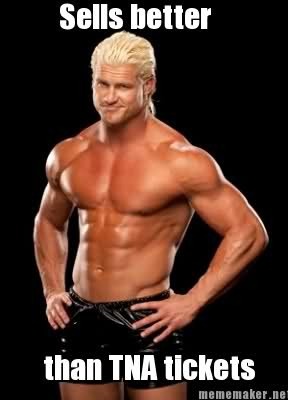 Made at mememaker.net
With a Dolph Ziggler plug and a stab at TNA at the same time, this meme isn't the wittiest, but it's still funny.
Ziggler has made a name for himself by selling his opponent's moves well.
He is approaching Ric Flair and Shawn Michaels territory in that department.
Meanwhile, TNA has gone from promising possible competitor to WWE to the butt of jokes like this one.
Make your own version here.
Warrior Gump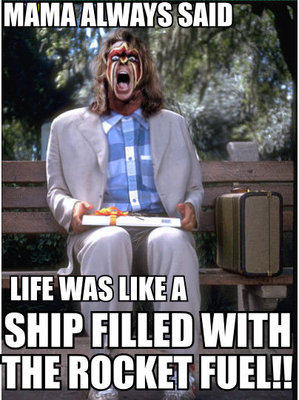 A mashup of two quotes creates a comedy Frankenstein.
The Ultimate Warrior's infamous rants covered topics as diverse as hijacking a plane and distant planets.
In this promo, Warrior gave us a memorably insane line about rocket fuel.
It lands on this meme in an unexpected context.
Forrest Gump's line about life and chocolates is made all the more amusing by it.
Redneck Randal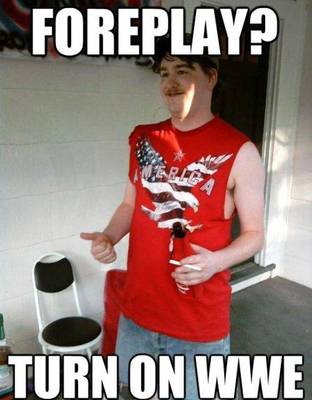 It's easy to make fun of guys in sleeveless shirts and dumb looks on their faces.
Incorporating a WWE joke is quite the accomplishment.
Redneck Randal has a series of memes out there in the vein of Scumbag Steve and Good Guy Greg.
This one imagines that he tries to get his lady in the mood by watching sweaty men in skimpy outfits.
Make your own version here.
Batista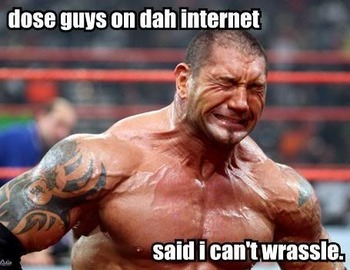 The IWC (aka dose guys on dah internet) can be cruel.
Batista got his fair share of criticism during his time with WWE.
A perfect picture of a frustrated Batista is paired with Icanhascheezeburger-style text makes for a hilarious meme.
This can easily made into John Cena and Great Khali versions for those with free time and some angst to release.


Keep Reading