Why Brian Cashman Is Making a Huge Mistake Calling Up Andy Pettitte
May 10, 2012

Al Messerschmidt/Getty Images
Tuesday was an exciting day for New York Yankees fans, as general manager Brian Cashman announced that Andy Pettitte was officially returning to the team after a year in retirement and would start Sunday's game against the Seattle Mariners.
The anticipation for Pettitte is understandable. He's one of the "Core Four" that restored the Yankees to greatness during the past 15 years. He's one of the best pitchers the team has had in recent memory, winning 203 games over 13 seasons in pinstripes.
But is putting Pettitte in the starting rotation at this point really a good idea?
In a column earlier this week, Fox Sports' Ken Rosenthal cited a scout who watched Pettitte's last start for Class AAA Scranton-Wilkes Barre and said he didn't look close to ready for big league competition. 
Pitching against Pawtucket last Sunday, Pettitte allowed five runs (three earned), eight hits and two walks over five innings.
That's not exactly the kind of performance a team would like to see out of a pitcher before bringing him back up to the majors. Especially considering Pettitte, who's a month from turning 40, hasn't pitched since 2010 and didn't take a full offseason and spring training to get into baseball shape.
In four minor league starts intended to stretch him out and build his strength back up, Pettitte went 0-2 with a 3.71 ERA. He also racked up 13 strikeouts in 17 innings, which isn't bad. But 19 hits allowed should be something of a concern.
The scout Rosenthal talked to said Pettitte was throwing between 86 and 88 mph with stuff that "lacked crispness." He added that Pettitte looked like a pitcher who needed several more starts in Class Triple-A before he was ready to pitch in the majors again.
Yet, the Yankees need Pettitte, which says quite a bit about how desperate a decision this is.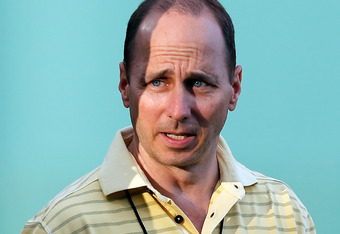 J. Meric/Getty Images
According to The New York Daily News, Cashman told reporters the team was in agreement that, contrary to the scout's assessment, Pettitte wouldn't benefit from any more minor league starts. But what he really meant was that Pettitte isn't helping the Yankees by continuing to pitch for Scranton-Wilkes Barre.
Freddy Garcia pitched his way out of the starting rotation, compiling a 9.68 ERA in six starts. Phil Hughes hasn't been quite that bad, but has done little to instill confidence with his performance. 
If there was any thought David Phelps could fill the fifth starter's role, he probably shot that notion down with his performance Wednesday night against the Tampa Bay Rays. Phelps pitched four-and-two-thirds scoreless innings but walked four batters. 
As the Journal News' Chad Jennings reports, Cashman believes that Pettitte was mediocre against minor league competition because a veteran pitcher often doesn't have the same motivation as when he's facing big-league hitters. 
Obviously, the Yankees GM knows Pettitte better than just about anyone, based on the many seasons they've worked with one another. But he's taking quite a risk with Pettitte, hoping that it will all come together for him once he's back in the familiar environment of the major leagues.
Can Pettitte come through for the Yankees one last time in his career, as he did in 2010 by going 11-3 with a 3.28 ERA? If so, he'll prevent Cashman from making a huge mistake for showing so much faith in him.
Follow @iancass on Twitter