Albert Pujols' Cold Start: LA Angels Slugger Needs to Rediscover Right Field
April 2, 2017
Jeff Gross/Getty Images
Albert Pujols finally hit his first home run of the season over the weekend, depositing an 84 MPH hanger from Toronto's Drew Hutchison into the Angels bullpen in Anaheim. Immediately the boos directed towards Arte Moreno's $245 million investment turned into a standing ovation.
One home run can only satiate the Southern California masses for so long, however, and even with the home run Pujols has only managed a .190 average with a .509 OPS.
Pujols' last season in St. Louis offers some level of comfort for Angels fans, as he only hit .245 in April of 2011 and went on to finish a mere point shy of his 11th .300 season in as many tries. However, Pujols was showing power in April 2011 even as he struggled, mashing seven home runs and a double in posting a .453 slugging percentage. It's the lack of power that has the fans at the Big A booing the year's version of The Machine. Even though he has eight doubles to go with the home run, it only adds up to a brutal .281 slugging percentage. 
The problem? Throughout his career, Pujols has been a pull power hitter, and evidence shows he's trying too hard to pull his way out of the slump.
What made Pujols such an incredible hitter over his 11 years as a St. Louis Cardinal was his ability to drive the ball with authority at any point in the strike zone (and many outside of it). His career .288 isolated power score (slugging percentage – batting average, a measure of a hitter's ability to generate extra-base hits) ranks seventh in MLB history and first among active players. Whereas many hitters have power strokes limited to a few areas of the strike zone, Pujols was able to maintain slugging percentages at or near .600 due to his ability to hit almost any pitch for power.
Observe, Pujols's power on balls in play from 2008 through 2010: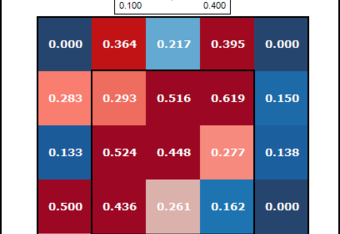 Low and inside. High and outside. Everywhere in between. Pujols posted ISOs of .500 in a remarkable four different areas of the strike zone, meaning he averaged over one extra base every other time he put one of these pitches in play. That's the kind of power it takes to put up 30 home runs for 11 straight seasons. 
Obviously, such a heat map for 2012 would be cold as ice. However, even looking at 2011 and 2012 together—roughly his last 850 plate appearances (including playoffs)—we see a noticeable difference.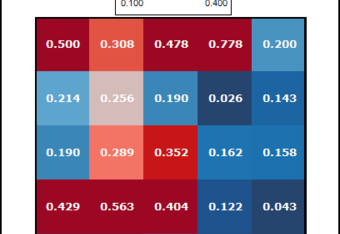 Pujols still showed dramatic power on balls low in the zone last year, as usual, recording 13 of his 42 home runs (including postseason) in the lower third of the strike zone. These are the perfect pitches with which to display pull power, and it is on these pitches that many of his 256 career home runs to left field have come on. At least last season, Pujols was hitting these pitches with more pop than ever. 
Pujols' ability to hit the outside strike with authority has seemingly disappeared, though. Pitchers have noticed this new safe haven in the strike zone and have attacked the outer part of the plate repeatedly in 2012.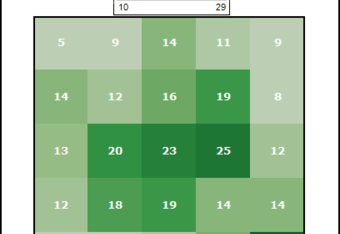 Although Pujols has had his share of down and inside pitches to hit this season, pitchers have locked on to the outside corner as 44percent of the pitches he's seen have been either on the outer third of the plate or completely off the plate outside, while roughly 55 percent have been outside of center. 
One of the first things coaches teach young hitters is to hit the outside pitch to the opposite field. Presented with the outside pitch, Pujols has done anything but. 
Pujols has defined dead pull hitter for much of his career, with 47 percent of his career balls in play going to left field. Although that may not sound like much, consider that Ryan Howard—one of the most widely shifted-upon players in baseball—has pulled 51 percent of his career balls in play. Pujols has taken things to a whole different level this year, though, hitting 73 of his 101 balls in play to left field. Outside pitches, inside pitches, whatever—he's trying to yank it over the left field fence instead of going with the pitch.
The at-bat before Pujols finally homered off Hutchison, he hit quite nearly the same pitch, but left it about 70 feet short of the left field fence. It was a middle-outside pitch, roughly thigh high, but Pujols got out in front, didn't get the power from his hip turn and ended up lofting a fly ball right to Blue Jays' left fielder Eric Thames.
Pujols saw a pitch in nearly the same exact spot on April 19 against Athletics reliever Ryan Cook and hit it to right-center field for a double. Let's take a look at the point of contact for both of these swings.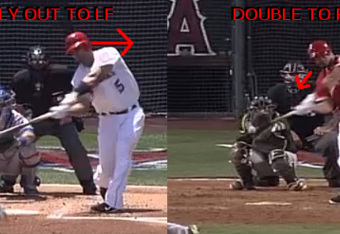 Personally, I think the difference in these swings can be seen most easily by looking at Pujols' head. A hitter is locked in when he keeps his eyes glued to the baseball throughout the entire swing. Pujols was ahead of the ball in the swing on the left, trying to get out in front of a pitch to drive it to left field, and this momentum is carrying his head away from the point of contact as his shoulders fly open. As a result of this early swing, he loses the substantial amount of power his lower half provides and is left to use his arms to muscle it out. He's strong, but not strong enough without hitting the ball perfectly on the sweet spot. 
On the double, though, Pujols's eyes are locked onto the point of contact, the shoulders remain closed, and the result is a powerful line drive that splits the outfielders in right-center practically before they can even break on the ball.
After the double, the Angels' announcing crew raved about Pujols' approach on the night and what they called a perfect swing, and it's difficult to disagree with them—at least on that pitch and on that night. Pujols hit three doubles on April 19: one down the left field line, one to left-center and one to right-center.
This approach—not even an opposite-field approach, but one that doesn't require everything to be pulled—has been nonexistent throughout Pujols' short career as an Angel. If he wants to rediscover the magic that defined his Hall of Fame tenure in St. Louis, he will need to rediscover right field.