Madrid Open 2012: Roger Federer Versus Milos Raonic in a 2nd Round Blockbuster
May 8, 2012

Matthew Stockman/Getty Images
Up and comer Milos Raonic set up an intriguing second round clash with world No. 3 Roger Federer. Raonic was newcomer of the year in 2011 and continues to progress this year.
Not exactly a veteran on clay, Raonic took out Nicolas Almagro and Andy Murray in Barcelona before falling to David Ferrer in two tiebreaks in the semis.
Here in Madrid, he just beat David Nalbandian 6-4, 6-4. Then he took down Nalby, who has four clay titles out of his 11 in total.
Perhaps more impressive is the fact that Nalby didn't win one single point off Raonic's first serve. He had 27 possibilities, but couldn't win one of them.
Keep in mind that Nalby is a world class returner, who build his career on his return of serve rather than his hold game. 
Last year, Raonic wasn't a threat on clay. His serve was not as effective, his movement was poor and he couldn't find the range with his groundstrokes. This year, he's won 91 percent of his service games on clay compared to 80 percent last year.
That's a massive improvement that translates to wins.
Next up for the man with the monster serve is Roger Federer. They played a tight three-setter in Indian Wells that Roger edged out with a 6-7, 6-2, 6-4 win.  
Granted, Roger was probably still feeling the effects of a virus that he started the tournament with. But Raonic's latest surge has shown that it was no accident, he pushed the Maestro.
Federer has a career-long stronghold on the big servers on tour. In Indian Wells, both he and Raonic landed 10 aces, but Roger won a higher percentage on his first serve. Against Andy Roddick, Federer often ends up with more aces.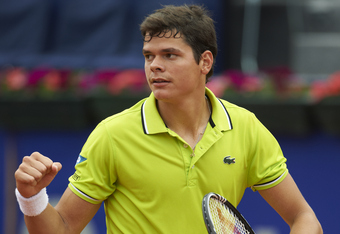 Manuel Queimadelos Alonso/Getty Images
Federed has only lost once to the ever-dangerous Karlovic in 11 matches. He simply has a way of blocking many unplayable serves.
Still, Raonic has a much better movement than Karlovic and bigger groundstrokes (and serve) than Roddick. He has shown that clay doesn't take much off his big weapon.
Two of the best returners on tour, Andy Murray and David Ferrer, only managed a single break combined in four sets on clay. They needed 11 tries.
At the very least, Federer is in for a big challenge in his very first clay match after a six-week break.
It's not unusual for Federer to need a match or two to adjust himself to new conditions after a break, particularly on clay. He won't have that luxury when he faces Raonic.
The fast courts in Madrid are usually to Federer's advantage, especially when he faces Nadal. ­Against Raonic, he might prefer a slower court though.
Will Federer be able to block back enough Raonic serves and gain a break or two?
Or will Raonic get the biggest win of his short career and show us that he's truly the next big thing in tennis?