World Tallest Man Makes NBA Player Look Like a Middle Schooler
May 8, 2012
If you ever get a chance to meet an NBA player, the first thing you'll realize is how these living giants truly dwarf your stature in every way. But what about the giant that invokes awe in the biggest men we know?
I would like to introduce you to Igor Vovkovinskiy, a man who holds the unenviable label as the nation's tallest human being. 
Yes, I refer to this as unenviable because, as you will see, life can be exhausting when you are 7'8". 
I was fortunate to come across this photo posted at BuzzFeed recently, and my mouth dropped open, spilling precious morsels of Life cereal.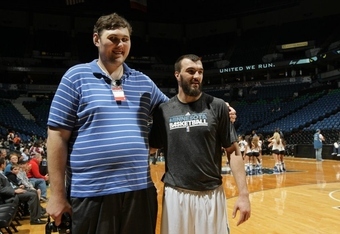 That is Minnesota Timberwolves center Nikola Pekovic, a player who stands 6'11", but is dwarfed by the amused Vovkovinskiy. 
The silly part is that we often refer to players like Pekovic as big men. Oh, how misguided that label was.
This is more than a tale about a gentle giant who is amusing to look at (and no doubt draws stares and giggles where ever he goes). 
There is strife behind the smile of this NBA fan. 
Let's begin with the simplest of questions, the answer to which has eluded Vovkovinskiy for far too long. Where does one buy comfortable shoes?
You can't go down to the local Foot Locker and ask if they have anything in a size 22, the smallest size Vovkovinskiy has recently been measured at. Or if they have a 25, the biggest measurement, via The Huffington Post. 
The video illustrates what kind of hoops he has to jump through just to get a decent pair of comfortable shoes. 
Which brings me to the second question: How much do we take our size for granted? 
As you can hear in the video, Vovkovinskiy can't enjoy the simplest of things, a walk in the park or jaunts to the grocery store.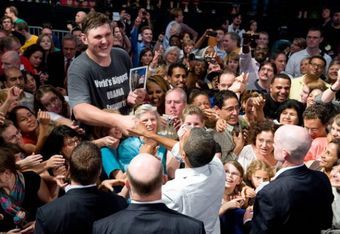 As reported by The Huffington Post, Vovkovinskiy was born in the Ukraine but moved to Minnesota with his mother when he was seven to treat his condition known as pituitary gigantism. 
The giant man has had 16 foot surgeries in six years, but will finally have some shoes thanks to Reebok. 
The San Francisco Chronicle reports the company will fashion the shoes which will range in cost between $16,000 and $20,000, but are doing it for free. 
Hearing about the surgeries, daily walks that would be dangerous without the proper shoes and the lack of freedom due to his size, I may just have to take a walk around the block. 
I mean, Igor Vovkovinskiy would kill to have that kind of privilege. 
Follow Me On Twitter and We Can Be Besties.