EURO 2012: Power Ranking Every Side Heading to Poland and Ukraine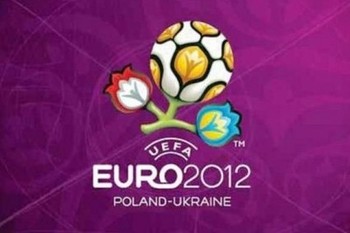 With the festivities in Poland and Ukraine just a month away, it's time to start looking forward to the month-long binge of international football that is the European championships.
The 16 nations, sorted into four groups of four, will be amassing shortly after the conclusion of the European league seasons, which culminate with the Champions League final on May 19.
This means that there are just a few more chances past this article to pick up key injuries in club play.
Hence, we should know a great deal about the sides at this point.
Over the next sixteen slides, I will give my ranking of the sides as they set up for the EURO.
Please take note: as this is a "Power Ranking," recent form is weighed quite heavily.
There are pros and cons to this method. For one thing, a player's recent form influences their confidence and will be what they carry into the tournament, but club form may not translate to international form.
Without further ado, here are the Power Rankings for all sixteen nations playing in EURO 2012.
16. Ukraine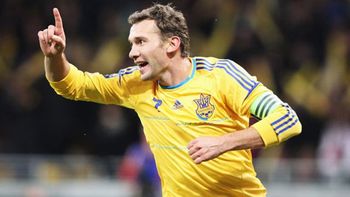 We're a long way removed from Ukraine's quarter-final showing in the 2006 FIFA World Cup, but the footballing doesn't seemed to have evolved too much since then.
With the likes of Andriy Shevchenko, Antonin Voronin, and Anatoliy Tymoshchuk still anchoring the side at 35, 32, and 33 years of age, respectively, it is unlikely that Ukraine will be much of a threat to go all the way in this tournament.
However, with a group that is filled with question marks and a home-field advantage, it wouldn't be the biggest surprise in the world if they can find a way through to the quarter-finals.
Player to watch: Andriy Shevchenko.
Not enough can be said about the captain's role in Ukrainian footballing history, and Ukraine's success in the tournament hinges on him having a great showing.
With just six goals in the past season, though, can the former Chelsea and AC Milan superstar provide his nation with another memorable cup run?
15. Czech Republic
Do not be fooled: the Czech Republic are not the strong side that we grew accustomed to in the last decade.
Their qualifying campaign was less than convincing, with a 1-0 loss at home to Lithuania providing a low-light.
They did find a way to easily brush past Montenegro, though, and into the final stage of the tournament.
Milan Baros is still a fixture of the Czech attack, but it's hard to say what he will provide given that his numbers have steadily declined at Galatasaray.
One great thing, though, is the Czechs' group, which might prove incredibly beneficial to their cause.
Player to watch: Petr Cech.
His play over the past few months has been astounding.
He was one of, if not the main reason his Chelsea side got by the great Barcelona side and proved the difference-maker again in the FA Cup final against Liverpool.
If Cech can keep up this form, it could easily spur the Czechs on to the quarter-finals.
After all, hot goalkeepers have proved invaluable assets in past international tournaments.
14. Republic of Ireland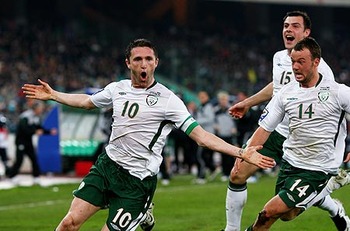 The Irish are thrilled to be in the finals of a major tournament, but don't think they are content.
In their three World Cup finals appearances, the Irish have made it out of the Group Stage every time, and in their one EURO finals appearance (1988), they finished ahead of England and were narrowly eliminated in a group that contained both of the eventual finalists.
However, their current side may not live up to the history of the national side.
Most of their best players, while still having quality, are getting on in age and either not facing the quality of opposition they once did or are playing less often.
To make matters worse, they were given a nasty draw with Spain, Italy, and Croatia.
It may be unlikely that we will see more than three matches from Ireland, but those three matches should be entertaining.
Player to Watch: Robbie Keane and Damien Duff.
Both these players are key to the success of the other and the team as a whole.
What do they have left in them?
13. Denmark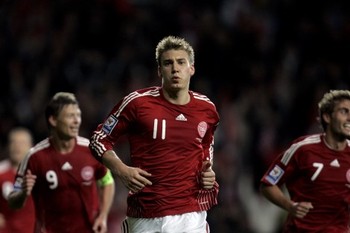 Denmark are an interesting team to watch in next month's EURO competition.
They have a nice mixture of young talent and veteran leaders.
The Danes also had an impressive qualifying campaign, including a noble 2-1 victory over Portugal on the final match-day to gain automatic progress to the finals.
However, Denmark are unlucky enough to have been drawn in one of the hardest groups in recent memory.
They will not only have to find a way past Portugal once more, but also get by the World Cup runners-up and semi-finalists in the Netherlands and Germany.
Denmark's time in the competition could be short-lived, but it might prove to be valuable experience for their young players in tournaments to come.
Player to watch: Christian Eriksen.
The 20-year old attacking midfielder has been a stand-out over the past two years for the back-to-back Eredivisie Champions Ajax.
However, he has not yet had any breakout moment on the international stage.
This could be the perfect opportunity to do so for the second youngest goal-scorer in Champions League history.
12. Greece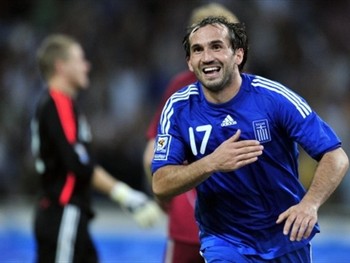 As is expected, it's almost been a complete turn-over from 2004 for that year's Cinderella champions.
The Greeks have kept on going, though, and have made it into almost every major tournament final since.
However, their performances at those tournaments have been more than shaky, a trend they will look to end in June.
Something must be said for their fantastic qualifying campaign, where they overpowered the Croatians and conceded only five goals in 10 matches unbeaten.
Perhaps it is a sign of a better finals to come, or perhaps it's merely setting up for yet another let down.
With the group they have been gifted, it would be a true waste for the Greeks not to put forth a great effort into the quarters.
Player to watch: Theofanis Gekas.
The defensive prowess of Greece has been their hallmark for years, but they are going to need goals from somewhere.
That somewhere will have to be Gekas.
Gekas has often been the go-to man for Greece when they are in need of a goal.
He will have to be on top of his game if the Greeks are to progress as far as possible in this tournament.
11. Sweden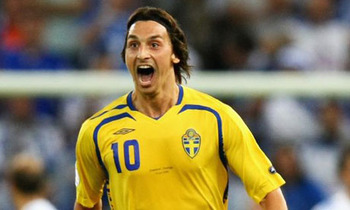 Sweden has, for the past ten years, been a side to slip under the radar.
Two finishes in the Round of 16 at the World Cup and a Quarter-final berth at EURO 2004 show consistency, but there was never much thought of them finding a way to improve on this.
After missing the 2010 World Cup, they did well in EURO qualifying, defeating the runners-up from South Africa in the Netherlands to earn their berth.
Zlatan Ibrahimovic and Johan Elmander should prove to be a formidable striking pair, with both being in fine goal-scoring form with their clubs.
With so many question marks behind England and France, Sweden may be well set up to go under the radar in making the quarter-finals.
Player to watch: Sebastian Larsson.
Larsson has become a staple of the Sweden midfield in recent times and has had a great season for Sunderland.
Over the past year, the right winger has even become a goal-scoring threat on the international level, scoring five goals (three in EURO qualifiers and two winners against Croatia in a friendly).
However, Larsson is in a race to be fit for Poland-Ukraine, as he has a hernia injury.
While we know what we will get from the likes of Ibrahimovic and the rest of the Swedish team, what Larsson can do (if anything) at the finals could be key to Sweden's EURO performance.
10. Poland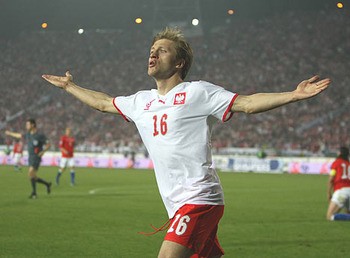 There's a lot to like about Poland heading into this year's EURO.
For one thing, they get the advantage of playing in front of their great fans.
For another, they have a trio of young players, including captain Blaszczykowski, who has been playing fantastic football for German champions Borussia Dortmund and a young goalkeeper in Wojciech Szczesny who has established himself as the starter at Arsenal.
To cap it all off, they have what looks on paper to be one of the most mediocre groups in international football's recent history.
It all seems set up for Poland to make a nice run to the quarters, where anything can happen with that home crowd supporting them.
Player to watch: Robert Lewandowski.
The Borussia Dortmund striker is just 23 years old and has been in incredible form for his club, scoring 22 goals in 34 league appearances.
He may have just 13 goals in 40 appearances for his nation, but 10 of those have come in the past two years.
His goal-scoring threat may prove invaluable to the Poles this summer.
9. Croatia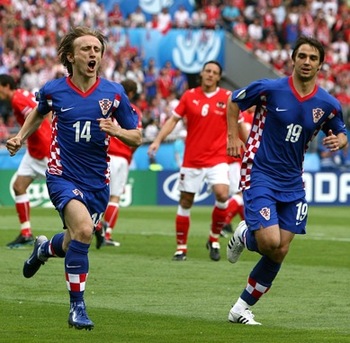 Four years ago at EURO 2008, Croatia put forth a dazzling display in defeating Germany in the Group Stage, but fell in the quarter-finals to Turkey in what can only be described as incredible circumstances.
Croatia exorcised the demons of that defeat in their play-off for this edition of the EURO, defeating Turkey convincingly over two legs.
Much of the same side from 2008 has returned, just with more experience.
Despite being grouped with the likes of Spain and Italy, Croatia has the ability to send shock-waves through the footballing world by advancing from their group.
Player to watch: Luka Modric.
The creative Croat is vital to the success of his nation.
His ability to pick a defense apart with incisive passing has made him one of the most sought-after commodities in club football.
However, his recent play on the club level has been sub-par by his standards.
He has shown signs of turning it around for Tottenham, but will he be able to produce his best form at Poland-Ukraine?
8. Russia
Russia's run to the Semi-Final in EURO 2008 looked to set them up well for future tournaments.
After all, they had a young squad at the time and had played brilliant football in getting past some international footballing giants.
After failing to qualify for the 2010 World Cup, the Russians looked brilliant in qualifying for Poland-Ukraine, conceding just four goals in topping their group.
They now return virtually the same lineup for EURO 2012 than the one that they had in EURO 2008, with only one starter from their Semi-Final loss unavailable for selection.
Almost every player they use plies their trade in the Russian Premier League, which could prove to be a good thing for team morale and chemistry.
With what looks to be an incredibly easy group, the Russians could be shoo-ins to the quarter-finals.
Will it be the last hurrah for this group?
Player to watch: Alan Dzagoev.
The 21-year old attacking midfielder has already made a great name for himself at CSKA Moscow in domestic and Champions League play.
This could be his breakout tournament on the international stage.
7. England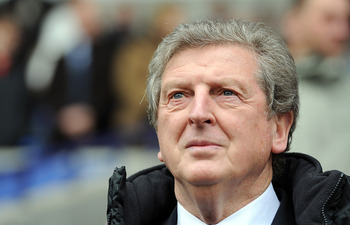 Chris Brunskill/Getty Images
Based on talent alone, England are right up there with the best sides in this tournament.
However, there are so many distractions for the Three Lions heading into this tournament.
Who will be the captain?
Will the other players embrace John Terry in the midst of his trial for racial abuse?
How will England play without Wayne Rooney for the first two matches?
What impact, if any, can Roy Hodgson have on tactics and style at this late stage?
Having these questions can not be a good thing for the squad, but it remains to be seen if it will hurt them.
Hodgson has quite a bit of man managing ahead of him this summer.
Player to watch: Wayne Rooney.
The striker may be out for the first two matches, but he will surely be in the squad at Poland-Ukraine.
How will Rooney respond to his suspension in the last match of the Group Stage and, perhaps, beyond?
6. France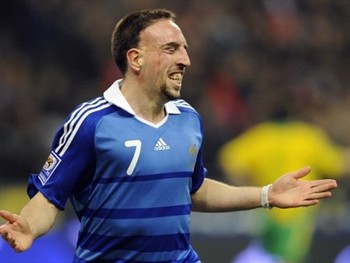 The ugliness of the 2010 World Cup player revolt is behind France.
With coach Laurent Blanc in charge of Les Bleus, the French played incredibly in qualifying, conceding only four goals in 10 matches.
However, the loss of Bacary Sagna and Eric Abidal could spell trouble for the French defense as they progress through the tournament.
With hosts Ukraine, Sweden, and the soap opera that is England in their group, France should like their chances to at least make the Quarter-Finals.
What will they do from there, though?
Players to watch: Franck Ribery and Samir Nasri.
Both have had fine seasons and have especially come on strong at the end.
With these two roaming the wings, the French attack will be quite a formidable one.
5. Portugal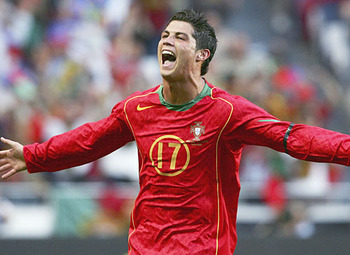 After putting in another lackluster display in qualifying for a major tournament, many seem to have forgotten the nation that has the single best player in the tournament.
With Cristiano Ronaldo, Pepe, and Fabio Coentrao leading their Real Madrid side to the La Liga title over Barcelona, though, chemistry and morale should be high for the Portuguese side.
With more play-makers in the midfield with Nani, Raul Meireles, and Joao Moutinho and a young striker ready to make a name for himself in Nelson Oliveira, Portugal are a side that could be handful.
However, they are in what looks on paper to be one of the hardest groups in recent international tournaments.
Germany and the Netherlands seem to have two of the best squads in the tournament, and Denmark has given Portugal great problems in their last two qualifying campaigns.
Portugal may prove to be one of the best teams not to get out of the Group Stage.
Player to watch: Nani.
We all know what to expect from Cristiano Ronaldo, but Nani is more of a question mark.
An injury derailed his season at Manchester United, and since he has struggled for minutes and form.
At his best, Nani provides width and attacking that could be a great second option for Portugal.
If he is not at his best, though, the Portuguese could struggle to find an option past Ronaldo.
4. Italy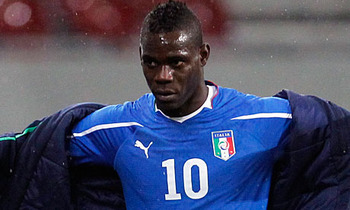 Italy has proven to be one of the best defensive sides entering this tournament.
In qualifying, the Azzurri conceded just two goals and had just two draws.
As has been the problem for the past few years, though, the question mark for Italy lies in their goal-scoring.
Where can they find goals, especially with Giuseppe Rossi out for the tournament?
With a tough group in Spain, Croatia, and Ireland ahead of them, this is a question they have to figure out soon.
Player to watch: Mario Balotelli.
The striker has proven time and again that there is a screw loose somewhere in his head.
At his best, Balotelli is an incredible goal-scoring threat that could easily swing a match with one kick.
At his worst, he is a terrible liability that will almost certainly reduce you to ten men.
Hey, if for nothing else, it will be entertaining to watch Balotelli.
3. Netherlands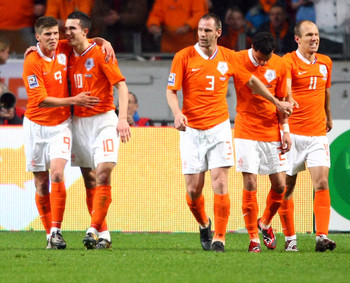 One thing can be said about the World Cup runners-up from two years ago: they are stacked at striker.
The likes of Arjen Robben, Robin van Persie, and Klaas-Jan Huntelaar have established themselves as three of the best strikers in the world.
Each are in especially amazing form, with Huntelaar and van Persie leading the Bundesliga and Premier League, respectively, in goals scored.
Their defense is not stacked with the same quality, but is not terribly weak ever.
This unit will be tested in the Group Stage by the likes of Germany and Portugal.
Player to watch: Wesley Sneijder.
The Silver Ball award winner in 2010 has not found close to the same form at club level since his five goals in South Africa and winning the Champions League with Inter.
If Sneijder's relatively poor form is confined to club play, his ability to create combined with the great strikers in the side could make the Dutch virtually unbeatable.
However, if his form spills over, he could be a hindrance to the Netherlands' chances.
2. Spain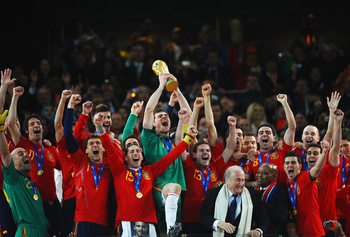 Don't let their ranking in this list fool you: the reigning World Cup and EURO champions are the team to beat heading into Poland-Ukraine.
However, on form, the Spanish are not quite where they were heading into Austria-Switzerland and South Africa.
They are still stacked all over the pitch, with three of the undisputed best players in the world in Xavi, Iniesta, and Casillas.
Additionally, they have many capable young players who are raring to make an impact.
However, there will be some holes to fill in some key positions, as defensive anchor Carles Puyol and top scorer, 2010 Bronze Ball winner, and 2010 Silver Shoe winner David Villa will probably miss out on Poland-Ukraine.
Spain are clear favorites in their group, but will the losses catch up with them as the tournament progresses?
Player to watch: David Silva.
Silva started the season so incredibly for Manchester City and seemed to be establishing himself as one of the best players creative midfielders in the world.
However, his form has faded as the season has gone on.
Will the short break between the end of the Premier League season and the beginning of the EURO be enough for him to rediscover his form?
If so, he could be a difference-maker in whatever capacity that Spain decide to employ him.
1. Germany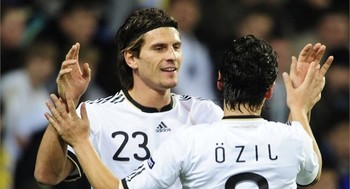 Germany have a perfect mixture of veteran experience and young talent that are all hitting their best form at just the right time.
In net, Manuel Neuer has, in recent years, gone from a young talent to a top five keeper in the world.
In defense, Philipp Lahm has continually shown his leadership abilities as captain of Germany and Champions League finalists Bayern Munich.
In terms of creative midfielders, Mesut Ozil, Bastian Schweinsteiger, Toni Kroos, and Mario Gotze are four of the best options around.
In attack, though, is where Germany really have an embarrassment of riches.
Mario Gomez has established himself as one of the top poachers in the world at Bayern Munich.
Prolific goal-scorer Miroslav Klose, while getting up there in age, has actually found success at the club level for one of the few times in his career, making one wonder what he could do for Germany on good form.
Lukas Podolski finds himself in a similar position as Klose.
And this is without even mentioning Thomas Muller, the winner of the Golden Shoe and the Best Young Player in South Africa.
Germany may have one of the toughest groups in recent memory, but it's difficult to imagine a side stopping this lineup.
Player to watch: Mario Gotze.
The 19-year old Borussia Dortmund man is ready to make a name for himself on the international level.
The young attacking midfielder has already established himself on the club level by leading his Borussia Dortmund side to back-to-back Bundesliga titles.
Expect Poland-Ukraine to be Gotze's coming out party.
Keep Reading