LA Kings: Would They Prefer to Play the Coyotes or the Predators?
May 7, 2012

Harry How/Getty Images
Everyone, I am sure, is still digesting yesterday's series sweep of the St. Louis Blues by the LA Kings, but it's never to soon to look ahead to the next round.
Tonight the Nashville Predators and the Phoenix Coyotes meet in what could be a decisive game five for the Coyotes.
But who do the Kings want to play? Do they want Phoenix to win? Or do they want Nashville to make a comeback?
It's a tough choice in all honesty, and at this point it really doesn't matter. All match ups are difficult in their own way. But let's look at some basic things.
Goaltending:
This one is a real toss-up. Rinne played great all year for the Preds, as did Mike Smith, and both have done very well in the playoffs.
It's all about style differences. Rinne is a big guy (6'5") and plays very calmly. However, he played three games against the Kings this season, was 1-2 and had two very tough outings, giving up nine goals in just over 50 shots.
Mike Smith is also a big guy (6'4"), but plays a style more athletic then Rinne and very similar to that of Jonathan Quick. Smith has the much better series numbers against the Kings compared to Rinne. He went 3-1-1 and had just two games where he dropped below a .950 save percentage.
Again, it's a toss up. Smith historically has been better against the Kings this season, but at this point in the playoffs, if both guys are on their game it doesn't make a difference.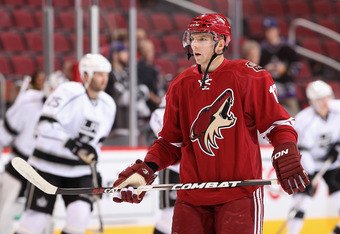 Christian Petersen/Getty Images
Offense:
Don't let the predisposed opinion of the Predators of the past fool you—this was one of the best offensive teams in hockey. They finished eighth overall in team offense and had the best power play in the league. 
However, Nashville has been completely stymied by defense-first teams like Phoenix and the Kings. The Preds have a score-by-committee mentality, with nine players over 15 goals, including defensemen Shea Weber and Ryan Suter.
Phoenix, by comparison,has just five players over 15 goals, including Radim Vrbata with a team high 35, and six goals in six games against the Kings. Phoenix finished the season with the 18th ranked offense, and the second-worst power play in the league. But it's a team that was proud of its defense, and won most games scoring under three goals a game.
Defense:
Obviously a blue line with Ryan Suter and Shea Weber is scary. But when you get deep into it, Nashville has some decent men in the 3-4-5 spots in Klein, Gil, and Bouillon. Nashville finished off the year 10th in both team defense and on the penalty kill.
Phoenix had a great year defensively, finishing eighth on the penalty kill and fifth overall in team defense. They were anchored on the blue line by the impressive youngster Oliver Ekman-Larsson, Keith Yandle, and defensive vets Michal Rozsival, Derek Morris and Adrian Aucoin. It's a deeper defensive team then Nashville, but not by much.
Intangibles:
The travel is obviously a big factor. Going to Phoenix would have the Kings stay in their own time zone, and they would be an hour-and-a-half flight from home. Nashville would require a bit more air travel time as well as a two-hour time difference.
Familiarity is also a consideration, with the the Kings being no strangers to the divisional opponent Coyotes, who they faced six times this season.
So what do you think? Who would you rather play if you were the L.A. Kings?