Bordeaux vs. Auxerre: Goal Glut Places Auxerre to Be Threatened by Relegation
May 7, 2012
Michael Steele/Getty Images
With three games left to go in Ligue 1, Girondins de Bordeaux solidified their top mid-table finish, currently placed eighth in the league, after winning a match against AJ Auxerre that had six goals scored. The match ended at 4-2, with Yoan Gouffran, Ludovic Sane and Jaroslav Plasil scoring for Les Girondins. On the other end, Alain Traore and Olivier Kapo scored for Auxerre.
Bordeaux, playing an away fixture, scored almost immediately after the first whistle. Ludovic Obraniak passed the ball to Yoan Gouffran, who was on target, giving Les Girondins the lead in the first minute. 
The Auxerre back four, unsettled from the quick goal, let up another in the fifth minute to the same man. Gouffran put Bordeaux to a 2-0 lead. 
Obraniak provided the assist again for the away side from a corner in the ninth minute. Ludovic Sane scores from a header, putting the game seemingly out of reach for the relegation-threatened Auxerre.
Gouffran had a chance to grab a hat trick, but his finish was lackluster, as it crashed on the crossbar to the relief of Auxerre goalkeeper Olivier Sorin. 
The home side had a chance to get a goal back, but Roy Contout was unable to convert his left-footed shot to a goal. 
Ludovic Obraniak led a charge towards the Auxerra goal, but his finish was poor, leaving the score line at 3-0. 
Auxerre made two changes before halftime to inject some players capable of handling the pace and power of the Bordeaux midfield. Kamel Chafni replaced Cyriaque Rivieryan and Willy Boly with Olivier Kapo.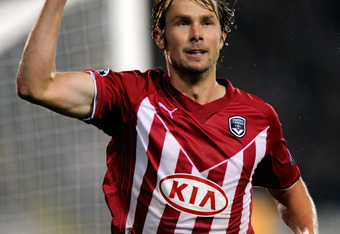 Claudio Villa/Getty Images
Kamel Chafni missed with an attempt on goal in the closing minutes of the first half for Auxerre. 
In the 46th minute, Bordeaux made their first change, with Marc Planus replacing Yoan Gouffran.
The visitors scored their fourth goal from a sweetly-struck Jaroslav Plasil shot that powered into the back of the net from the edge of the box. 
This seemed to break Auxerre's spirits, but in the 67th minute, the home side managed to grab a goal through Alain Traore. From then on, the game steered towards Auxerre's favor, and they were able to take the fight to the Bordeaux half more frequently. In the 80th minute, Auxerre's Olivier Kapo scored, bringing the score to 4-2. 
Fired up from coming within two goals from a four-goal deficit, Auxerre kept on the front foot (17 total shots on goal vs. Bordeaux's 10 total shots on goal), but was unable to break the door down.
The match finished 4-2, Bordeaux at eighth and Auxerre dropping to the relegation zone.