Falcons GM Dimitroff's 1st Post-Draft Priority: Re-Sign Brent Grimes Long Term
May 6, 2012

Now that the Atlanta Falcons are done with the draft and have brought in the talented Asante Samuel, the top priority for Atlanta is to have Brent Grimes come back for a long-term contract. Grimes is currently playing under the franchise tender of $10.481 million and wants more long-term security.
Ideally the Falcons will sign Grimes to a five-year deal that would keep Grimes through his prime years of 28, 29, 30, 31 and 32. Grimes has been a story of triumph in Atlanta as he isn't the biggest, fastest or strongest corner on the roster.
Grimes is a story of triumph because of his enormous heart. When he first signed with Atlanta, Jim Mora Jr. was the head coach of the franchise and it was the 2006 season. He was a training camp body and a practice squad member. 
In 2007, there was questions as to whether Bobby Petrino would even keep him on the roster as he was a corner who was too small, not fast enough and just wasn't the right fit for any defense the Falcons ran, or so they thought. Brent earned his way on to the roster as the fifth-best corner late in the year due to injury, and hasn't given up his roster spot since.
In 2008, Grimes finally cracked the starting lineup due to injuries. He had won the dime corner job in training camp but since Domonique Foxworth wasn't ready to start due to an injury, Grimes had to start the first six games at corner and he looked like a solid, but still rookie-level, starter.
He allowed 31 catches on 53 targeted throws, 58.5 percent completion percentage and 423 yards, to average 7.98 yards per attempt in his six games started. He also allowed five touchdowns against and had just one interception and four passes defensed.
In 2009, Grimes had earned the nickel role in the defense and was an injury starter for four of the first 12 games. Yet, in game 13, he won the starting role as the right cornerback and thrived as the right corner in the Falcons scheme.
In the first 12 games, he allowed 535 yards on 64 targeted throws for a 8.36 yards per attempt average and allowed two touchdowns, while snagging two interceptions and knocking away four passes. Yet, in the last four games, he allowed 150 yards on 29 targeted throws for a 5.17 yards per attempt average and allowed no touchdowns, while snagging four interceptions and knocking away two passes.
In 2010, Grimes finally earned his first starting role as the left cornerback in the Falcons defense with new big-money signee Dunta Robinson starting the right corner slot that Grimes was extremely successful at in 2009.
Grimes responded to the position switch with another year of excellent statistical coverage and his first Pro Bowl berth. While they threw it towards him 119 times and he allowed 670 yards, he only allowed 60 completions for a 50 percent completion percentage and he only allowed 5.63 yards per attempt. 
He did allow four touchdowns, but he made up for it with 16 pass deflections and five interceptions to counteract the touchdowns allowed. All of this was good enough for him to be the sole Falcons defensive back in the 2010 Pro Bowl roster.
In 2011, it was more of the same from Brent Grimes as he was the starter yet again and he was better in coverage despite the lack of interceptions. Grimes was out for the last four games with a knee injury and while he was able to make it back for the Saints game, he didn't make an impact the way he should've and got injured early in the game.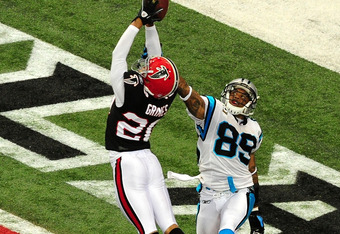 Scott Cunningham/Getty Images
He allowed just 258 yards on 56 targets towards him for just 4.61 yards allowed per attempt. He also allowed just 25 completions against for a completion percentage allowed of just 45 percent. Grimes is an excellent all-around corner and an inspiration to players who are fringe roster guys. 
Brent has earned his spot as a starter and will only improve with Asante Samuel in the scheme as well. The Falcons have Samuel and Robinson both under contract for the next three years and need to make sure they can keep Grimes as the anchor of the scheme. 
With Mike Nolan using more nickel schemes than ever in the Falcons defense, Grimes will only have enhanced value. Grimes has also developed into one of the leaders in the Falcons secondary and Grimes needs to be locked up long term.
The Falcons have nearly $4 million in cap space right now and could sign Grimes to a contract that is a top five contract for his position. All the while, they might still be able to keep the top players under contract for 2012, 2013 and 2014 and extend Ryan in 2013 as well. 
So it's time, Thomas: Sign your franchise player Brent "Optimus" Grimes to the deal that he deserves.
Note: Stats are assisted with help from ProFootballFocus.com and their excellent stat tracking.