Philadelphia Phillies: 1 Correction All 25 Players Must Make to Chase NL East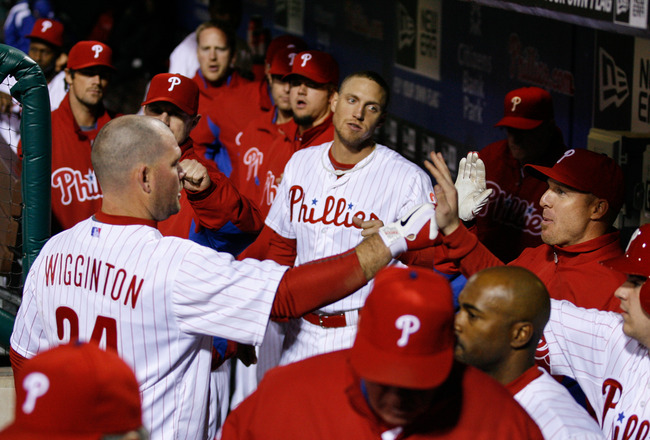 Brian Garfinkel/Getty Images
If the Philadelphia Phillies' record and position in the standings is any indication, this is a club that needs to make a lot of corrections moving forward.
Coming into the season, the thought was that the pitching would excel while the offense struggled, and while that has been true to a certain extent, it certainly has not been the entire story early on.
The offense has struggled. That is an undeniable fact. Players that we thought would have minor roles have stepped into the spotlight and excelled, but that is a small majority compared to the players who have fallen flat on their faces early in the season.
The pitching staff needs to make a few corrections as well. After often appearing superhuman, Roy Halladay needs to make an adjustment. The bullpen has been in shambles in the middle innings, an the wheels are starting to fall off the rest of it.
Simply put, this is a team with plenty of corrections to be made, but it is still early in the season. There is plenty of time to make those changes, but here is what the team will need to do.
Roy Halladay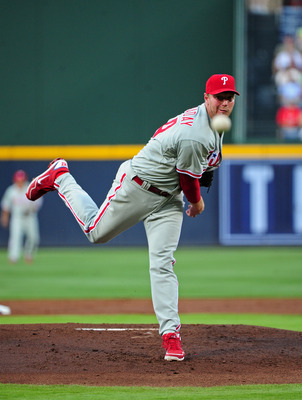 Scott Cunningham/Getty Images
Correction: Improve mechanics and fastball velocity.
Roy Halladay isn't the type of pitcher you have to worry about. He's smart and knows himself better than anyone, so if there is an adjustment that needs to be made, he usually makes it.
With that being said, this is a different type of issue. For the first time during his Phillies' tenure, Doc is facing a serious issue with his mechanics, to the point where pitching coach Rich Dubee has had to step in. That will need to improve.
Second, and a less important issue, Halladay will need to improve his fastball velocity. FanGraphs indicates that the velocity of his cutter has dipped to 88.9. That wouldn't be as much of an issue if the velocity of his changeup hadn't climbed to 87.1.
He'll need to create some separation between those pitches, but if anyone is capable of doing so, it is Halladay.
Cliff Lee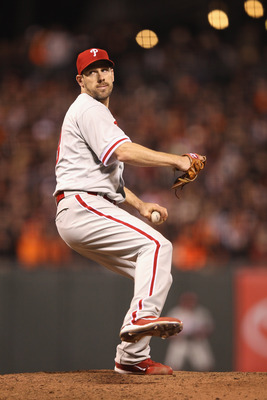 Ezra Shaw/Getty Images
Correction: Make sure oblique is fully healed.
After a less-than-impressive first start this season, Cliff Lee kicked things into a different gear and has been nearly untouchable since. In fact, after his last couple of starts, he shouldn't change a thing.
Lee's biggest "correction" will be to make sure that his oblique is completely healed before he starts this Wednesday. The last thing the Phillies need is to lose him because he rushed back, and it certainly doesn't seem as though he's done that.
Cole Hamels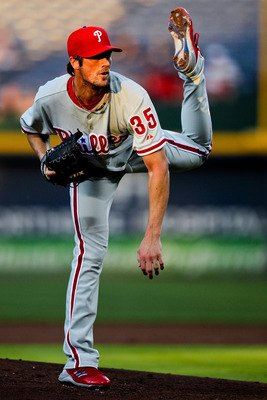 Daniel Shirey/Getty Images
Correction: Induce more ground balls.
Cole Hamels is another guy who doesn't need to make many corrections.
He has started the 2012 season on a pace that would give him easily the best season of his career, and he is at the top of the league in several statistical categories, including his strikeouts-to-walks ratio.
In a perfect world, Hamels could have a better ground-ball rate, but when you're missing bats and keeping runs off the board, it is hardly an issue.
Vance Worley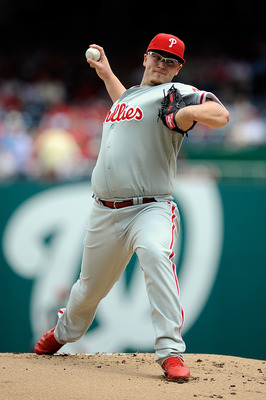 Patrick McDermott/Getty Images
Correction: Cut back on walks.
Vance Worley has pitched extremely well this season, sans a couple of bad starts. The common thread that those starts share is that when his control escapes him, Worley has a tendency to walk hitters and labor through long innings.
After his latest start against the Washington Nationals, Worley has issued 15 total free passes (including an intentional walk and a hit-batsman) in 38 innings, resulting in a rate of 3.08 walks per nine innings pitched.
If he cuts down on the walks, Worley can pitch the rest of the game much more efficiently.
Joe Blanton
Scott Cunningham/Getty Images
Correction: Strike out more batters.
Joe Blanton has been one of the Phillies' most pleasant surprises this season in a year when pleasant surprises are hard to come by.
The club's fifth starter has pitched extremely well at the back end of the rotation, collecting three wins earlier in the season, including his first complete game shutout with the club.
One thing Blanton could do to improve is strike out more batters. He has collected just 21 strikeouts this season, leading to a K/9 rate of 5.40.
Kyle Kendrick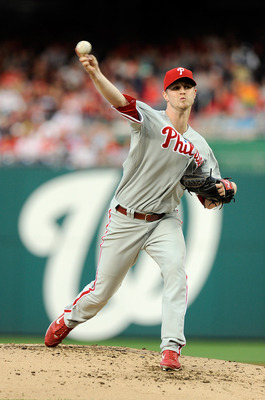 Greg Fiume/Getty Images
Correction: Cut back on walks and home runs; increase ground-ball rate.
Kyle Kendrick has been a train-wreck this season.
This first part of that correction is something that all pitchers should try to do, but when you don't throw hard and aren't very deceptive, you absolutely, positively have to throw quality strikes. Kendrick hasn't been doing that.
An alarming number of batters that Kendrick has faced have either left the yard (1.45 HR/9) or reached first base with a free pass (3.38 BB/9.)
For the last couple of years, I've been saying that Kendrick was better suited for the long reliever's role, and perhaps his last stint in the rotation will prove that.
Another thing that Kendrick must improve upon is his ground-ball rate. Not many sinker-ball pitchers have success with a ground ball rate of just 35.8 percent.
The Middle Relievers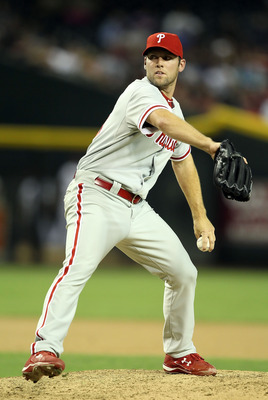 Christian Petersen/Getty Images
Correction: Get more outs!
Pretty self-explanatory here.
The back end of the Phillies bullpen, with Antonio Bastardo, Chad Qualls and Jonathan Papelbon, is very solid. They can't pitch every inning, though. The Phillies have been playing tight ballgames lately and a lot of extra innings. At the end of the day, they are going to need certain relievers to step up and get outs.
Simply put, the onus is on guys like Michael Schwimer (6.35 ERA, 5.2 IP,) Joe Savery (4.70 ERA, 7.2 IP,) Brian Sanches, (9.00 ERA, 2 IP,) and David Herndon (4.70 ERA, 7.2 IP, on DL) to start pitching some quality innings.
Mike Stutes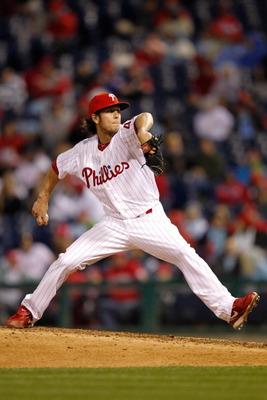 Brian Garfinkel/Getty Images
Correction: Cut back on walks; improve overall control / command.
Mike Stutes is on the disabled list dealing with a shoulder injury right now, but upon his return, the right-handed reliever could be a huge upgrade to the Phillies bullpen—if he can make a few corrections.
Stutes has the stuff to be a great reliever: Power fastball and a good breaking ball. What he needs to do is control those pitches. Improving the overall quality of his pitches is the first correction that needs to be made here; cutting back on walks will follow.
A 6.35 BB/9 rate just isn't going to cut it.
Jose Contreras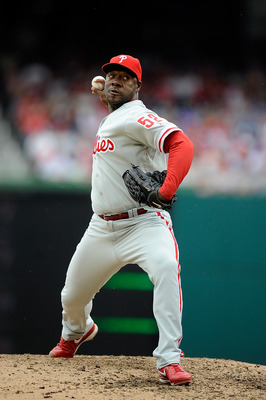 Patrick McDermott/Getty Images
Correction: Cut back on walks; miss more bats.
Jose Contreras has been an interesting case for the Phillies since coming off of the disabled list.
His overall stats would suggest that he is pitching poorly, but his peripheral stats are much better than that. For example, he has struck out seven batters in just 5.2 innings of work.
For some reason, the opposition is just seeing the ball come out of his hand very well. Contreras is walking batters at a clip of 4.76 per nine innings pitched and the opposition has posted a batting average of .375 against him.
He'll need to be more deceptive and miss more bats to hang around.
Antonio Bastardo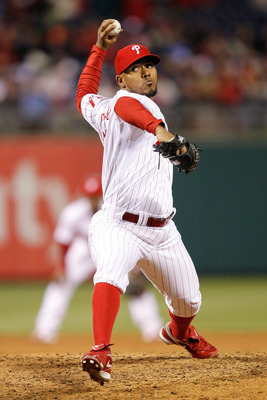 Brian Garfinkel/Getty Images
Correction: Increase fastball velocity, throw more innings.
On the surface, Antonio Bastardo doesn't seem like a guy that people should be worrying about. His ERA early in the season is a pristine 2.84 and he's striking out 9.95 batters per nine innings.
Dig a little deeper and Bastardo is a more puzzling case. According to FanGraphs, his fastball velocity is down to 91.4 and has been falling steadily since 2010. Some believe that Bastardo needs to work more innings to rev up his velocity, but that is yet to be proven.
Regardless, the Phillies are certainly going to need him in the late innings, so we will find out soon enough.
Chad Qualls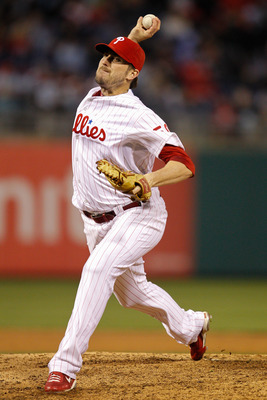 Brian Garfinkel/Getty Images
Correction: Cut back on walks and home runs.
My, what a difference a couple of outings makes.
It seems like just the other day I found myself praising Chad Qualls for being a huge help to the Phillies bullpen, but now, it doesn't seem as though he could pitch a clean inning.
Qualls' walk and home run rates per nine innings have ballooned to 4.35 and 1.74, respectively, following his last couple of outings, and that will need to change if he wishes to remain the Phillies' setup man.
Jonathan Papelbon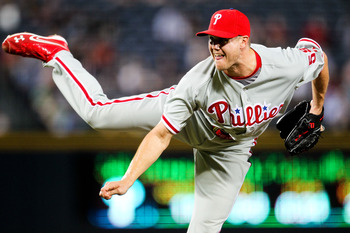 Daniel Shirey/Getty Images
Correction: Throw more secondary pitches.
Jonathan Papelbon doesn't have to make any corrections. He's literally been perfect early in the season.
If I had to nitpick, I'd like to see him throw more of his secondary pitches. According to Brooks Baseball, Papelbon has thrown 101 fastballs this season, compared to just 16 sliders and 38 splitters.
He could mix things up a bit, but then again, he should probably just continue to use what's working for him.
Carlos Ruiz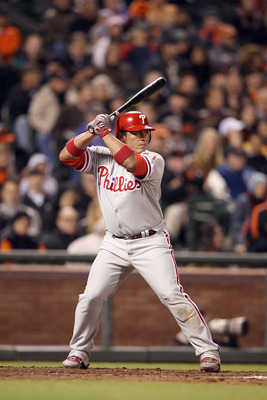 Ezra Shaw/Getty Images
Correction: Increase walk rate.
Carlos Ruiz has been the Phillies' best hitter this season, so there really isn't much for him to correct.
If I had to single out a single area of his game, it would be the drastic drop in his walk rate—from 10.2 percent in 2011 down to just 4.5 percent in 2012.
Then again, Ruiz is also being more aggressive at the plate and has benefited in other areas of his game, so again, there really isn't much to change here.
Ryan Howard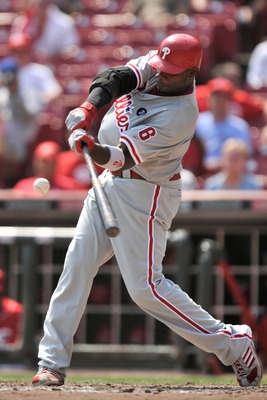 Jamie Sabau/Getty Images
Correction: Work on strengthening his Achilles' tendon.
The Phillies offense is sputtering along right now and really needs the return of Ryan Howard. I'm sure he knows that as well.
However, the most important thing for Howard is to make sure that he does not rush back from his torn Achilles' tendon. He's already had one setback after it became infected, and the Phillies do not need him to miss any more time.
Howard needs to take it slow, and when he is ready to come back to the MLB, so be it.
Chase Utley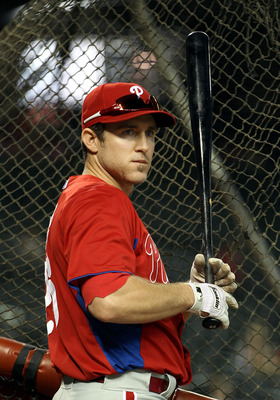 Christian Petersen/Getty Images
Correction: Work on strengthening knees.
Much like Ryan Howard, Chase Utley's lone goal right now should be to strengthen his knees.
The Phillies are keeping their heads afloat right now, but should either Utley or Howard have a setback and miss a significant amount of time, this club could be in some serious trouble, if they're not already.
Utley has spent most of the season in Arizona working with a specialist to strengthen his knees, rejoining the Phillies this weekend in Washington D.C. to continue his progress. The next step is Clearwater, and realistically, he could be just three weeks away from game action with the Phillies.
Jimmy Rollins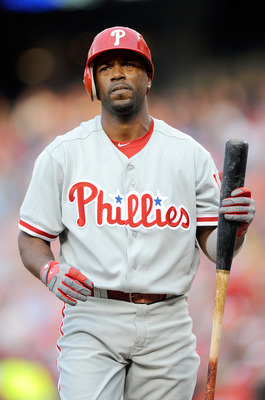 Greg Fiume/Getty Images
Correction: Become a more efficient leadoff hitter.
Now that Jimmy Rollins has been moved back to the top of the Phillies order, they are going to need him to become a better leadoff hitter.
Rollins has struggled mightily at the plate early in the season, posting an OPS of just .533. A lot of that has to do with his surprisingly poor plate discipline. His walk rate has dropped to 5.1 percent while his strikeout rate has climbed to a staggering 17.9 percent.
He hasn't been the same player on the basepaths either, having swiped just five bases.
Placido Polanco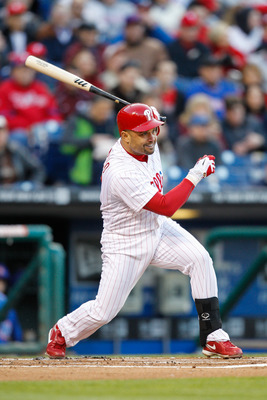 Brian Garfinkel/Getty Images
Correction: Show some signs of life at the plate.
I could write a novel on all of the things that are wrong with Placido Polanco right now, but I'll spare you the grief and give you the short version: The Phillies desperately need Polanco to do something at the plate.
Yes, he plays a stellar defensive third base, but there are only a few positions on the diamond where a team can get by with stellar defense and zero offensive output, and third base is far from one of them.
Polanco's OPS of .571 and .250 batting average just aren't going to cut it for the Phillies, who may find themselves searching for alternatives.
Laynce Nix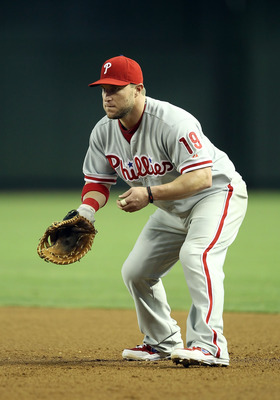 Christian Petersen/Getty Images
Correction: Cut back on strikeouts.
Given the fact that the Phillies expected Laynce Nix to come into the season as a part-time player, he hasn't been all too shabby through the first month or so of the season.
He's played first base and left field fairly regularly and has posted an incredible OPS of 1.025, albeit playing a majority of his games against right-handed pitching—definitely his strong suit.
If there's one thing Nix could do better, it would be cutting back on his strikeouts. He's punched out at a rate of 22.2 percent this season, though that is in line with his career norm.
Shane Victorino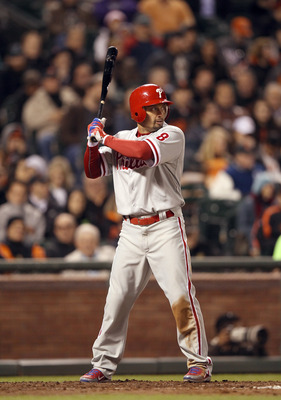 Ezra Shaw/Getty Images
Correction: Get on base more frequently.
Shane Victorino is undoubtedly at his best when he is getting on base with frequency and by proxy, inside the head of the opposing pitcher. He hasn't been able to do that early in the season.
It seems as though the Phillies center fielder has taken a more power-oriented approach this season, having hit five home runs while posting an OBP of just .289.
Another part of the problem is Victorino's poor plate discipline thus far. You're not going to get on base much when you're hitting .246 and walking at a clip of 5.7 percent.
Hunter Pence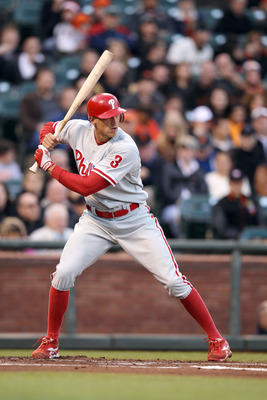 Ezra Shaw/Getty Images
Correction: Improve discipline at the plate.
With Ryan Howard and Chase Utley on the shelf, Hunter Pence was supposed to be the guy that carried the offense while they were down, and it appears as though that was a weight too heavy for the right fielder to handle early in the season.
Pence's approach at the plate has been horrid at times. He's hitting just .269 and has posted an OPS of .740. He's also in the middle of a stretch that has him posting his highest strikeout rate and lowest walk rate of his career.
With that being said, it has certainly been a strange season for Pence, who also is in the midst of one of the team's longest hitting streaks of the season, and only Carlos Ruiz has more RBI.
Ty Wigginton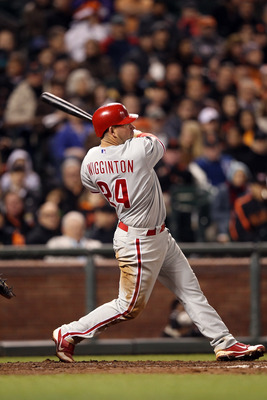 Ezra Shaw/Getty Images
Correction: Cut back on strikeouts.
Ty Wigginton has done just about everything the Phillies could have hoped for when they traded for him.
They expected that he would come into the season as a bench player with the ability to give guys a rest at three infield positions, while providing the club with a solid right-handed bat off of the bench on days when he was not.
After a slew of injuries, some expected and some not, Wigginton has stepped into more of a regular role and has given the lineup a boost, posting an OPS of .768.
One thing that he'll need to do to continue his success at the plate is cut back on his strikeouts. Wigginton is striking out at a clip of 24.4 percent—the highest mark of his career.
Jim Thome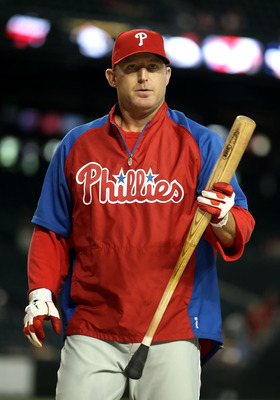 Christian Petersen/Getty Images
Correction: Cut back on strikeouts.
The Phillies bringing back Jim Thome was a great story, but now he's going to have to start producing before it ends ugly.
Before landing on the disabled list with a sore back, Thome was striking out at a rate of 47.6 percent. It is nothing outside of unacceptable to strike out in nearly half of your plate appearances.
The Phillies really need Thome to start hitting off of the bench. There are no two ways about it.
John Mayberry Jr.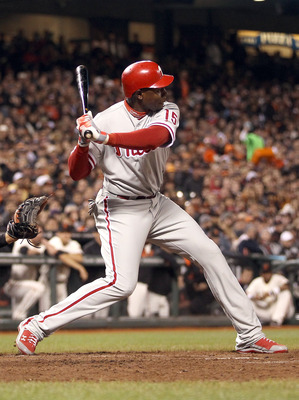 Ezra Shaw/Getty Images
Correction: Improve approach at the plate.
John Mayberry Jr. is a mess right now.
Heading into spring training, he was tabbed as the everyday left fielder and now, just a couple of months later, he finds himself riding the pine more often than not, sporting a .207 batting average and a .479 OPS.
The Phillies expected him to provide the lineup with some right-handed pop. Mayberry has responded by hitting a grand total of zero home runs.
The club thought that he had improved his approach at the plate, and Mayberry responded by posting a walk rate of 1.7 percent and a strikeout rate of 32.3 percent.
Something has to change here.
Freddy Galvis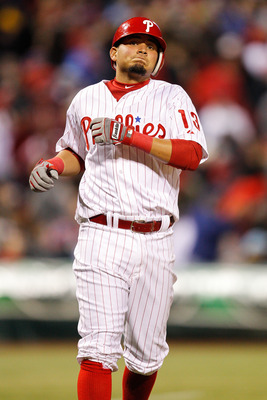 Brian Garfinkel/Getty Images
Correction: Improve plate discipline.
Freddy Galvis wasn't ready to hit at the MLB level, but necessity dictated his position on the club.
When Chase Utley returns, however, he should be sent to Triple-A, because his approach at the plate needs some serious work. Watching Galvis swing at a pitch at his eyes and take a fastball right down the pipe is quickly becoming a common occurrence.
He really needs to refine his approach at the dish. Galvis has posted a walk rate of 3.4 percent, compared to a strikeout rate of 15.7 percent.
His bat could use some more minor league seasoning.
Brian Schneider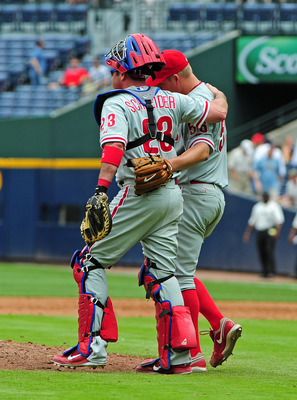 Scott Cunningham/Getty Images
Correction: Contribute more at the plate.
A few of the players on the Phillies roster won't be here throughout the season, but Brian Schneider is really the 25th man on this roster.
His job is simple: Give Carlos Ruiz a breather on certain days and call a good game. The Phillies don't need him to be a hero at the plate, but they do need him to contribute something.
Schneider is posting a horrid slash line early in the season: .182 / .217 / .182.
The Phillies don't need him to do everything, but they do need him to do something.
Keep Reading

Philadelphia Phillies: Like this team?