French Open 2012: Each ATP Top 10 Player's Odds of Reaching the Finals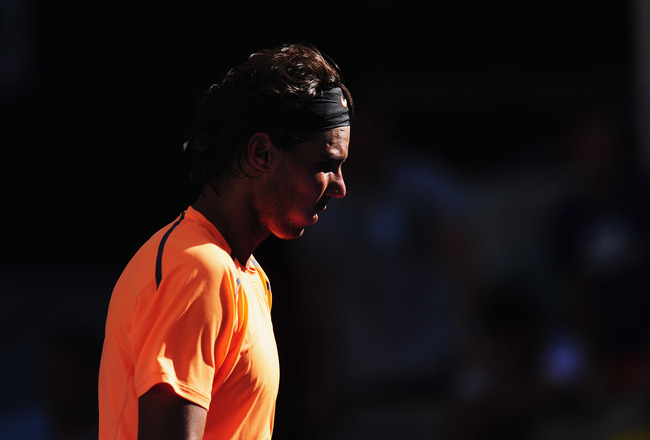 Mike Hewitt/Getty Images
As quickly as the Australian Open came and left, the French Open is just about ready to envelop the tennis world, and with it comes plenty of anticipation and excitement.
Will Novak Djokovic continue his quest for the Calendar Grand Slam by winning his fourth straight Slam title? Will Rafa Nadal reclaim his throne on the Roland Garros courts? Will Roger Federer show audiences around the world that he isn't done yet?
Whether one of these three or another hopeful player comes out on top, it will certainly be an intense few weeks.
Here's a look at the odds for each man in the top 10 to reach the finals of this season's second Slam event.
No. 1: Novak Djokovic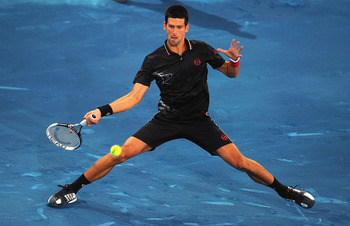 Mike Hewitt/Getty Images
It has been over a year since his breakout in early 2011, but sitting atop the ATP rankings, Serbian star Novak Djokovic is still the biggest story that the sport has to offer.
Not only will he be looking to keep hopes of the coveted Calendar Grand Slam alive at Roland Garros, he will also be looking to acquire his fourth consecutive Slam title, a feat some are already calling the Novak Slam.
His 2012 season hasn't been quite as impressive as last year's thus far, but you can't complain much about an Australian Open title and a record of 24-3.
Assuming he can keep his mental game intact and recover from his recent loss to Rafa in the Monte Carlo final, he should face few obstacles until the semifinals, where he will likely meet world No. 4 Andy Murray.
However, he should be able to dismiss the challenge and advance to the finals.
Odds: 3-1
No. 2: Rafael Nadal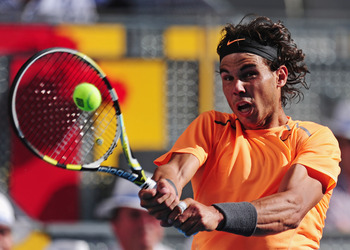 Mike Hewitt/Getty Images
The longtime king of the clay courts is still the best on the surface, and it should translate in his Roland Garros play.
Having won six of the last seven French Open titles and playing some of his best tennis, I don't predict that much will stop him at Roland Garros this year on the path to the finals. Of course, he can definitely lose to any of the Big Four on any given day, or even to other lower-ranked competitors (as seen by his loss to Fernando Verdasco in Madrid), but I don't see that as likely for now.
Fans of Rafa who would love to see him battle in another French Open final can be very hopeful.
Odds: 2-1
No. 3: Roger Federer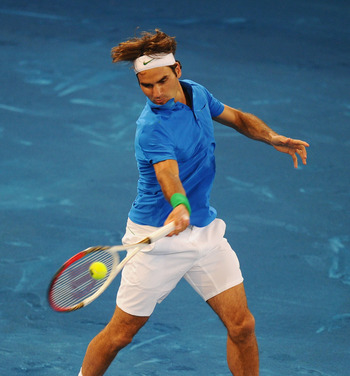 Mike Hewitt/Getty Images
At the relatively old age of 30, what we can expect from the legendary Swiss maestro has been uncertain going into recent tournaments. However, he's definitely not showing signs of slowing down.
Having already won titles in Indian Wells, Dubai, and Rotterdam, Fed is putting on quite an impressive show in 2012. He will definitely be a contender for all of this season's remaining Slams.
As far as the French Open goes, I don't give him as good of a chance for reaching the finals as I give his current superiors, because he would need to beat Nadal to do so. Having said that, though, he should have little trouble reaching the semis.
Odds: 8-1
No. 4: Andy Murray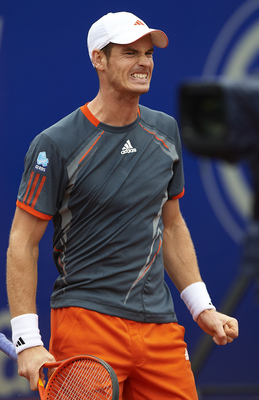 Manuel Queimadelos Alonso/Getty Images
With each approaching Slam come the predictions from hopeful Andy Murray fans, saying that this will be his chance to break out and finally establish himself as "up there" with the other Big Four members.
The 2012 French Open will be no different.
As long as he can quickly recover from his recent back injury (which has forced him to withdraw from Madrid), he should have a somewhat clear path to the semifinals, where he will probably encounter the Djoker.
I actually give Murray better odds for making the finals than Federer, because I feel that Djokovic is more vulnerable than Rafa in this particular event. However, the Serb will still be the favorite for that match.
Odds: 6-1
No. 5: Jo-Wilfried Tsonga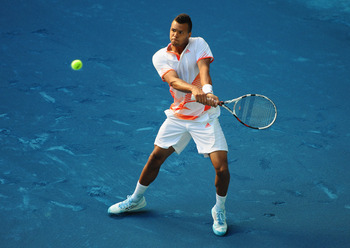 Mike Hewitt/Getty Images
Outside of the dominant Big Four, my attention is drawn first to Jo-Wilfried Tsonga.
Being a Frenchman, he never ceases to please his home crowd at Roland Garros, and they love him for it. This obviously can make a huge difference in tight matches.
This won't be the first time he is viewed as a dark horse—he is one to watch going into most Grand Slams.
And he isn't playing any worse than usual. In 2012, he has already taken one title (Doha) and earned himself a solid record of 21-8.
It will be far from easy for Tsonga to reach a semifinal, let alone the finals, with the intensity of his competition. If someone outside of the top four spots is going to do it, though, it very well could be this guy.
Odds: 20-1
No. 6: David Ferrer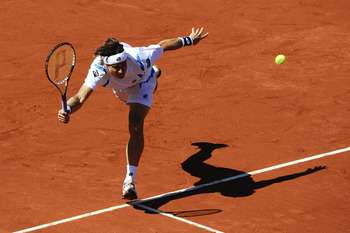 David Ramos/Getty Images
One of the most solid performers outside of the Big Four this season has been Spanish veteran David Ferrer, who has won three titles already in 2012 (Acapulco, Buenos Aires and Auckland). Interestingly enough, the Acapulco and Buenos Aires events took place on clay.
Ferrer is playing some of the best clay-court tennis of his career, and he may very well advance deep into the tournament.
A finals appearance is a stretch, but we can expect a good performance from him.
Odds: 25-1
No. 7: Tomas Berdych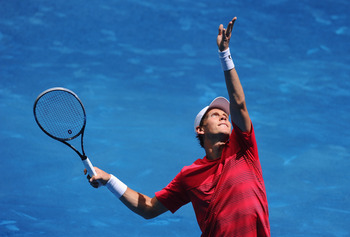 Mike Hewitt/Getty Images
Ever since his appearances in the 2010 Wimbledon final and the 2010 French Open semifinals, Tomas Berdych has been hungry for more success at Slam events. Unfortunately, he hasn't been able to match or top those results in the past two seasons.
Is this year's French Open his chance to turn around and achieve that kind of success again?
Berdych currently has a season record of 22-6, and is sitting only one spot away from his career-best ranking of world No. 6. Now seems to be as good of a time as any to pull off a few upsets in a Slam and reach his second final.
Based on his recent play, I give him the same odds as Tsonga to make a final.
Odds: 20-1
No. 8: Janko Tipsarevic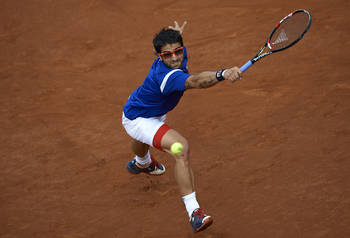 Manuel Queimadelos Alonso/Getty Images
The second-highest ranked Serb in the ATP made a strong and impressive push at the end of 2011 that enabled him to reach the world No. 9 spot and participate in the ATP World Tour finals after Andy Murray's withdrawal.
Coming off of that, he started 2012 with a disappointing record of 19-9. At the relatively old age of 27, early 2012 was his chance to break out and establish himself as a contender, but it appears that he has missed that opportunity.
Even though he will most likely be seeded eighth at the French Open, I don't predict that he will make any kind of run deep into the draw.
Odds: 50-1
No. 9: Mardy Fish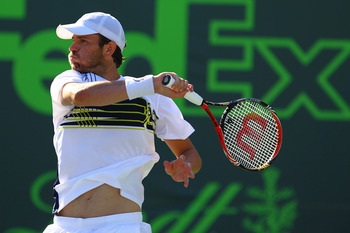 Al Bello/Getty Images
American Mardy Fish is another player who made a late-career push with a fantastic 2011 season, which consisted of a title in Atlanta and finals appearances in Los Angeles and the Canada Masters event. In August, he reached a career-high No. 7 in the rankings.
Similarly to Tipsarevic, he failed to capitalize at the start of the new season, losing in the second round of the Australian Open to Alejandro Falla and recording a mere seven wins.
Judging by the way he has been playing, a finals appearance from this man would be nothing short of a miracle in the eyes of American tennis fans.
Odds: 60-1
No. 10: John Isner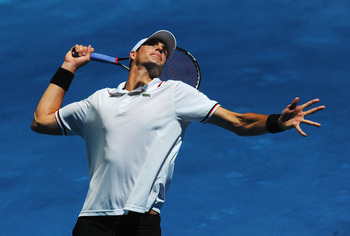 Mike Hewitt/Getty Images
This man, on the other hand, can make fans in the United States more hopeful.
Big-serving American John Isner has been one of the most impressive stories in the tennis world this season. Since first making a name for himself in his marathon match of the 2010 Wimbledon campaign, he has developed his game into one that can dominate the likes of the best players on tour (Roger Federer in the first round at the Davis Cup and Novak Djokovic at Indian Wells).
Although he recently suffered a disappointing loss to Marin Cilic in the early rounds of Madrid, he still poses a serious threat to the top players in the season's next Grand Slam. He may very well be the most intimidating dark horse that this year's French Open has to offer.
Odds: 15-1
Keep Reading