Jennifer Capriati Very Deserving of International Tennis Hall of Fame Nod
April 30, 2012

Gary Gershoff/Getty Images
A few weeks ago, it was announced that Jennifer Capriati, my favorite sports athlete of all time, will be inducted this July in Newport, R.I.
They began announcing this year's class, one at a time several moths ago, and, of course, saved Capriati for last (and nearly gave me a nervous breakdown in the process).
Capriati's selection into the Hall is well deserved, but I admit I wasn't sure everyone would see it that same way as I do.
The Floridian had a great, albeit short, career. Most everyone knows her story. When she turned pro at 14 in 1990, she was supposed to be the next Chris Evert. The hype was out of this world. For a while, it looked like she might deliver.
She reached the top 10 in 1990. In 1991, she defeated Martina Navratilova to reach the Wimbledon semifinals. She also made the semifinals at the U.S. Open that year, losing to Monica Seles in a three-set thriller.
That match is still one of my favorites of all time, as the two went toe-to-toe from the baseline. Many, including myself, believe that match led to a wave of hard-hitting baseliners that still dominate the game today.
In 1992, Capriati won an Olympic gold medal in Barcelona at the age of 16. She beat Steffi Graf on clay for the title. However, things went downhill from there.
All the fame and hype began to take its toll on Capriati, and her game began to falter. She dropped off the tour, and in 1994 she was arrested for possession of marijuana.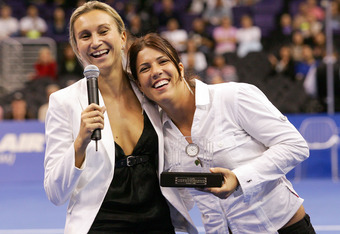 Robert Laberge/Getty Images
She returned to the WTA Tour in 1996, but her game wasn't the same. She struggled for several years, and her ranking dropped into the 200s.
Finally in 1999, Capriati slowly started to get her game back and finished the year ranked 23rd. In 2000, she reached the Australian Open semifinals and ended the year at No. 14.
The following year, Capriati finally put it all together again and won the Australian Open. She then won the French Open and reached the semifinals at the other two majors. She reached No. 1 in the world for the first time, and finished the year at No. 2.
Her story became an inspiration around the world to many, and I still consider it one of best comeback stories in sports history. In 2002, she won the French Open again. She remained competitive for the next two years, but a shoulder injury ended her career in 2004.
She won 14 singles title, including a gold medal, and held the No. 1 ranking for 18 weeks. She finished with a career record of 430-176. To put that career record in perspective, Serena Williams just reached 500 wins earlier this year.
To me, Capriati's career resembled that of Andre Agassi in many ways. Injuries cut her career short so that she didn't have as many years or slam titles or overall wins, but she had the many ups and downs that he had. In the end, they both persevered through the tough times and should be an inspiration for many.
I was glad to see that the voters of the Hall of Fame didn't keep Capriati from the Hall because of her off-the-court problems. It's not like baseball, where many of the steroid users were doing it to get the upper hand. Capriati made mistakes, but I also think she paid the price for them.
I hate that injuries had to take her away from the game before she was ready, but unfortunately that's the way sports go. Her powerful groundstrokes and strong serve were some of her biggest strengths, but her biggest was her fighting spirit.
You knew anytime she took the court during her resurgent comeback that she was going to give it everything she had, and that's why she had so many fans. She had fans before her troubles with the law, but when she came back and began winning again she had more fans than ever.
Much like Evert, she really did become "America's Sweetheart." Capriati was someone every fan could relate to. Everyone has tough times in their life, and seeing someone overcome obstacles and battle through adversity gives us all hope for ourselves.
While most fans will remember Capriati for her game, or for her fighting spirit, I'll always remember her most for her smile. She had one of those infectious smiles that makes you as a fan want to smile back.
On July 14, she will be inducted into the Hall of Fame, and you can be sure there will be tears and a smile on her face. Capriati had a career full of highs and lows, but in the end there will be a happy ending to her tennis career, and that is something to smile about.