Jessica Dorrell Loses Everything over Bobby Petrino Affair
April 23, 2012

One kiss lead to a public humiliation for Jessica Dorrell, Bobby Petrino and the whole of the Arkansas football program. 
It all depends on where you think things went wrong. ESPN has a great breakdown of the relationship between Petrino and Dorrell that allegedly started one day as the two sat eating lunch in a parked car. 
The details of an affair that only became public after a motorcycle crash was detailed when athletic director Jeff Long sat down and questioned Petrino. 
On their first romantic encounter, Petrino asserted that Dorrell made the first pass, asking if Petrino was going to kiss her. 
Their relationship would span months, and there is no way of knowing for certain when the two were intimate, or just friends as Petrino states. 
The investigation revealed enough for Long to dismiss his head coach. Petrino never disclosed the relationship, and he had too big a hand in her hiring.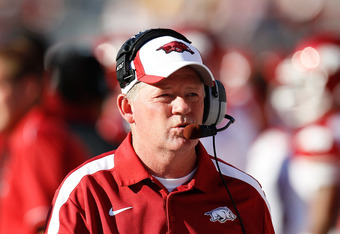 Kevin C. Cox/Getty Images
For Dorrell, she went from having it all, to having it all ripped away from here, including any and all privacy. 
Petrino gave his mistress gifts that ranged from candy to $20,000, according to ESPN. The same report issues Dorrell has since resigned from her post with Arkansas. 
In the span of a few weeks, Dorrell has gone from an engaged employee of the University she loved, to having a torrid affair with the face of the football program. 
With one awkward turn around a corner, Petrino dumped his bike, and everything unraveled around the two. 
The price for Petrino was his job, and possibly his career. For Dorrell, it may prove a tad more steep, as she had been hit with infamy none of us would enjoy.