UFC 145: What's Next for the Losers?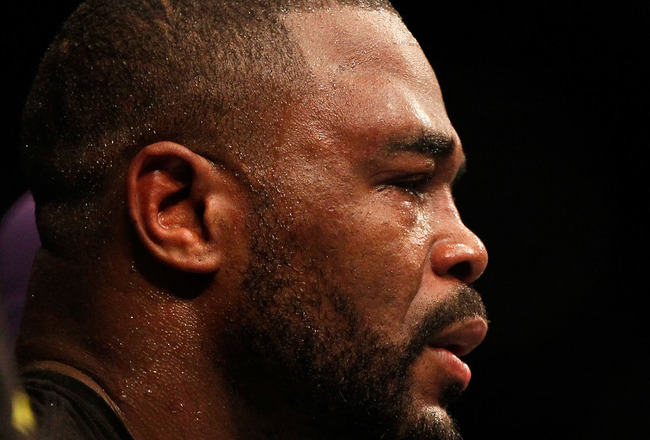 Kevin C. Cox/Getty Images
Former UFC light heavyweight champion Rashad Evans hoped to reclaim the title he had lost almost three years ago when he faced reigning champion and former teammate Jon "Bones" Jones in the main event at UFC 145.
After five rounds, Evans was declared the loser by unanimous decision, but he had done better than Jones' previous opponents and even stole a round on two of the three judges' scorecards.
In the co-main event, Che Mills was against all odds when he took on one of the best rising welterweights in Rory MacDonald. He wasn't able to overcome them, losing by TKO in the second round.
Other fighters who fell short of victory include Brendan Schaub, John Alessio, Miguel Torres and Mark Hominick. This is what's next for the losers.
Stephen Thompson Defeated by Matt Brown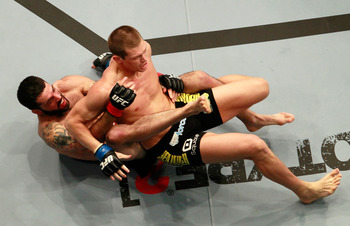 Kevin C. Cox/Getty Images
Stephen "Wonderboy" Thompson had a lot of hype coming into his fight with Matt Brown, but it was "The Immortal" who came out on top, winning a hard-fought decision over three rounds.
Thompson had his moments, especially in the second round when he stunned his opponent but didn't have the killer instinct needed to put Brown away. He was out-grappled for the majority of the fight and will need to work on his ground game in a division dominated by wrestling-oriented fighters.
For his next fight, a bout with Besam Yousef, who just lost at the previous UFC on Fuel card, is a matchup between two fighters at the same point in their careers.
John Makdessi Defeated by Anthony Njokuani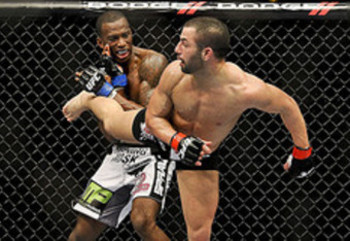 John Makdessi was looking to rebound from his first professional loss against Dennis Hallman when he took on standout striker Anthony Njokuani in a preliminary bout.
The former kickboxer found no success over three rounds of stalking his opponent and lost a unanimous decision defeat to the taller and more technical Njokuani.
With back-to-back losses, Makdessi can be matched up with a fighter in a similar position to make them both fight to the best of their abilities in what would be a must-need victory. This should come against Efrain Escudero, who lost to Mac Danzig earlier in the night.
Mark Hominick Defeated by Eddie Yagin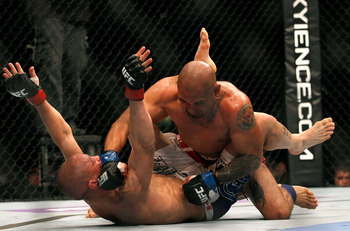 Kevin C. Cox/Getty Images
Despite being a massively favored fighter going into his last two matchups, Hominick could not do enough to get past Eddie Yagin, whom a lot of people thought was there just to get the Canadian fighter back on track.
Hominick was nearly knocked out in the first round, but he survived and rallied to bloody his opponent down the stretch, losing a split decision for his effort.
With three losses in a row, the UFC is likely to keep him around and give him one more chance. Maximo Blanco, who lost to Marcus Brimage on the undercard, would be a good opponent for him.
John Alessio Defeated by Mark Bocek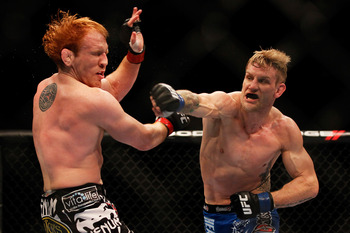 Kevin C. Cox/Getty Images
John Alessio returned to the UFC for the first time since 2006 as a late replacement to face Mark Bocek, but the 32-year-old could not get past the grappling superiority of his opponent and lost a unanimous decision after three rounds.
The UFC is going to keep Alessio around as it usually does with most of its fighters who step up as a late replacement.
Alessio can take on the loser of the upcoming Kamal Shalorus and Rafael dos Anjos fight.
Brendan Schaub Defeated by Ben Rothwell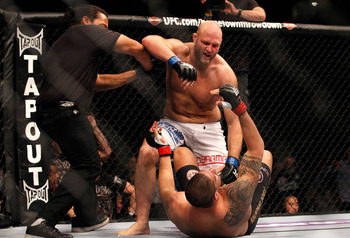 Kevin C. Cox/Getty Images
The heavyweight bout between Brendan Schaub and Ben Rothwell basically came down to who had the better chin.
Rothwell proved he could take what Schaub had to offer and deliver his own knockout blows, stopping "The Hybrid" one minute into the first round.
It was a much-needed win for Rothwell, who didn't look good in his previous bout versus Mark Hunt. With the inspiration of his fans exhorting him to continue fighting, he came into this fight and looked very good.
Schaub will have to re-establish himself in the division and get back on track; a fight versus Chad Griggs would make sense.
Miguel Torres Defeated by Michael McDonald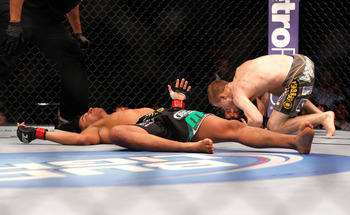 Kevin C. Cox/Getty Images
Former WEC bantamweight champion Miguel Torres is considered by many to be one of the best fighters to ever fight in the division, but a loss suffered at the hands of Michael McDonald leaves the 31-year-old seeking to reclaim his place in the division.
McDonald connected with a right uppercut early in the first round and found the chin of Torres soon after, dropping him and adding follow-up punches to seal the deal at 3:18 of the round.
Torres is now 3-4 in his last seven, but most of those came against very good competition. He can take on the loser of Jeff Curran and Johnny Eduardo.
Che Mills Defeated by Rory MacDonald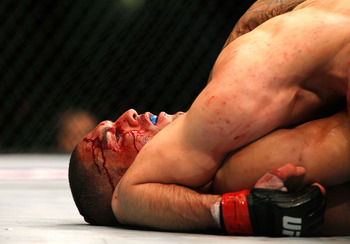 Kevin C. Cox/Getty Images
Che Mills appeared to be overmatched going into his bout with one of the UFC's best welterweights, and it looked that way for the better part of two rounds before he was stopped in the second. The loss was his first in the UFC by TKO.
Mills has to be given credit for taking on what was a massive challenge, but he will have to come out and look better in his next bout. A fight versus Paulo Thiago, who was recently knocked out by Siyar Bahadurzada at the last UFC on Fuel event, is appropriate for both fighters.
Rashad Evans Defeated by Jon Jones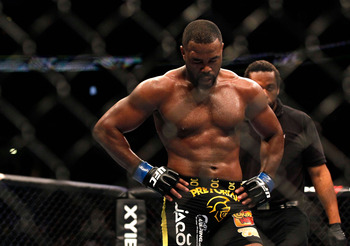 Kevin C. Cox/Getty Images
Rashad Evans made it the distance with Jon Jones, but the former champion could not do enough to win more than one round on two judges' scorecards and dropped a unanimous decision loss to his former teammate.
With the loss, Evans falls to 17-2-1 with his only other loss having come against Lyoto Machida. A lot of fans are calling for a rematch between the two, and it's one that's not hard to get behind considering where both are at in the division.
Keep Reading