Rafael Nadal Crushes Novak Djokovic at Monte Carlo Masters: How Does It Feel?
April 22, 2012

Clive Brunskill/Getty Images
Rafael Nadal's 6-3, 6-1 win over Novak Djokovic at the Monte-Carlo Rolex Masters was a decisive victory from a proud champion. No battle occurs without changing its combatants and altering the landscape of the world they try to dominate.
Media and fans will pick through the rubble, piecing together the story, examining its causes and projecting its consequences. Even a short, one-sided battle will change its participants.
For Nadal, this was perhaps the most definitive comeback statement in his career.
You're Novak Djokovic
It's been a tough week. You've struggled with your game and personal tragedy. You fought valiantly, but it was clear today that you were no match for your hungry rival.
You don't like losing your dominance of Nadal, but you know that he is too good to hold down forever. Even Prometheus eventually escaped eternal torment. Better that you lose now than at Paris.
You are the No. 1 player in the world, and this loss will motivate you. You look forward to playing him again, maybe at Madrid or Rome. You will be stronger, better and ready to move forward.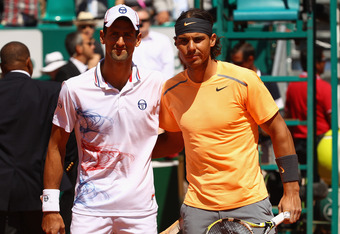 Clive Brunskill/Getty Images
This will be an important wake-up call if you wish to win the Novak Slam. You will need to win it, because your rival has woken up from his slumber, and has declared himself the defender to your quest to seize the Holy Grail.
You're Rafael Nadal
Redemption. More importantly, you have turned your hope and hard work into a championship result. You removed the gorilla off your back, and released any doubts you may have had about playing your brand of clay-court tennis.
Confidence. After today's euphoria fades away with the feast and celebration, you will go back to work tomorrow. But you have changed, and your workouts will have greater belief. You can beat that guy.
Your snarl is there. Your edgy, sometimes abrasive competitiveness need not be restrained. You know how to impose your will. You always have.
You did not forget how to be a champion, even had you lost. Your accomplishments speak for themselves. You still have 10 Grand Slam wins, and are arguably the greatest fighter tennis has ever seen.
Now you have added an important comeback title to your immortal career. You are ready for more.
You above all other players know the road to Paris will require even more hard work and execution. You dare not believe you are infallible, else you cease to exist.
Complacency is not a part of your vocabulary, but comeback is, and you can draw on this Monte Carlo win when you need an added dose of belief.
This may have been the most satisfying and important non-Slam of your career.
You are Rafael Nadal and you refuse to die. Most of all, you want to win.
The French Open Holy Grail is locked away safely somewhere in Mallorca. Nobody takes that away without going through you.
But you want to do more than defend your clay, or validate your legacy. That's been done, and someday you will reflect on all of this.
Right now you are already thinking about winning Grand Slams. You are a champion, and you live to be the best.
Today you were the best in the world.
How does it feel?