Nnemkadi Ogwumike: Dynamic Frontcourt Duo Will Lead to Great Things for Sparks
April 16, 2012

Ezra Shaw/Getty Images
Four years ago, the Los Angeles Sparks selected Candace Parker with the No. 1 overall pick in the WNBA draft. The hope was that her presence in the frontcourt would lead to great things for the team.
On Monday, the Sparks once again selected a dynamic frontcourt player with the No. 1 overall pick in the WNBA draft, this time selecting Stanford's Nnemkadi Ogwumike.
Ogwumike is heading to the WNBA with a resume that's already pretty loaded. In four seasons at Stanford, she helped lead the Cardinal to the Final Four each year. In her senior season, Ogwumike was dominant, averaging 22.5 points and 10.2 rebounds per game.
Ultimately, Ogwumike was a unanimous First Team All-American selection. The only other unanimous selection was Baylor's dominant center, Brittney Griner.
Ogwumike has the tools to make it in the WNBA. She's an outstanding rebounder, and she has a number of different post moves in her arsenal that she can use to score. She also shoots the ball very well.
On the Sparks, the 6'2" Ogwumike will team with the 6'4" Parker. It will be interesting to see how new coach Carol Ross chooses to utilize the two of them, as her options are pretty wide open. Ogwumike is strictly a power forward, but Parker is a jack-of-all-trades who can play several different positions, including center. 
What's for sure is that the two of them are going to be a matchup nightmare for just above every other team in the WNBA. Parker is hard enough to handle on her own, as she's good for a double-double every game. The reality of having to deal with both Ogwumike and Parker is going to cause a lot of headaches around the league.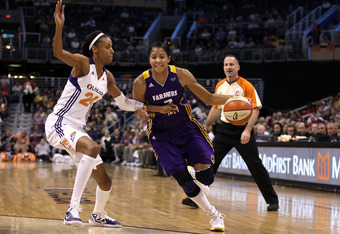 Christian Petersen/Getty Images
There is one caveat, however, and that's that Parker will have to stay healthy. She suffered a torn meniscus in 2011 which shelved her for several weeks. It was a killer blow to Parker, who entered the 2011 season healthy after previously missing time due to both injury and pregnancy.
In the event that Parker does stay healthy, the Sparks will have no trouble whatsoever improving on their 15-19 record in 2011. If Ogwumike is up to the task of handling life in the WNBA, and she should be, the Sparks will be able to chase a championship, something that has eluded them since the early 2000s.
Don't be surprised when the Sparks are stealing headlines in L.A. from the Lakers and Clippers.