Ivan Ljubicic Retires from Tour: A Look at Some of His Career Highlights
April 15, 2012

Julian Finney/Getty Images
Today, 33-year-old Ivan Ljubicic from Croatia retired from the ATP tour. It was known that he would do so at his home tournament, Monte Carlo, this year; the question merely was how far he would go in the tournament. 
In the end, his 15 years on the ATP tour ended when he lost in the first round against countryman Ivan Dodig, 6-0, 6-3. That marks a fitting passing of the torch to a countryman a few years younger than Ljubicic. 
Ljubicic is the second-greatest Croatian player ever, only slightly overshadowed by Wimbledon champion Goran Ivanisevic. He's well-liked on tour, not least among fellow Croats, to whom he's always been kind of a leader.  
Ivan's best years tennis-wise were 2005-2006, when he reached his one and only slam semifinal (losing to Rafael Nadal at the French Open in 2006) and climbed as high as third on the ATP tour rankings. He also reached three Masters finals but lost all of them (to Nadal, Roger Federer and Tomas Berdych). 
Moreover, he helped Croatia win the Davis Cup in 2005, winning 11 of his 12 rubbers. In the first round, he and Mario Ancíc became one of two teams to ever defeat the Bryan brothers in a Davis Cup match.
Ljubicic also beat Andre Agassi and Andy Roddick in that tie, the latter in five sets, to create one of the biggest Davis Cup surprises in recent memory (the tie was even played in the US).
See highlights here. Ljubicic and Croatia marched on to the title. 
Another highlight for the 6'4" Croat was the 2004 Olympics, where he and Mario Ancíc won a bronze medal.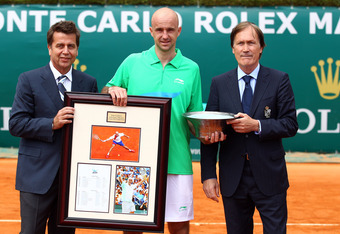 Julian Finney/Getty Images
But perhaps his biggest single success came at the tail end of his career, when he, after having been runner-up in three Masters finals, finally got a win at Indian Wells in 2010, two days before his 31st birthday, becoming the oldest man to win his first Masters final. 
Ljubicic went on a dream run, beating world No. 2 Novak Djokovic in straights, Juan Monaco (No. 27) in the quarters, world No. 3 Rafael Nadal in the semis, clinching the third set tiebreak 7-1 after losing the first set and finally, world No. 8 Andy Roddick in two tight tiebreaks. 
His big serve, always his most important asset on the court, carried him through what any observer must have thought to be an impossible task beforehand. But Ivan didn't. 
Any tennis fan not blinded by a love of one player and one player only must have loved that run. Finally, Ljubicic got his Masters trophy after being denied so many times. It would have been the equivalent, on a smaller scale, to Andy Roddick finally winning at Wimbledon in 2009. 
Ljubicic himself recalls that Masters title, the Olympic bronze medal, the Davis Cup win, making it to world No. 3 and making it to the World Tour Finals in 2005 and 2006 as the high points of his career.
Coming into the locker room after his defeat at Monte Carlo, he received an ovation from his fellow players.
"Really to feel also now walking into the locker room, all the guys standing and clapping, it's something beautiful to see how guys respected me and the way I represented them for many, many years," Ljubicic told the ATP, referring to his many years at the Player Council, where he served as president. 
Ljubicic retires with a very decent 10-31 against the Big Four (Nadal, Djokovic, Federer, Andy Murray), having beaten all of them at least twice. He won 10 ATP tour titles. But the sweetest one of those 10 was definitely the Masters at Indian Wells. Said Ljubicic to Deuce: 
"It was fantastic to have that success at 31. I really enjoyed the tournament from the first round to the final." 
So did we. Good luck, Ivan.