The Attack of the Newcomers: US Open National Playoffs Season
April 15, 2012

Mike Ehrmann/Getty Images
Starting May 19 through July 3, the US Open National Playoffs will be starting up in 13 different states in the United States. This is the time for those Grand Slam thirsty juniors to move up and attempt to create a spot in the US Open.
Ryan Harrison started off playing in these playoffs, as well as other men and women on the tour. It is a great way for those youngsters to be noticed, gain experience, and may even make it to the big leagues.
Why are they starting so early? Well, 256 men will be chosen (singles), 256 women will be chosen, (singles) and less than or equal to 128 for mixed doubles.
Now assuming that 256 gals and boys signed up for singles and total number for mixed, that is a total of 640 total people for one single sectional playoff tournaments, so for all 13 playoffs that is 8,320 players.
Wow! Now it makes sense that they start so early. That is not even including the people that work behind the scenes.
Unfortunately, not all of the players that signed up for the tournament will be able to play. If the amount of players exceed 256 for each singled category, and over the limit of 128 for mixed, the "Lottery Selection Process" kicks in. This will automatically decide random player's entries. It's a sad reality, even for those players who signed up early that were not chosen to play. They are allowed to sign up for another sectional playoff, if there is one in play at that time.
Most of these men and women are ranked in the ATP and WTA tour, and their seeding will be dependent on that.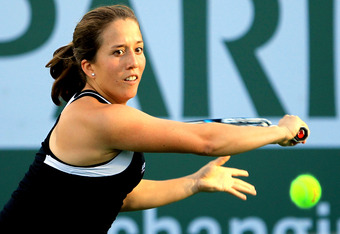 Matthew Stockman/Getty Images
Here is the player eligibility from the US Open website:
• Players must be 14 years of age or older (as of August 27, 2012).

• Open to Amateurs and Professionals.

• U.S. citizenship is not required.

• No domicile restrictions for players.

• A player must be a current USTA member and must maintain his/her membership through and inclusive of August 27, 2012.

• All players must be in good standing with the ITF, including but not limited to complying with WADA.

• Able/non-able bodied players may compete alongside one another and shall abide by their respective rules of play.

• A player may only enter and compete in one (1) Sectional Qualifying Tournament during a calendar year in each division; players competing in men's singles or women's singles and mixed doubles may opt to compete at different Sectional Qualifying Tournaments (one for singles and one for mixed doubles).

• Participation in the US Open National Playoffs will not impact a player's ability to secure a 2012 US Open Qualifying Tournament or Main Draw Wild Card or receive a Direct Acceptance into the 2012 US Open Singles Championship or 2012 US Open Mixed Doubles Championship.
This is an exciting time for those players who want to make a name for themselves and have dreams of walking out onto the courts of the US Open in the Big Apple. I know it is one of my dreams. I have signed up for my local sectional playoff and am crossing my fingers I will be a part of it. It is certainly a good foundation for a career in tennis!
If any of you are in the United States and is interested in attending your local playoff, the schedule is below. It is always fun to see these players fight for something they love, whether they are high ranked or not. It's not just about how many Grand Slams a player has, or their winning streak, but by how much they love the game and how much they will sacrifice for their dreams to come true.
My favorite quote is from Eleanor Roosevelt: "The future belongs to those who believe in the beauty of their dreams."