How Novak Djokovic Has Forced Us to Reevaluate Rafael Nadal's Mental Toughness
March 8, 2017
Julian Finney/Getty Images
There was a time in tennis where no one was considered tougher to beat than Rafael Nadal. He never wavered, he never gave up the fight and he would force you to earn each and every single point. 
Moreover, when the big points came along, you could be sure that Rafa would find his best tennis and make you earn it even more. 
While a lot of that description is true, some of it is also part of the Rafa mythology. His on-court intensity makes it easy to associate him with the ultimate warrior, who never, ever gives up. Which is not always true. 
Still, you will be hard pressed to find observers and fans who do not consider Rafa among the best competitors the sport has ever seen. And who regard him among the most mentally tough in clutch situations. 
His entire rivalry with Federer is not only defined by the Rafa cross-court forehand to the Federer backhand, but also by how Rafa always edges out the close ones, saves and wins a higher percentage of the breakpoints and so on and so forth.
When Roger wins against Rafa, he usually does so in pretty dominant fashion. When the match is close, it's a pretty good bet, that it will go Rafa's way in the end. 
This bolstered the conception of Rafa being the ultimate master of mental toughness and clutchness. When he can edge out the player who many considers the best of all time, again, and again and again, surely, Rafa must be the toughest mental customer in town. 
Why do I then claim that Novak Djokovic' ascendancy has forced us to reevaluate those conceptions and beliefs?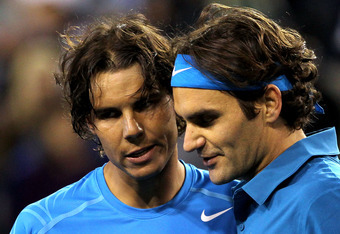 Matthew Stockman/Getty Images
To put it shortly: it's one thing to be mentally clutch against a player you know how to beat and where you have the tools to do so. It's quite another to be mentally clutch once you're in the "underdog" position and another player has shown consistent dominance over you. 
In all of Rafa's career, he's faced little adversity on the tennis court. He's never had to face a player, who would consistently beat him. Sure, Federer would win here and there. Sure, Rafa would get upset on hard court by lesser players in his early years. But no one dominated him. 
In fact, Rafa was the perfect prodigy, ready to dominate his surface of choice from the get go. At the peak of Federer's powers, a teenage Nadal with a very simple game could still beat him on clay (and hard). 
He got to No. 2 in the world as well as winning his first slam as he turned 19. Since then, the trajectory of his career has only been upward (a part from injury setbacks). And he's never faced a player, who would consistently beat him or even play even with him in the most important tournaments. 
Until last year, that is. 
Novak Djokovic presented Rafa with the challenge he's gone his whole career without. And so far, while not exactly shying away from it, Rafa has not been able to solve it. To his credit, he's not gone away yet. And he was as close as ever in breaking Djokovic stranglehold in the Australian Open final.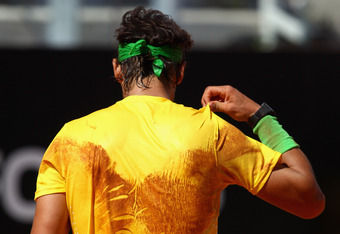 Clive Brunskill/Getty Images
Some of the problem is probably mental, which is why we should reevaluate his mental clutchness, at least ever so slightly. 
As many of his matches with Djokovic over the past year bears witness to, Nadal is not the one coming up with the goods when it matters. Many of his fans where shocked by the backhand he put into the net at 30-15, 4-2 in the final set of the Australian Open. Many fans also complained about how he failed at crucial times in their Wimbledon final. 
That said, he still wins and saves his fair share of the breakpoints. So it's quite possible that he's almost as mentally clutch as before, but Djokovic is just his equal or better. 
Or perhaps Djokovic is just the better tennis player at the moment, which Nadal—mental clutchness or not—can do little about. 
Let's also not forget that it's easier to be mental clutch in situations, where you feel you have the upper hand and has the game and the tools to win. 
Nadal used to be able to count on the basic truism in men's tennis: the longer the point goes, the longer the match goes, the more I favor my own chances. 
That truism is no truism against Novak Djokovic these days—and that is, in my opinion, what robes Nadal of his heralded confidence and clutchness: he's got no safe strategy to fall back on. 
In this respect, Djokovic does present a unique challenge to the Nadal psyche.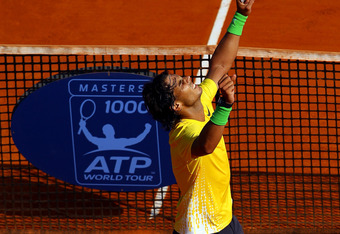 Julian Finney/Getty Images
How does one go on court against a player, who's beaten you seven straight times in a row—and in pretty convincing fashion no less—and still maintain the believe that you will win this time around? 
That's the challenge Nadal is up against. 
To his advantage, he's got the perfect setting this week in Monte Carlo to right his ship. He's won there every single year since 2005. Djokovic has just made the final once, losing to Nadal in 2009. 
Seven straight titles, seven straight defeats. Which one of those numbers will weigh heavier on Nadal's mind if he's to meet Djokovic in the final? 
Hopefully, we'll get to see them square off this coming Sunday and find out. 
And learn more about the mind of a champion in the process.