WNBA Draft 2012: Date, Start Time, TV Schedule and More
April 12, 2012

Justin Edmonds/Getty Images
The 2012 WNBA draft is nearly here and a number of top prospects are preparing for a new life as professional basketball players.
While Brittney Griner—hands down one of the best players we have seen in recent years—decided not to declare early, there are still a number of great prospects who are eligible.
Let's take a look at where the draft is, when it takes place and how to watch it. Keep reading for a draft order and a brief peak at some of the top picks.
Where: ESPN Studios, Bristol, CT
When: Monday, April 16 at 2:00 p.m. ET
Watch: ESPN2 (first round), NBA TV and ESPNU (second and third rounds)
Live Stream: ESPN3
Round 1 Draft Order
Pick – Team – 2011 Record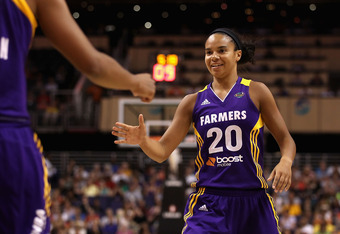 Christian Petersen/Getty Images
No. 1 – Los Angeles – 15-19
No. 2 – Seattle (via Chicago) – 21-13
No. 3 – Minnesota (via Washington) – 27-7
No. 4 – Tulsa – 3-31
No. 5 – San Antonio – 18-16
No. 6 – Phoenix – 19-15
No. 7 – New York – 19-15
No. 8 – Washington (via Atlanta) – 6-28
No. 9 – Connecticut – 21-13
No. 10 – Washington (via Seattle) – 6-28
No. 11 – Indiana – 21-13
No. 12 – Minnesota – 27-7
Players to Watch
Nnemkadi Ogwumike, F, Stanford
Nneka has a great chance to become the No. 1 overall pick and certainly deserves that honor. She's definitely ready for the challenge, according to Tom FitzGerald of The San Francisco Chronicle.
"I can still elevate my game at this point," Ogwumike said on a conference call Wednesday, "but I think it will be good to see what I can learn from people that have played at the highest college level and also played at the highest (pro) level at this point. And I look forward to seeing what I can learn from veterans of the game."
Shenise Johnson, F, Miami
This Hurricanes star is definitely going early in the draft and probably cannot wait to get out of South Beach. The team had an extremely disappointing end to her senior season with a loss to Gonzaga in the second round of the tournament.
Glory Johnson, F, Tennessee
Johnson was one of the three Lady Volunteers invited to the 2012 WNBA draft. She's likely to be one of the top three or four picks with teammate Shekinna Stricklen going right before or after.
Glory was the SEC Defensive Player of the Year and had a heck of a career at Tennessee.