Roger Federer, Rafael Nadal, Novak Djokovic: Who's Best in Pressure Situations?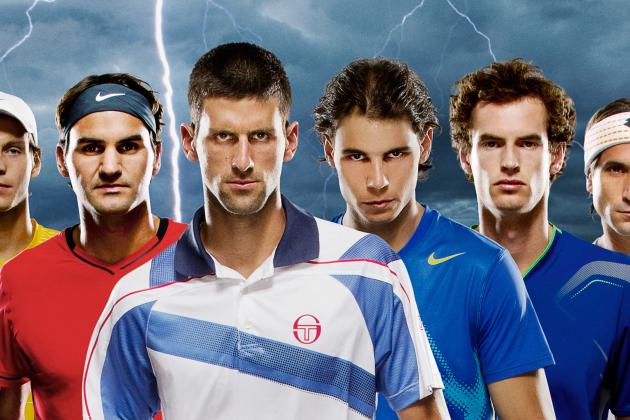 Clive Brunskill/Getty Images

In my two previous articles in the stats game, I've looked upon who's the best front-runner among the Big Four (read here) and who's best at coming from behind (read here). Both articles had some surprising conclusions.
Today, I look at more categories. Categories that say something about who, among the top four, is best at handling pressure moments.
There will be disagreement as to what to include and what not to include in a slideshow like this. I've chosen to include how a player performs in finals, in tie breaks, while facing break points, while having a break point, in the deciding set as such (third or fifth) and in the fifth set (because of the significance of many matches ending in a fifth).
I could have included a category such as 'versus top ten opposition', but choose not to at this point.
Let's find out who's best in these different pressure situations.
Begin Slideshow

»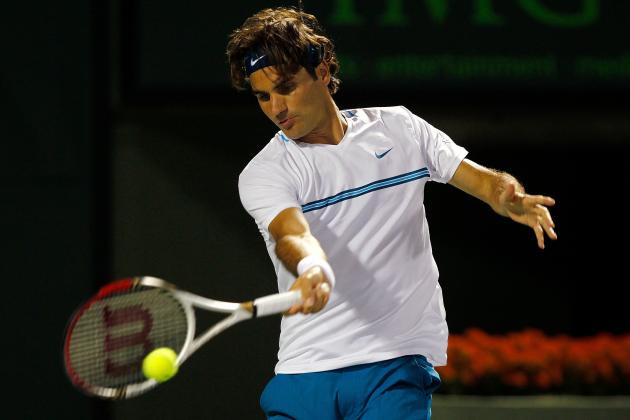 Mike Ehrmann/Getty Images

Roger Federer leads the competition between him, Rafa, Novak and Murray when it comes to winning finals. He's won 70.9 percent of all the finals he's been in and is ninth on the all-time list. Rafa is at 68.7 percent and 14th on the all-time list.
Djokovic is quickly catching up to Rafa at 68.2 percent and is No. 15 on the list. And Murray is at 17th with a very decent 66.7 percent, winning two of every three finals.
The surprise in this category is really who is second on the overall list. Would you have guessed Nikolay Davydenko at 77.8 percent? I wouldn't. Thomas Muster leads with an amazing 81.5 percent; winning 44 out of 54 finals.
All these numbers can obviously still change a bit. At a certain time in his career, Federer was winning each and every final he participated in. If he plays on for five more years, it'll be hard to keep winning seven of every ten finals. Nadal has enjoyed that dominance too and Djokovic is in the midst of his, where he wins every final he gets to.
Currently, Federer leads this pressure situation by a relatively firm three percent margin.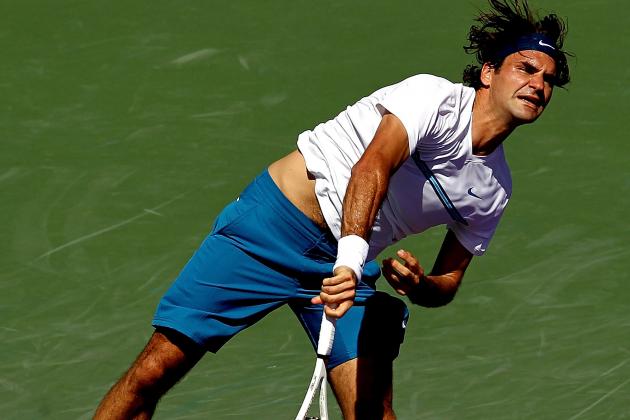 Matthew Stockman/Getty Images

The current top four dominate the all-time tie-break list and Federer leads it, winning 66.1 percent of his tiebreaks. Novak Djokovic is third at 63.6 percent, just 0.1 percent below Pete Sampras. And Rafael Nadal and Andy Murray?
They are six and seven with 61.7 and 60.6 percent, respectively.
The tie-breaker often favors the big servers and Federer is the best server among the top four. John Isner and Andy Roddick are fourth and fifth on this list, which shows just how important the serve can be in a tie-break.
Djokovic' position as a clear second among the top four and dead even with Pete Sampras, aka Mr. Serve, is pretty impressive.
But Federer still leads this pressure situation pretty convincingly.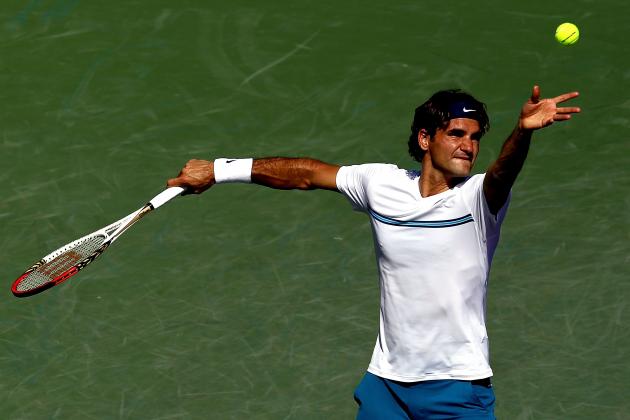 Matthew Stockman/Getty Images

Again, this is a category that aids the server and again Federer leads it among the top four. This time however, he's 'only' sixth on the all-time list, saving 67 of the break points he faces. Ivo Karlovic, Andy Roddick, Pete Sampras and John Isner top the list.
Rafa is ranked 11th at 66 percent, Novak is ranked 14th at 65 percent and Murray is ranked 64th at 62 percent.
The race is pretty tight between the top four, but Roger just manages to edge out the other players. Can he continue to do so in the upcoming pressure situations? Read on.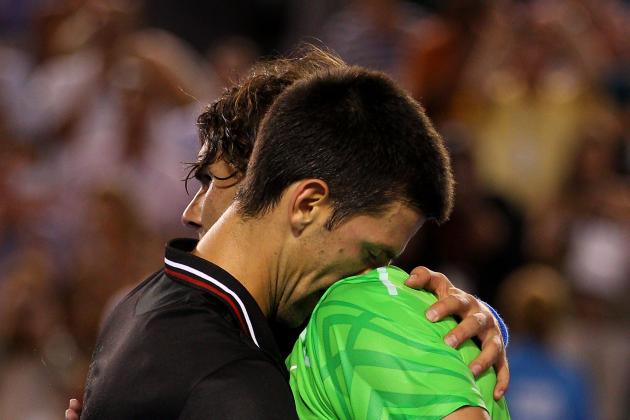 Scott Barbour/Getty Images

Nadal knows better than most when it is time to turn the heat on. This is illustrated in this category, where he leads the top four in terms of converting break points. He's fourth on the all-time list with 45 percent and first when it comes to clay.
But breathing down his neck is a familiar foe. The flexible Djokovic has a way of getting the serves back in play almost as fast as they come at him. This has led him to a position just after Rafa on the all-time list with 45 percent as well.
And Roger and Murray? Not near the top. Federer converts 42 percent and is down at 75th on the all- time list. Murray is above with 43 percent and a position at 25th.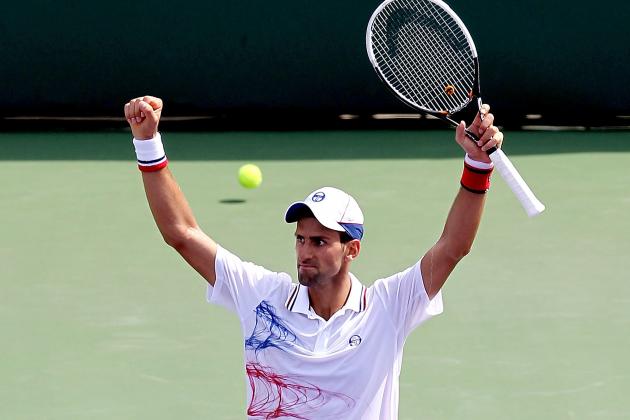 Matthew Stockman/Getty Images

Djokovic is master of the deciding set, winning 70.1 percent when the match goes to a deciding third or fifth set. That doesn't come anywhere near No. 1 though.
Björn Borg was famous for his physique and his clutchness and with good reason. He's an amazing 75.9 percent in the decider.
Rafa is a very good fourth, winning 69.1 percent. And Murray a good eighth at 68.1 percent.
Federer is down at 31th, winning a 'mere' 63.6 of the deciding sets. A possible explanation for this low number is that he rarely had to play deciding sets in his prime and now that he's older, he's just not good enough in the close matches.
A related explanation is that Federer only needs to play deciding sets when he's not at his best—and conversely loses. Whatever the reason, the other big three outshine Federer by a margin in terms of clutchness in this category.
Clive Brunskill/Getty Images

In tennis, the biggest task for years has been to defeat Rafa on clay in a best-of-five match. Nadal has lost but one best-of-five match on clay in his entire career. And that didn't even go to five sets, as Robin Söderling took him out in four in the French Open 2009.
Rafa's overall record in the fifth is pretty darn good, despite the fact that Novak has made it slightly worse with his Australian Open victory. Rafa is fourth on the all-time list at 78.9 percent, just behind Borg at 80.0.
But he's pretty far ahead of Novak at 75.0, who's ranked seventh, and is light years ahead of Federer, who's 114th, winning 52.9 percent of his fifth sets. Murray is smack in the middle at 30th, winning 66.7 percent.
Here, Rafa's and Novak's records are really great and show grit, determination and stamina. Is there an explanation for Roger's poor status, behind journeymen?
There are at least two possible explanations that may be intertwined a bit:
a.) Roger only has to play five sets when he's not at his absolute best. He didn't play many during his invicible years from 2004-2007—and lost two of his four matches in 2005 in the fifth to a Safin and a Nalbandian on fire. He was pretty darn good against Safin, but he lost the last three against Nalby after coming to the tournament on crutches.
b.) He's not mentally strong or physically fit for the fifth set. He chokes.
Whatever the reason, Rafa and Djokovic are true pressure kings in the fifth set, as evidenced by Djokovic's last two US Open victories over Federer.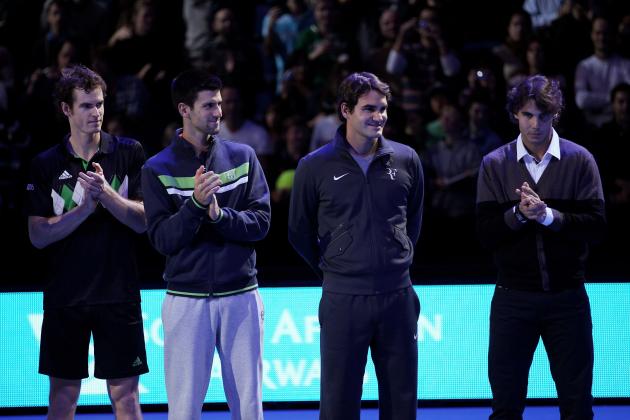 Clive Brunskill/Getty Images

As evidenced from the slide show, the players are very close to one another in ability. Murray doesn't lead any category, so he's the odd one out—as he also happens to be in the Big Four.
With Federer leading three categories, Nadal two (but one almost dead even with Djokovic) and Djokovic one (or one and a half when counting the one Rafa leads), one could argue that Federer is indeed the master in pressure situations.
But that would be overstating his case. The show highlights different qualities. Federer beats the rest when it comes to finals, tiebreaks and saving breakpoints. But the better returners—Novak, Rafa and Murray—are better at converting break points.
And the better grinders—again, Djokovic, Nadal and Murray—are (much) better in the deciding set and the fifth set. Federer's absence from the top of these categories results in him not being a clear winner in pressure points.
These stats are reflective of this specific time in their careers, where Novak is in the smack of his prime; where Rafa still should be in his; where we are still waiting to see if Murray gets a real prime; and where Federer continues to amaze with his longevity.
They can and will change a bit over the course of the next years. Moreover, when it comes to finals, Federer has, as mentioned, had a period where he won every final he played. Rafa has had that too, in particular on clay, where he created his great final record and won 32 of his 46 tournaments. These things show up on the stats.
The conclusion? These players are the best of the best and as the stats prove, they all, already, rank pretty well in tennis all-time history.