Bobby Petrino's Affair with Jessica Dorrell Has Huge Impact Outside the Lines
April 9, 2012

As the years pass and the personal lives of public figures begins to get exposed more and more, it's becoming clear that there are a disturbing amount of high-profile collegiate coaches that act like they too are college students.
Arkansas head coach Bobby Petrino's motorcycle crash with Jessica Dorrell on the back is just the latest example of how moral corruption can be swept under the rug for the sake of winning.
Petrino has been engulfed in a web of lies that has backfired to the point where the school was forced to place him on administrative leave. But because he has 21 wins in the last two years, fans are rushing to his aid. There is even a pep rally scheduled for Monday night at the Broyles Center parking lot to show support for their coach.
Listen to the mentally of these people, as exemplified by the organizer of the event Matt Couch (via The Arkansas Democrat-Gazette, h/t ESPN): "It's a great week for forgiveness, with it being the Easter weekend. We want to forgive, forget and win."
The last part is what really sticks out: "Forget and win," because this is the SEC. That "wining is all that matters" is a mentality that has been cultivated, and it's very disturbing.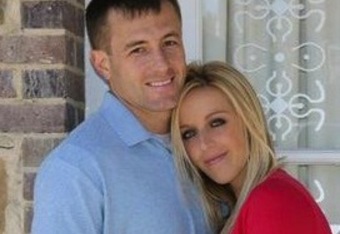 How would you like to be Josh Morgan right now?
Morgan is Dorrell's fiancée and was planning to marry her in two months. That's right; with the best day of his life quickly approaching, he got hit with the ultimate stomach punch.
What's even worse is that Morgan is the director of swimming and diving operations at Arkansas. There is no way he'll be able to share an office with a man who ruined his impending marriage.
If the situation was reversed and Morgan had an affair with Petrino's wife, he probably would have been fired instantly. But because football is a big revenue generator that fans love, Petrino will likely be roaming the Razorback sidelines in September.
Not only does Morgan become "that guy whose fiancée hooked up with Bobby Petrino," but he'll probably be forced to leave his job and and maybe even get the heck out of the entire state of Arkansas.
All because of Petrino.
Who knows if Dorrell would have cheated on Morgan with whoever was the football coach at the time, but the deceit and cover up by Petrino has taken this ugly story to a whole different level. What else is he covering up? Will other women step forward? How long has this been going on?
There are plenty of questions that remain, and the longer Arkansas keeps him employed, the longer this scandal will be stretched out. How could Arkansas ever consider themselves to be of a high moral standard if Petrino survives this and Morgan leaves? It sets an awful standard that would be a black eye on the entire university for the foreseeable future.  
This is more than just a football story. If Petrino stays, this becomes a story about a university not taking a moral stand because the dollar signs of the football team are dancing in their heads. Is this the only factor the athletic department thinks about? Is winning games and making the school money more important than teaching young, impressionable college students the importance of honesty and integrity?
Arkansas still has time to fire the same guy that quit on the Atlanta Falcons in the middle of the season, but the longer he stays on paid leave, the more likely he stays.
I can only imagine how Josh Morgan must feel about his employer at the moment. Petrino deserves to be fired, regardless of his record as a coach.