NHL Playoff Predictions 2012: Penguins Favorites with a Healthy Sidney Crosby
April 9, 2012

Elsa/Getty Images
The Pittsburgh Penguins are the fourth seed in the Eastern Conference for this year's NHL playoffs, but who knows where they would stand if it Sidney Crosby had been healthy all season long.
The star center has only played 22 games this season after he was out of commission for over three months after sustaining a concussion.
Since Crosby's return on March 15, the Penguins have gone 9-5. During that stretch, Crosby has scored six goals, as well as totaling 19 assists. With him back in the lineup, there is no doubt that the Penguins are favorites to take this year's cup.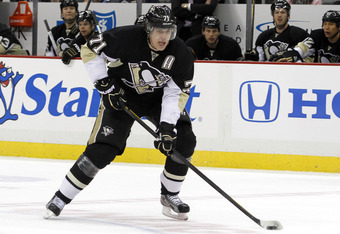 Justin K. Aller/Getty Images
Crosby isn't the only reason, though, as Evgeni Malkin proved yet again just how great he was as he recorded 109 points this season. With Crosby back out there, the two will be a headache for any team trying to slow them down.
Statistically, the Penguins are the second-best team in the conference. Recording 108 points this season, they are only second to their division leading New York Rangers who scored 109 points.
One could make the case that if Crosby were healthy all season long, the Penguins would be the top team while the Rangers would be sitting in their position.
Unfortunately for the Penguins, that is reality, but they should be playing with a chip on their shoulder to prove that they deserve the top spot.
Their first-round matchup won't be an easy series against the Philadelphia Flyers, but they should feel confident after Crosby scored a goal and had an assist in the team's final regular season game against their first-round opponent.
While they obviously would have preferred to have Crosby out there all season long, nobody is going to complain about at least having him back for this time of the year.
If Crosby can prove why he is arguably considered the best player in the league, there will be no stopping these Penguins to a title.