Pac-12 Football: Utah Opens Up 2014 Schedule and a Potential Big Ten Game
April 7, 2012

Christian Petersen/Getty Images
Utah looks to be keeping up with the Pac-12 by clearing up a home game in 2014. The Utes bought out Utah State, opening up the potential to schedule a 2014 football game with a Big Ten partner.
The Salt Lake Tribune reported that Utah bought their way out of a 2014 road game against Utah State for $500,000. The Utes plan to use the opening for a home game. In 2011, Utah made a reported $1.46 million per home game, so the Utes will likely come out ahead on this deal.
The schedule opening raises the question of what team the Utes will face in that match. Utah State will now play the Boise State Broncos that year as part of a home-and-home series. The Utes have yet to schedule an opponent.
It seems likely that Utah will use this opportunity to schedule a series with a member of the Big Ten. This past December, the Pac-12 and Big Ten announced a scheduling partnership between the two conferences that has an annual 12 inter-conference football game schedule objective by the 2017 season. Utah Athletic Director Chris Hill has expressed interest in starting a series before 2017.
This year there will be four inter-conference games. On September 8, Arizona State will host Illinois, Oregon State will host Wisconsin and UCLA will host Nebraska. On September 15, Ohio State will host Cal. 
Michigan State and Oregon will start a home-and-home series in 2014. Northwestern will start a series will Cal next year, and then a two-game series with Stanford. Cal and UCLA will be continuing the series they start this year with Ohio State and Nebraska next season.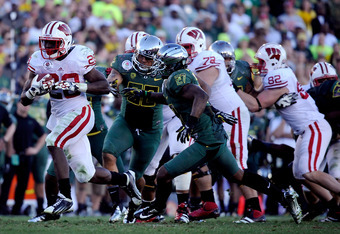 Kevork Djansezian/Getty Images
Illinois will start a series with Washington in 2013. Wisconsin will take on Oregon State next season before starting a series in 2014 with Washington State, and then a series with Washington in 2017. Minnesota has a series planned with both Oregon State and Colorado.
If Utah uses this opportunity to start a series with a Big Ten member, it is not certain which one it would be as of right now. 
Big Ten teams with potential open dates in their 2014 schedule include Illinois, Penn State, Purdue, Wisconsin, Michigan, Michigan State and Nebraska.
Indiana and Iowa have yet to schedule a series with a Pac-12 team, but would likely have to do some rescheduling of their own to fit Utah in their 2014 schedules. Indiana beat Oregon in Eugene back in 2004 and then canceled the series before Oregon could go to Bloomington. 
Outside of the inter-conference game scheduling the Pac-12 and Big Ten appear to be holding strong in their commitment to preserving their presence in the Rose Bowl. Recent talks of postseason playoffs have presented potential options in which the Rose Bowl would be preserved for the two conferences. 
The Wall Street Journal reported that University of Georgia President and Ohio State alum Michael Adams is not happy with what he sees as preferential treatment for the Pac-12 and Big Ten. The Wall Street Journal quotes Adams as saying:
This is not 1950, or 1960...There are great schools in the [Atlantic Coast Conference] and the Southeastern Conference and the Big 12. I think it's time to put everybody on an equal footing. I just reject the notion that the Big Ten and the Pac-12 ought to be treated differently in this process.
While postseason playoffs seem very likely at this point, what seems more certain is the Pac-12 and Big Ten maintaining their historic presence in the Rose Bowl Game. 
For the official Utah Utes Football schedule click here.