Cristian Tello: Should Barcelona Sell Their Young Star?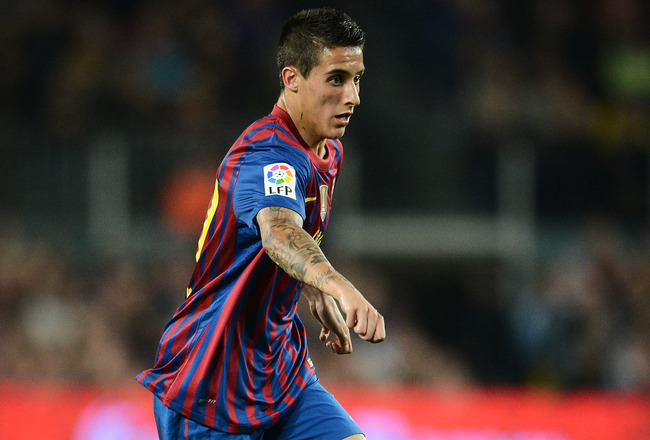 Jasper Juinen/Getty Images
According to a Goal.com report, Malaga is interested in signing Cristian Tello from Barcelona.
Manuel Pellegrini has his eye on the 20-year-old—whose contract is currently set to expire next summer (2013)—and will make Tello part of a very active transfer window for the newly rich Andalusians.
We have now seen Malaga linked with Borja Valero, Nuri Sahin and Diego Forlan among other stars.
Getting Sahin will almost definitely not happen unless it is a loan and Malaga will have to battle Atletico Madrid for Valero's signature.
Bringing Forlan in to replace Ruud van Nistelrooy is a strong possibility.
Pellegrini's move for Tello is clearly a smart one that would improve the squad and add much-needed youth. It would make a lot of sense for Malaga.
But does it make sense for Barcelona?
Here are a few arguments for and against Barcelona letting their young star go.
Reason to Sell: Squad Depth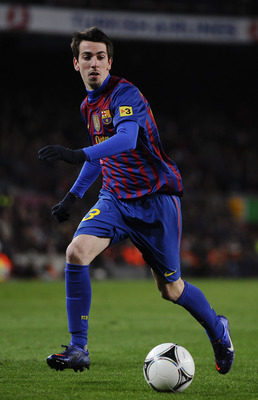 David Ramos/Getty Images
As it stands on the first team, Barcelona has at least eight players capable of playing on the wings.
When healthy, Pep Guardiola can use any of these players alongside Messi: Pedro, David Villa, Isaac Cuenca, Alexis Sanchez, Andres Iniesta, Cesc Fabregas, Ibrahim Afellay and Tello.
Also, remember that Barcelona will almost definitely buy Bojan back from Roma in 2014.
Beyond the current first-team players, there are also a few youth players aiming for first-team play.
Barcelona's newest starlet, Jean-Marie Dongou, has been a revelation this season, drawing comparisons to Samuel Eto'o at just 16 years of age.
Beyond the Cameroonian, Kiko Femenía, Gerard Deulofeu and Rodri are three other youngsters that may get first-team action soon.
So while losing Tello would clearly be a loss, he is replaceable.
Reason to Sell: Money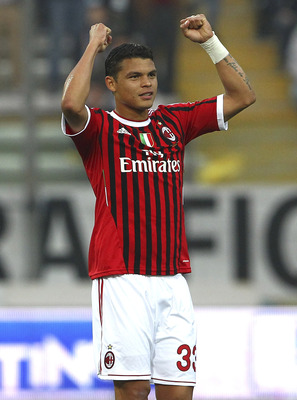 Marco Luzzani/Getty Images
Barcelona is likely to improve its debt situation again this season, but the club is not out of danger yet.
With many high-profile stars rumored to be targeted by the club in the next two seasons, Barcelona will need to make some sales to makes those moves possible.
Gareth Bale, Thiago Silva, Jordi Alba and Neymar are all being targeted by Barcelona.
While I do not expect Silva or Bale to ever don La Blaugrana, Alba and Neymar are very real possibilities.
Tello is not the only possible sale for the club. He is not even the only forward that may go.
Villa, Afellay, Cuenca, Keita and Mascherano are all players who may be playing elsewhere next season.
Still, with so much depth at the position and with his play this season earning lots of fans, Tello may be one to go.
Reason to Keep: Contract Situation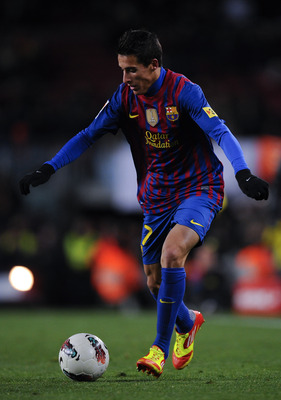 David Ramos/Getty Images
As it currently stands, the financial incentive to sell Tello is lessened by the fact that Tello would likely be sold for less than he'll be worth in a few years.
His contract expires next summer and his buyout clause is currently set at 10 million euros so Barcelona would not make much money off of him.
Now, they could obviously extend his contract again and then turn right around and sell him, but what are the chances that will happen?
If they do extend, his buyout clause would be increased and that means his sale would be more valuable later.
In a few years, assuming Tello continues to grow as a player, he would warrant a higher fee than he could right now.
Even if he does not develop much further, the club would not lose much by taking a chance on the 20 year old.
Perhaps Barcelona should wait until a replacement comes. Perhaps a certain player from Brazil.
Reason to Sell: Neymar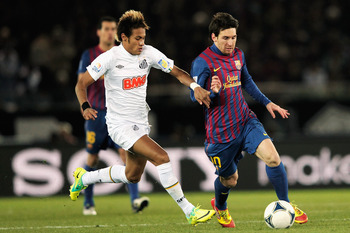 Lintao Zhang/Getty Images
In terms of potential transfers, Neymar is the main reason Tello is expendable.
While such a transfer is far from certain, the odds of it happening are increasingly likely.
If Neymar does come to Barcelona, the club will need a large sum of money to bring him to Camp Nou.
Tello would not and Neymar would likely become a first-choice player alongside fellow South Americans Messi and Sanchez—forming the ABC attack with Argentina, Brazil and Chile represented.
Tello is talented enough to warrant more first-team action elsewhere and would hamper his development by staying.
Reason to Keep: He Makes Neymar Unnecessary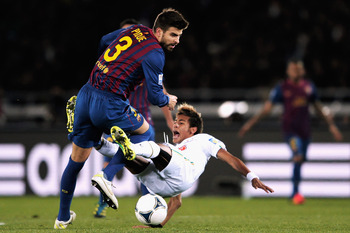 Lintao Zhang/Getty Images
This is in direct contradiction to the third reason to let Tello go.
Neymar has nearly endless potential. He may become one of the three best players in football within a few years.
But he may not. Why should Barcelona be the club to take that risk?
Not only is it a big risk, it is a very expensive one. Barcelona would likely end up spending more than $60 million on the Brazilian.
As stated near the beginning of this article, Barcelona is loaded with talent up front. That begs the question, does the club really need Neymar?
Again, few would question the potential of Neymar. His similarities to past Brazilian greats makes the risk seem less. Barcelona's own experience with Ronaldinho makes it even easier to accept Neymar.
But Barcelona is not a team that thrives on individual talent alone. It is a system and style that has been built over the course of a decade.
Tello and other players have grown up in that system. We do not know that the system will bring out Neymar's best.
Is the risk too great?
Reason to Keep Him: Potential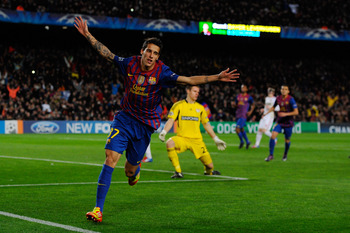 David Ramos/Getty Images
One thing that has become crystal clear this season is that Barcelona's future looks set with countless youth products showing great potential throughout the season.
Tello, Cuenca, Montoya and Deulofeu are just a few of the players that have impressed at some point this season.
Still, as solid as each player has been, Tello has stood out as the best. He is the only current youth player versatile enough to play in all three forward positions.
The way Tello has played this season at just 20 years old makes us believe he has yet to play anywhere near his best football.
With seven goals to his name already, he may be able to score 20 goals in a full season if given the chance.
If a young star has to go, perhaps it should be Isaac Cuenca. He is less versatile, is learning at a slower pace due to not being a natural winger, and could bring in just as much money as Cristian.
And Barcelona has more attacking midfielders than it does wingers which also makes Cuenca as much of an option.
Tello has stated in the past that he really wants to succeed at Barcelona. If that is true, he may be willing to renew his contract at a discount this summer.
With many big clubs likely to go after the youngster this summer, Tello's desire to stay at the club may be tested.
Reason to Sell: Uncertainty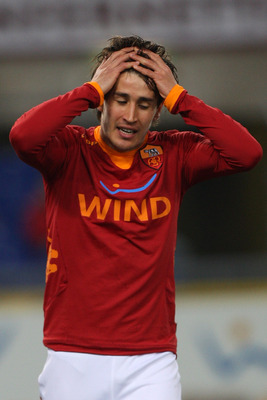 Paolo Bruno/Getty Images
Since returning to Barcelona from Espanyol last season, Tello has been nothing short of fantastic.
He scored nine goals for the B squad before bagging seven for Pep Guardiola so far this season.
While his form has been wonderful, one has to question whether or not it is sustainable.
Seeing the immediate impact Tello has had this season reminds many fans of another young Catalan—Bojan.
When Bojan became the youngest player to ever score for Barcelona, he had many drooling over his potential, even drawing comparisons to Lionel Messi.
Now after two disappointing seasons, one in Italy, fans are forgetting why he was so hyped to begin with.
Comparing that to Tello, we may be seeing the best he will offer at the club.
There is no way of knowing how Tello will develop and right now may be the best time to sell him.
Is the risk of keeping him greater than the risk of selling him?
Reason to Sell: The Nature of the "Barcelona Sale"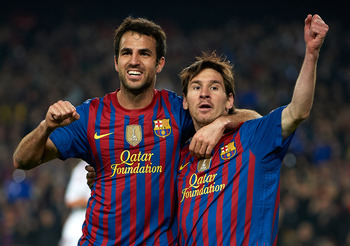 Manuel Queimadelos Alonso/Getty Images
Let's be honest. Letting Tello go this summer in no way means he will never return to the club.
Barcelona has developed a habit of letting players go only after building a route back to the club.
Cesc Fabregas is the most famous player that fought his way back to Camp Nou after a run with Arsenal.
His desire to return to his boyhood club broke the hearts of Arsenal fans and made many think that the loyalty of former La Masia products would always lie in Barcelona.
Bojan Nolito, and Botia all were sold to other clubs, but with buy-back clauses.
So the potential loss of Tello this summer can be softened by knowing that he may find his way home before he even turns 23.
Chances are that Barcelona would welcome a better player home by then.
What Do You Think?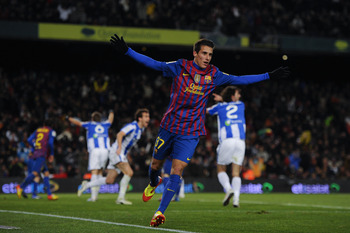 David Ramos/Getty Images
I open discussion here.
Do you think Barcelona should let Tello go to Malaga or another club?
Is his potential worth the risk of him not living up to it?
Would he make having Neymar less of a desire for the club?
If they do let him go, when should it happen? Should they extend his contract just to let him go in the next two transfer window or should they keep him for a few years?
I welcome all opinions and am curious to know your thoughts.
Keep Reading

FC Barcelona: Like this team?