Jose Aldo: 5 Potential Opponents for UFC 149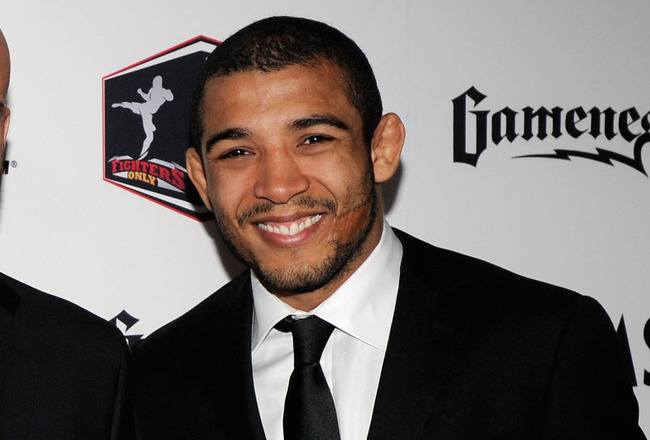 Ethan Miller/Getty Images
The Ultimate Fighting Championship announced that the date for their first show in Calgary, Alberta will be July 21st.
They also announced the highlight attraction in featherweight champion and world top-five fighter Jose Aldo.
The division is a bit light at the top right now, and some new blood like Frankie Edgar and some of the other smaller lightweights could soon be on the horizon. In the meantime, there are three men at the front of the line to Aldo. Two of them, Dustin Poirier and Chan Sung Jung, will face each other on UFC On Fuel TV 3 on May 15th, from Fairfax, Virginia.
Waiting in the wings without a scheduled fight is Hatsu Hioki, whom many feel is the undisputed No. 1 contender for the title right now.
Aldo facing any one of those three men is a high-level, headline-worthy fight for UFC 149 in Calgary. After that, it gets a bit questionable, but here are a few more possible fights for Aldo in addition to those three.
Pat Curran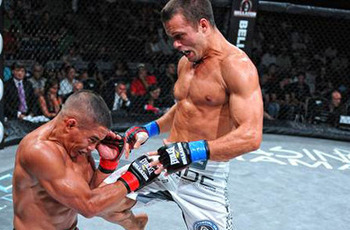 Photo Courtesy MMAWeekly.com
This one is a total long shot because Pat Curran currently fights under the Bellator banner and not in the UFC. His Bellator tournment win and the brutal, highlight-reel destruction of then-champion Joe Warren vaulted Curran to the very top of the heap.
He is now the Bellator king, perched at the top with many gunning for his belt. His stock is as high as it has ever been and he matches up well against Aldo.
This is a dream match for the future.
Diego Nunes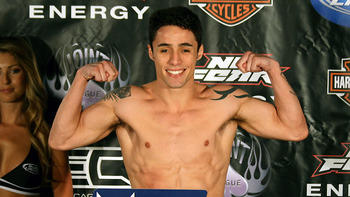 Photo Courtesy MMAJunkie.com
Diego Nunes is a fine fighter in his own right, but he gets this spot more on who has recently lost to Aldo, more than whom Nunes has beaten himself.
I have Mendes, Florian and Hominick all ahead of Nunes in the division pecking order, but all three have just lost their shot at Aldo. That leaves the 17-2 Nunes, who is coming off a win over Manny Gamburyan and has a fight April 14th in Sweden against debuting featherweight Denis Siver.
The other issue is that Nunes and Aldo are training partners and friends, but Nunes is a company man above all else. It may be too much to ask for Nunes to turn around and fight in July, but if he gets past Siver unscathed, I'm sure he would jump at the title shot in Canada.
Dustin Poirier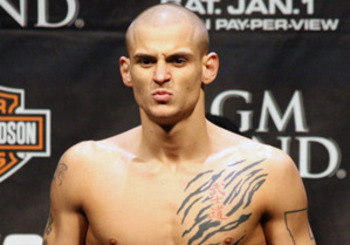 Photo Courtesy MMAJunkie.com
Dustin Poirier made his debut in the UFC on New Year's Day of 2011, and he has been on a career rocket ship ever since. He has gone from WEC unknown to UFC featherweight contender in a year's time and his fate is in his own hands.
The 23 year old is 4-0 in the UFC and takes on Chan Sung Jung May 15th in what many feel is the No. 1 contender match for Aldo's title. If Poirier can continue his run and beat Jung in quick and fine fashion, don't be surprised if you see him across from Aldo come July in Calgary.
I'm calling Jung to beat Poirier, though.
Chan Sung Jung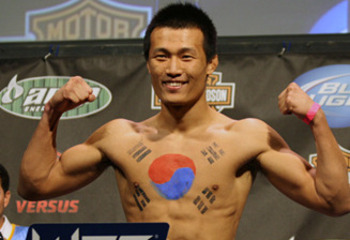 Photo Courtesy MMAJunkie.com
The Korean Zombie Chan Sung Jung has some incredible momentum in his career right now and like his May opponent Poirier, his fate is in his own hands in the coming months. Jung is 12-3 and is coming off two of the most memorable finishes in MMA in the last couple of years.
His beautiful twister on Leonard Garcia and his flash, seven-second knockout of Mark Hominick in December vaulted him to this spot. Now, if he can defeat the young Poirier, Jung could find himself fighting for the title in Canada this July.
I see Jung beating Poirier by decision in a decent fight, but leaving the door open for the title shot to go to Hatsu Hioki.
Hatsu Hioki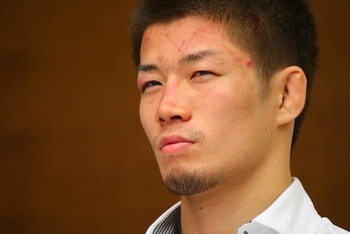 Photo Courtesy uatvonline.net
In my eyes, Hatsu Hioki is the undisputed No. 1 contender to Aldo's belt and it is time to give him the shot he deserves. His performances in the UFC have been hot and cold, but he has been highly regarded as the No. 2 featherweight in the world for some time now, and it's time to see how good he really is.
Hioki is coming off a masterful performance against Bart Palaszewski in Japan, but can that translate across the water? It's time to find out if Hioki really is the man to take Aldo's title using his crafty ground skill and experience.
The 28-year-old Japanese star is riding a six-fight win streak, with two in a row in the UFC. The Canadian fans are some of the most knowledgeable in the world and would love to see Aldo vs. Hioki.
Dwight Wakabayashi is a Featured Columnist for Bleacher Report MMA, MMA Editor at CKSN.ca and guest blogger for Sportsnet.ca
Catch him on Facebook and Twitter at wakafightermma.
Keep Reading