Serena Williams Loses in Straight Sets to Caroline Wozniacki
March 28, 2012

Michael Regan/Getty Images
It took four attempts but Caroline Wozniacki finally overcame Serena Williams when winning in straight sets at the Miami Masters on Tuesday.
The quarterfinal game, won by the Dane 6-4, 6-4. reminded me of the Makarova match back in Australia earlier this year.
Wozniacki kept the ball in play like she always does, moving Williams everywhere on the court. Williams kept it going but during the long rallies she seemed to tire out and Wozniacki's consistency was not waning.
Williams had trouble the entire match maintaining her rhythm because of Wozniacki's scrappy play. No matter where Serena was hitting, Caroline was there ready to return. 
Williams was hitting easy shots that should have been no problem to get back in, out. The frustration, as always in those situations, was visible on her face.
She went to crack her racket on the ground just like back in Australia but held back at the last second.
Serena's cross-court forehand is what was bothering her the most. It was quite consistently going into the net due to the fact she was not moving forward enough during the shot.
You have to plant your feet for the stroke, but the movement forward to push your body weight into the shot is what adds power and momentum.
Caroline Wozniacki was focused and determined. She did not get upset when Serena cracked her famous aces and winners passed her but kept battling back as she is famous for.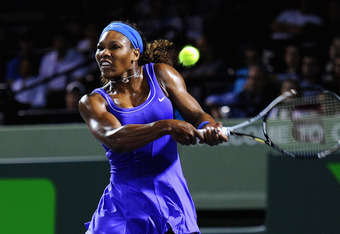 Michael Regan/Getty Images
Wozniacki gets players sucked into her game of long rallies and forcing the other player to go for the bigger shot.
In the past, Serena has never had an issue with that, but tonight it was evident that she was just not truly in the match.
She was there fighting, making winners, but her lack of focus was what was holding her back.
If you are not mentally in the match—no matter how physically in shape you are—most likely you are not going to be winning.
Serena was even slicing more balls than usually towards the end which showed how fatigued she really was.
There were other times when Serena would just become so irritated with Caroline's counter-puncher tactics that she would try for the outright winner to finally end the point. It either went out or in, but mostly out if she was impatient and rushed the swing.
Wozniacki's trademark backhand made stellar passing shots cross-court when Serena would approach the net.
Her play was, nonetheless, smart against the multi-Grand Slam champion. She had been up 5-1 in the second but kept her composure and put the game to bed by holding serve at 5-4.
Caroline Wozniacki wholeheartedly deserved this win after going into her slump after the Australian Open. It was quite a surprising performance by her to say the least. The improvement of her serve has really helped her.
She now plays Maria Sharapova in the semifinals on Thursday.