Arsenal Transfers: How Gunners Fans Would Like the Club to Spend This Summer
March 26, 2012

Richard Heathcote/Getty Images
After the debacle of last summer's transfer window, Arsenal fans are hoping for something different this coming June.  
In truth, the past two summers proved frustrating for Gooners.
Throughout the 2009-2010 and 2010-2011 seasons media speculation was rife surrounding Cesc Fabregas' future at the club. And although Wenger was able to convince Fabregas to put off his departure for one season, Cesc finally got his wish last summer.  
Now, losing your talisman and captain would be enough heartbreak for one summer.  However, Samir Nasri—one of the team's star performers last year—added to the frustration as he orchestrated a drawn-out transfer to Manchester City. 
With two young talents exiting, Gooners looked for star quality replacements to be brought in during August. Unfortunately, Wenger (and the board) moved slowly—waiting until deadline day to add experienced talents of Arteta, Mertesacker, Santos and Benayoun. 
Gooners can debate whether the summer additions were enough to replace Cesc and Samir, but at this point it isn't the issue. Arteta and Mertesacker slotted into the starting lineup immediately and have proved to be valuable contributors. 
More importantly, Wenger's purchases brought experience into the squad which now seems to be paying dividends. 
So, looking ahead to this summer, what are Gooners calling for?  What does this team need to move to the next level? 
First and foremost, Gooners are hungry for vision, clarity and decisive action this summer. 
What made last year so bad was not only the player exits, but the shroud of uncertainty that lingered over the Emirates.
Fans didn't have any idea of what was happening. Wenger looked on edge and confrontational when discussing transfers. And, even though it appeared Fabregas and Nasri were eventually leaving, no moves were made early in the summer to stop the bleeding. 
Instead, the last minute buys only added to the perception that Arsenal lacked a clear plan. For many Gooners, this was the most frustrating part about last summer. And, it is what needs to be rectified in the coming months. 
Early signs are positive, though.
Arsenal's most glaring need in its squad this season is a dearth of quality of striking options.  Behind Robin van Persie, Park Chu-Young and Marouane Chamakh are fighting it out to see who can score the fewest goals this season.  The mere thought of a van Persie injury causes a collective shudder among Gooners. 
That's why it is encouraging to see that Lukas Podolski looks to be Arsenal's first signing.  Although it has yet to be confirmed, the Telegraph suggest the signing is almost completed and could be announced as early as this week.   
If true, Podolski would be a fantastic addition to an Arsenal squad too reliant on van Persie for goals.  He provides versatility—being able to play comfortably on the left-wing on through the middle. 
Also, if he signs early it would be a clear sign of intent from Wenger that he will conduct business differently this summer. 
Beyond the signing of Podolski, the biggest needs—as I see them—are center-back cover, an additional full-back and a creative-midfielder. 
With Thomas Vermaelen, Laurent Koscielny and Per Mertesacker, Arsenal have three solid center-backs. Yet time and again we have seen that Arsenal will be struck down with injuries. 
This makes the fourth center-back position critical, and at the moment Johan Djourou does not instill much confidence. 
Although he performed particularly well during the 2010-2011 season before his injury, his performances have seemed to wean. 
If playing well, Djourou is an effective back-up.  However, at this point Arsenal would be well-served to bring in further competition at this spot.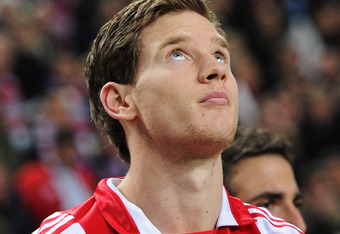 Jasper Juinen/Getty Images
Full-back is another interesting position for the Gunners. When fit, Kieran Gibbs and Bacary Sagna provide effective attacking outlets. Although Gibbs can struggle defensively at times, the talent is there as he gets more experience. 
Gooners also know, though, that Gibbs is a walking injury and can't be relied on for a full season of appearances—at least not yet. At one point this season, Arsenal was playing without a recognized full-back on either side of the pitch.  
So, Wenger should look to add reinforcements at either left-back or right-back, but preferably someone who is versatile enough to play across the backline.  
Jan Vertonghen fits this bill perfectly. He is an accomplished center-back with Ajax and has extensive international experience. 
Additionally, he has filled in at left-back at times, along with being a good friend of Vermaelen.  Arsenal fans would love to see him join the club in the summer, and his recent comments suggest he feels similarly.  
The last position of need is a little more complicated. Many fans have been calling for another creative midfielder to be brought in this summer.  With Cesc sold, Wilshere injured and still young, Ramsey inconsistent, Rosicky has been the main creative outlet this year. 
And although Rosicky is on a current run of impressive form, there remains a lack of depth at the creative midfield position.  
Still, when Wilshere returns, Wenger could choose to play him further up the field than in his breakout season. This would mean Wilshere, Ramsey and Rosicky would all rotate in at the center attacking-midfield position—potentially creating a logjam.  If this happens, I do not believe Arsenal need another creative-midfielder.  
Unless, and this is a big if, Wenger can bring in Eden Hazard or Mario Gotze. 
Both these players have superstar potential and could add another dimension to the Arsenal attack.
The problem is they are highly rated and widely coveted, which in Arsenal terms means that other teams with more money will likely outbid them.
Still, Wenger has targeted Mario Gotze for the summer according the Daily Mirror.  Although it seems a long-shot, the addition of the young German prodigy would be seen as a major transfer coup for the team.  
Throughout the summer months many names will get bandied around. Players from across the globe will be linked with Arsenal, but at the end of the day only Wenger knows who he really wants. And as manager of the club, that's the way it should be. 
What Arsenal fans want is pretty clear: We want to see a vision from the club. 
We are looking for Arsenal to act early, and with purpose.  
Gooners can't take another summer of speculation and uncertainty.  What we are looking for is a club that is on the rise again.
A club that can attract great players—not lose their best. 
A club that takes initiative, instead of being dictated to by the likes of Manchester City. 
Only time will tell if Wenger learned lessons from last summer's frustrations.