Who Are the Star Pairs at London Olympics?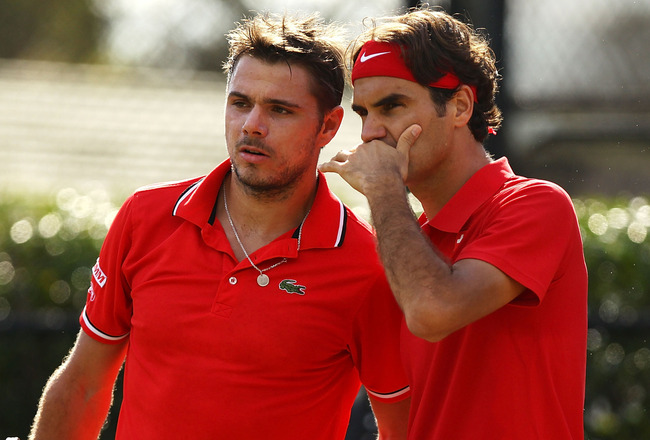 Olympics Defending Champions
Matt King/Getty Images
The ITF has announced the specifications for the 2012 Olympics tennis competition.
Each country can have a maximum of six players of either sex representing them in London where the doubles competition will have 16 teams each.
Players who are recognized in the Top 10 doubles will get direct acceptance into the event while their partners will be selected by their country.
64 players will be selected for the singles events with 56 selected based on the computer rankings as of June 11th.
In London 2012, there will be a lot of interest about who will pair up together to represent their country. The Mixed Doubles, especially, is being conducted after the 1928 edition.
Roger Federer won the men's doubles title during the last Olympics beating several fancied pairs during their victory run–he will be looking forward not only for a repeat but add a singles title as well.
Let us speculate on who will be the other star players to watch out for.
Leander Paes and Sania Mirza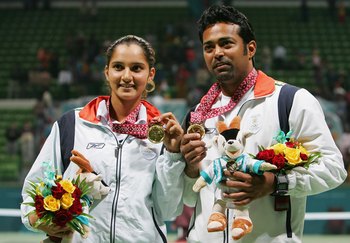 Julian Finney/Getty Images
Bronze medalist in singles in 1996 Olympics, Leander Paes is still playing on the ATP Tour albeit on the doubles circuit.
London will mark Leander's sixth appearance in the Olympics–no mean achievement in any sense.
Leander Paes and Sania Mirza will form a formidable pair at London, having already won gold at 2006 Asian Games–no wonder they will be looking forward to a repeat this year.
Murray Brothers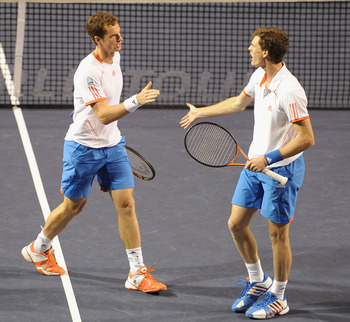 Harry How/Getty Images
The Murray brothers have been playing doubles for a long time, though they have won just one tournament in the last two years each.
The brothers played in the last Olympics in Beijing but suffered a thumping defeat in the Round of 16.
Jamie Murray has come a long way from the last Olympics in 2008 and hence Great Britain will be on the lookout for the brothers to get a gold medal.
Radek Stepanek and Petra Kvitova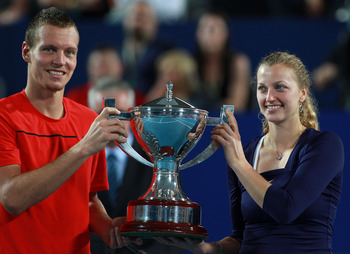 Paul Kane/Getty Images
Though Petra Kvitova won the 2012 Hopman Cup with Tomas Berdych, she has announced that she prefers Radek Stepanek as her partner.
With a doubles win in the single Grand Slam so far this year, Stepanek is the leader according to Kvitova.
Victoria Azarenka and Max Mirnyi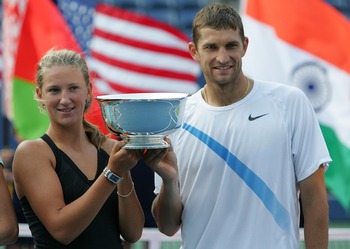 Matthew Stockman/Getty Images
Victoria Azarenka and Max Mirnyi have won the US Open playing together way back in 2007.
After doing well on the singles circuit (finishing within Top 50 for close to seven years), Mirnyi has been a doubles specialist for the last few years.
Azarenka's current success will inspire her to reunite with her earlier doubles partner for Olympics.
John Isner and Andy Roddick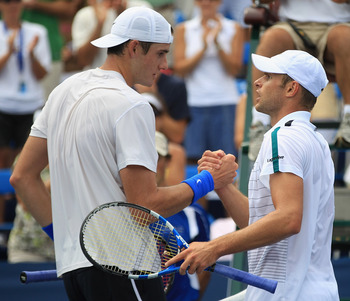 Streeter Lecka/Getty Images
John Isner has been improving by leaps and bounds in the last few months though he stepped out of the Top 10 the last week.
Isner has played doubles as well this year, reaching the finals in the Indian Wells ATP 1000 tournament before losing to Rafael Nadal.
Isner and Andy Roddick will form a great pair for USA at the Olympics though they have not played together on the same side for a long period.
Rafael Nadal and Marc Lopez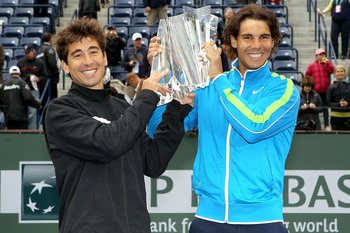 Matthew Stockman/Getty Images
Rafael Nadal has already won a title this year in doubles (partnering Marc Lopez in Indian Wells tournament earlier this year).
Rafa has competed in both the earlier Olympics but his record has not been that great.
Losing in the first round in Athens 2004 as well as in the second round in Beijing 2008 has been Nadal's performance in Olympics doubles.
Will he better this in London 2012?
Novak Djokovic and Nenad Zimonjic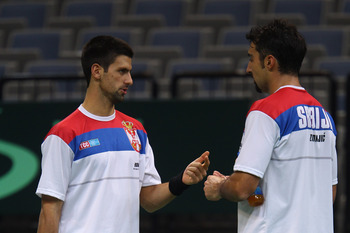 Julian Finney/Getty Images
Djokovic and Zimonjic played for their country in last year's Davis Cup tie against Sweden (even though they lost the match).
Novak has not played much this year in doubles but he will be determined to turn up for his country at London.
Will he increase the gold count for his country by playing doubles or will he stick to singles alone?
Ana Ivanovic and Novak Djokovic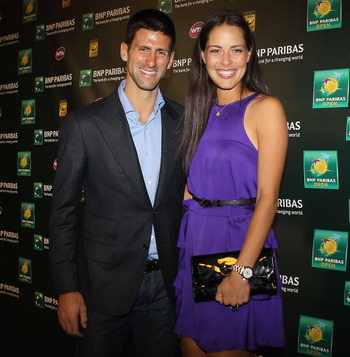 Jeff Gross/Getty Images
Djokovic and Ivanovic enjoyed a good outing playing together in the Hopman Cup final last year.
Getting back on the mixed doubles court will be something both will be looking forward to.
Will Novak notch up a double (or even a triple one) crown in 2012 Olympics on the hallowed grounds of Wimbledon?
Keep Reading