Novak Djokovic vs. Ivan Lendl: March Madness Tennis (part 3 of 4)
March 19, 2012

Novak Djokovic and Ivan Lendl are two revolutionary creators of the baseline power game.
They have turned in some of the most dominating seasons in tennis history by overwhelming their opponents with original styles that ushered in new eras.
There are several remarkable similarities to their games, and each has the ideal game to dominate at today's site of the Australian Open.
This article is the third that will feature four dream matchups in tennis's version of March Madness. If you missed Roger Federer vs. Pete Sampras for dream match no. 1, or Rafael Nadal vs. Bjorn Borg for dream match no. 2, you may click their respective matches in this sentence.
The purpose is not to determine the greatest player of all time, but to have fun exploring each specific match with one set of conditions including court surface, racket technology and a given date.
The reader is encouraged to vote for the winner in the poll question, and to provide any comments, perspectives or other angles that will add to the conversation.

The Conditions
Time: 2013
Court: Rod Laver Arena, Melbourne, featuring plexicushion hard court surface, which provides enhanced cushioning and a slower hard surface.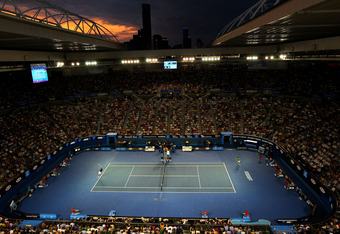 Cameron Spencer/Getty Images
Rackets: Djokovic will use his own Head YouTek IG Speed MP 18/20, with the head at his preferred 100 square inches.
Lendl will benefit from choosing his own modern, high tech weapon that will surely enhance his power and spin. He will likely use his current choice, a Bosworth 96 custom-build racket that he called, "simply the greatest racket I've ever hit with, period."

Tale of the Tape: Ivan Lendl
Ivan Lendl, holder of eight Grand Slam titles and 19 total Slam finals appearances from 1981-1991, spent 270 weeks at no. 1, trailing only Pete Sampras and Roger Federer. He will be represented by his 1986 self.
He is a lean, athletic player standing at 6'2" and 170 pounds, possessing excellent footwork and underrated speed. He is extremely fit, and his topspin and power forehand, one of the best ever, was well ahead of its time. He had a quick motion without much windup in order to sweep it quickly, similar to how Pete Sampras could explode.
Lendl is one of the few retro players that would assuredly be greater with modern technology and fitness. All of the changes in modern tennis favor his talents.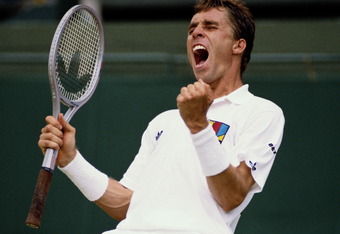 Bob Martin/Getty Images
He won two Australian Open titles, but would have likely won several more had it not been played on grass for most of his career.
When the Aussie Open switched to the softer hard court surface known as Rebound Ace, Lendl immediately won his two titles, even as his career was winding down.
The present day plexicushion will ideally suit his awesome power from the baseline.
We will allow Lendl one year to train himself with modern fitness, diet, and new equipment. In addition, Lendl will receive the advantages of enhanced video technology, modern coaching, and all other corresponding upgrades.

Tale of the Tape: Novak Djokovic
Novak Djokovic, winner of five Grand Slams and three Aussie Open titles is at the peak of a career that could include several more Slam titles. He will be represented by his 2012 self.
He is also lean and athletic, standing at 6'2" and 176 pounds, with incredible reach to retrieve and return his opponent's best shots. His strokes are built on precision and power, and both forehand and backhand are equally strong.
Djokovic also has a very good serve, and will aggressively attack weak or shallow shots from his opponents. He is the rare balance of offense and defense, winning points from either posture.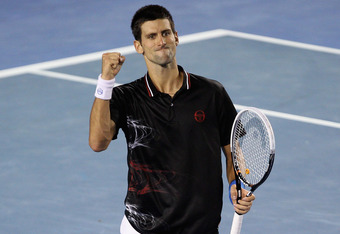 Lucas Dawson/Getty Images
He has come to dominate the new Aussie Open surface, winning three of the possible five titles that have been played on the new plexicushion.

How Lendl Might Attack Djokovic
Lendl will be more offensive than the player he is trying to coach, Andy Murray. He will play from the baseline, but look for any opportunity to unleash forehand winners. He wants to take shots wide of his deuce court, and hit his running forehand for a winner up the line.
He will use a lot of slice with his single backhand if Djokovic gets in a groove with his backhand. It is more efficient than Nadal's slice and he backs it up with an equal dose of topspin, all while biding his time to gain control with his forehand.
Lendl is an effective server with good power. He will only get a modest share of aces against Djokovic, but will find an equal number of service winners.
It will be important for him to connect with a high percentage of first serves, thereby coaxing some weak replies from Djokovic. This will allow him to run around his own backhand to rip an in-and-out forehand.
Lendl will not make too many adjustments. He will stick to his strategy win or lose. If his serve is off, or Djokovic starts winning most of the baseline battles, Lendl will go for variety on his forehand, looking to flatten it or add more spin just to change the tempo.

How Djokovic Might Attack Lendl
Djokovic will relish the opportunity to counter Lendl's forehand. If Lendl leaves too much topspin on his strokes, Djokovic will rifle harder shots with either side. His backhand will get the most work, but this is not a problem for him.
On offense, Djokovic will attack Lendl's backhand. Lendl's backhand is similar to Federer's when he hits with some topspin, but has a tendency to leave it shorter than modern players.
Djokovic can also attack any weak slice. It must be remembered that Lendl's modern racket should provide a lot more power and control for this, so it may not be as simple as looking at a mid-80s replay to gauge this fully.
In addition, Djokovic will look to step as close to the baseline as possible. He will be confident with long rallies and look to use better angles than Lendl showed in the '80s. Long rallies would appear to favor him, but both players can also end points quickly if they sense the other is controlling the match.

Intangibles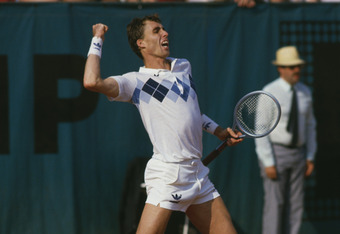 Steve Powell/Getty Images
Lendl was renowned in his time as the fittest man on the ATP tour. Djokovic just defeated Nadal in a six-hour match, proving his stamina is second to none.
Djokovic's intensity and physical play is something Lendl did not see in his day. Could it intimidate Lendl?
Then again, Lendl faced perhaps more legends than any player including the likes of Bjorn Borg, Jimmy Connors, John McEnroe, Boris Becker, Pete Sampras, Andre Agassi and others. He also faced more variety in styles from his opponents. He is more than battle tested.
The pressure may be off for Djokovic who early on in his career seemed more volatile in trying to establish his turf. Now he knows he belongs with the greats.
Lendl plays very well in the lead, but has had some famous five-set losses to Borg, Michael Chang and Mats Wilander in matches that could have led to more titles.
Both players are fiercely competitive. When Lendl is losing he keeps his same game plan but tries to hit harder. Djokovic has learned to respond positively with greater intensity.
Lendl had some of the worst-designed tennis apparel ever. His sweater look with diamonds was atrocious. Perhaps Adidas could hook him up with some more stylish and athletic clothing. Put him in a black shirt if nothing else. He should play better if he looks better.
Will the modern fan give Lendl more support? If not, Djokovic will have a bigger cheering section for sure. But Lendl is used to that.

The Winner
This really would be one of the best tests at bringing a retro player into the modern game. If Lendl can't give Djokovic all he can handle, than we have to respect the evolution of athletes as the much greater factor.
What would be the over/under for combined approaches to net divided by number of sets?
This will be the battle for all-time champion of central Europe.
Cast your vote and your comments.