Indian Wells: Djokovic's Shocking Defeat to Isner Will Test the Great Champion
March 17, 2012

Matthew Stockman/Getty Images
John Isner's stunning 7-6, 3-6, 7-6 victory over Novak Djokovic has even upstaged Roger Federer and Rafael Nadal on a semi-final Saturday at Indian Wells.
It was an opening act that both reinforced and foreshadowed some interesting tennis themes as 2012 roars into Spring.
Djokovic was the first to credit Isner during his post-match comments. He discussed Isner's talent and improving belief, while reassuring the press that he is playing well and will be ready for Miami.
Isner's giant win may not shake up the rankings, but it could be a break in the clouds for men's tennis.

The After-Effects of Sipping Champagne
Djokovic's gruelling win over Nadal at the 2012 Australian Open was an impossible performance to follow. It is extremely difficult for a champion to maintain a similar level of intensity, and often a brief letdown of mental fatigue or desire can follow.
The first set against Isner was a prime example: Djokovic quickly broke Isner, but more or less put his performance on auto-pilot.
He lacked fire, even as Isner began to harness his own confidence into some impressive serving and powerful shots.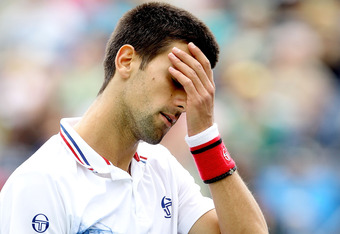 Matthew Stockman/Getty Images
Djokovic's questionable concentration was underscored at 5-4 and facing break point. He chose to stop play and challenge an Isner return that clipped his baseline. He lost the review, the point, the game and ultimately the set.
More importantly, Isner's power was beginning to bother Djokovic, and the pressure of his serve kept the champion at bay.
Even as Djokovic rallied with more energy and purpose to win the second set, Isner had already squeezed the match to a final set, backed by serves topping 140, impressive ground strokes and some astonishing approach shots and volleys.
Djokovic played solid tennis, but was too often forced to throw up defensive lobs against the 6'9" Isner.
There were few opportunities to crack the big-serving American, whose performance and game were reminiscent of former tennis pro, Richard Krajicek.

A Wake-up Call?
Credit to Isner's great performance is well-deserved, but Djokovic will be tested with his own motivation.
He is coming off an historic 2011 season, and the field of men's tennis will target him with their collective best.
It's one thing to rise for a match against Nadal or Federer, but there are other top-10 caliber players scheming to break the champion. Can Djokovic continue to handle the grind of secondary opponents and matches?
Losing a match like this to a hot opponent is tough to swallow for a champion like Djokovic, but it may ultimately prepare him for similar ambushes as the upcoming tournaments roll into the upcoming Grand Slams.
It may help him find even greater focus and determination to use the first set to put away a dangerous opponent.

Concerning Rafa and Roger
For Nadal and Federer, it opens up the window for the winner to play favorite in capturing the Indian Wells title.
Of equal importance, the former champions can't help but gain more confidence in moving forward for their next encounters with Djokovic.
Federer has played well against Djokovic, and has lifted his own game the past several months. His resurgence could prove to set up more opportunities for Grand Slam titles, and it will help him knowing that Djokovic is not infallible.
Nadal, who has been upended by Djokovic, may especially take it to heart as he targets his own comeback for capturing Slams.
Men's tennis has seemingly been a constant run of domination, but the shifting and maneuvering just beneath the top could undermine the power of the ruling class.
Even a dynasty can suddenly turn ephemeral.
But don't expect Djokovic to do anything but come back with his customary fire and talent. He is still clearly the man to beat, and he possesses an awesome game.
As Nadal and Federer prepare for their semi-final match, Djokovic packs for Miami.
Watch out.