Tennis: Top 5 Most Famous Celebrations in the Sport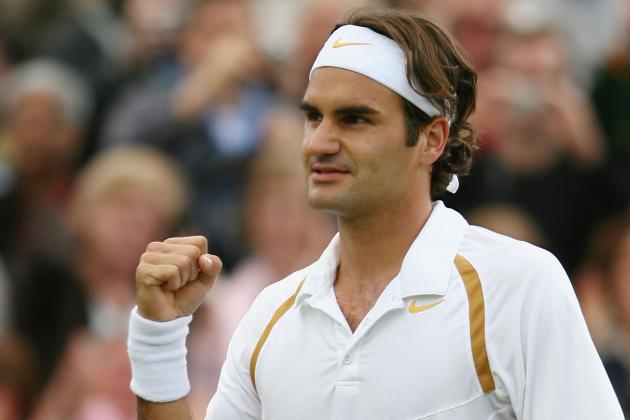 Clive Brunskill/Getty Images

Whether a player is emotionally forthright or subdued overall, he or she can sometimes find it very hard to contain excited feelings when on the court.
Some athletes choose to fist pump, while others simply talk to themselves.
There are certain celebrations that distinguish tennis players' personalities from one another, and some tennis stars are iconic just as their display of outburst is.
Here are the top-five most recognizable and cemented emotional celebrations today.
Begin Slideshow

»
Andrea Petkovic started dancing after earning big wins over top players. It has become a fan-favorite sight.
Rafael Nadal does something different and particularly special each time he wins.
This video is a compilation of the numerous times he has shared a memorable moment with the crowd and his fans, after winning a crucial point or a match.
Mikhail Youzhny has branded his saluting gesture in the game of tennis.
He puts his racquet over his head and greets each of the four sides of the court after winning a match.
Jo-Wilfried Tsonga becomes a human Tilt-A-Whirl-gone-wild after he wins.
He first started doing it when he earned himself a victory so important that he could not channel his inner emotions.
Gael Monfils loves to pull off the impossible and get the crowd members on their feet.
He does a little of everything—he bangs on his chest, raises his arms, does a practice sprint and screams "Allez" (which means "come on" or "let's go" in French) after doing something incredible.
The Frenchman livens up the atmosphere and the sport itself.
Some players are frustratingly annoying with their "Come on's," such as Andy Murray and Lleyton Hewitt (who also coined the "snake" celebration that Janko Tipsarevic currently showcases). However, some have made it a beloved trademark, such as Serena Williams and Roger Federer.
Federer usually controls his thoughts and feelings and only shows his fist pumps to onlookers.
But, in pressure moments and, as shown in this video, certain uneventful times, he proclaims his satisfaction with a good ole "C'MON!"
This clip feels rather humorous, although Ana Ivanovic's exclamations of happiness in matches is unparalleled by any other player.
She shouts "Ajde" (which also means "come on") while fist-pumping and twirling herself around in place.
But the way she expresses herself when she loses a point or a match is a completely different story.