An Open Letter to Miami Dolphins' Owner Stephen Ross
March 14, 2012

Rob Carr/Getty Images
Dear Mr. Ross,
I've been a Dolphins fan for the last 21 of my 26 years. I don't know how it happened, I've always lived in New York. Although I tell people it was Marino, my earliest memories of watching the team were with Scott Mitchell running the offense. I've stayed with the team through everything, but now I'm not so sure. Now, I'm fed up. 
I've come to realize the ultimate fear of any sports fan isn't annual futility, or the loss of a star player. Even when those things happen, there's still hope—hope that next year a new star will rise and the team can finally make that turn to glory. The greatest fear a fan has is when there is no hope, no chance for success now or later.  That, Stephen, can only happen with one thing: bad ownership.
There is nothing more frightening to a fan than rooting for a team with a bad owner. Bad players can be cut, bad coaches can be fired. A bad GM or a poor front office, whose philosophy on how to run a team may be arcane at best and terrible at worst, can be replaced. But there's no replacing a bad owner.
No amount of futility, no amount of fan furor can rid teams of their owners. It's the reality Knicks fans have dealt with for years. While Isiah Thomas was given carte blanche to run the team into the ground, the Dolan's were nowhere to be found, too busy forcing their way onto the stages of NYC jazz clubs to let loose and have fun.
Ask an Orioles fan about Peter Angelos, or a Redskins fan what it's like to have Dan Snyder as an owner. I bet most responses won't be good for either, sort of like their teams. But at least when it comes to Snyder, when he wants his man—be it a high-priced free agent or big-name coach—he gets him.
You won't sign Peyton Manning, of that I'm fairly certain. You know how I know? Because you're a loser. Just ask Jim Harbaugh, Bill Cowher or John Gruden. Each one of them was so put off by the way you handled Tony Sparano that they were disinterested in your big-money offers.
Or you could ask Jeff Fisher. Jeff Fisher would rather take less money and deal with potentially relocating another franchise than work for you, all because you show loyalty to a GM who has one winning season out of four under his belt, and who has embarrassed the franchise by asking a potential draft pick inappropriate questions about his mother. Classy stuff, Steve. 
But that's only the beginning. You're also a loser because you think celebrity partial owners are a draw. Do you seriously think one person has ever gone to a Dolphins game because Venus Williams owns a piece of the team? Do you think it looks good when Marc Anthony and Will Smith are palling around in the owners box while your team is getting blown out by New England? Seems pretty stupid to me.
You're a loser because you showed Jason Taylor, the franchise's greatest defensive player, a fraction of the loyalty he's shown the Dolphins. You're a loser because you just traded away the best player on your offense (Brandon Marshall) for a pittance.
Did you really do that to lure Manning? Are you really allowing a player who isn't even on your roster (and may never be on your roster) to decide your personnel? A few weeks ago you told us we were a quarterback away from contention. Surely now you'd agree, we're a QB and a stud wide receiver away.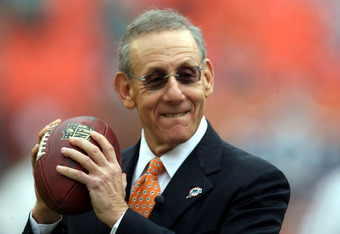 Marc Serota/Getty Images
You're a loser because since Manning was released by the Colts, you went from the proverbial front runner (he does live down there you know) to almost out of the running completely, without even talking to the guy. You salivated over Peyton, told anyone that would listen he's your top priority, even if bringing him in would undermine your new head coach's offensive philosophy (nice one there, too). Just five days after his release, you were lucky to even get a meeting with him.  
You're a loser, Steve, because that is all you've done since buying this team.
Now, I hope I'm wrong here. I hope I'm wrong about you and about Peyton. I hope next year I'm watching the Colts: South Beach, with Manning to Reggie Wayne and maybe even Dallas Clark. I hope trading Marshall is like staring at one of those magic eye pictures: If you stare long enough, it finally becomes clear and you see something cool.
But I have to say right now, my hopes aren't too high. My gut reaction when I heard about Marshall was to drop the team I love out of hopelessness, but I'm sticking around, at least for now because that's what fans do. You're off to a bad start Steve, but the recipe for success isn't too hard to fathom. Just win.
Sincerely,
Bryant Daniels