Cleveland Cavaliers and the NBA Playoffs: Time to Put Up or Shut Up
March 13, 2012

Kevin C. Cox/Getty Images
The 2012 NBA trade deadline is two days away, and the Cleveland Cavaliers are at a crossroads. A young, overachieving team, the Cavs' playoff chances seemed effectively dashed last week after stumbling through a six-game losing streak, which included defeats to bottom feeders New Orleans and Washington.
What a difference a week can make.
An impressive three-game winning streak over perennial Western Conference powers Denver, Oklahoma City and Houston–with two of the wins coming on the road-has rekindled the flames of a potential playoff run for the Cavaliers, who currently sit just a half game behind the Milwaukee Bucks for the eighth seed in the East.
With 27 games left to play, the next two present the Cavaliers with an opportunity to leap back into the eighth seed, and simultaneously determine their course of action moving forward next season. Before the Thursday deadline, Cleveland has a home-road back-to-back against the Raptors and Bucks. Come Thursday, the Cavaliers' front office will make the team's most important decision since "The Decision" itself.
With productive veterans Antawn Jamison and Ramon Sessions on the trade block, the tough choice will need to be made between trading them away in hopes of acquiring more draft picks in 2012, and holding onto them in the hopes of them re-signing with the team in the off season. Unlike LeBron's unabashed self-promotion, however, this decision will be made by management with the Cavaliers' team interest at heart.
From a talent standpoint, neither Jamison nor Sessions should be moved if the Cavaliers are serious about making a playoff run this season.The team needs to look at the long-term picture, and realize that both Jamison and Sessions could leave in free agency after the season, leaving us with nothing in return. Then again, both could just as easily decide to re-sign with an emerging Cavaliers team that will only get better with the addition of another mid-first round draft pick.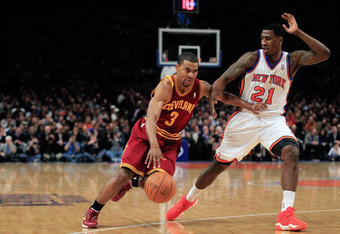 Chris Trotman/Getty Images
That both players have publicly claimed they're happy in their respective roles is an encouraging sign. Sessions is one of the league's best backup point guards, and not yet 26, he's got plenty of game ahead of him. Sessions has Coach Byron Scott's trust, and he knows he'll get 25 minutes a game, starting or not. If Sessions is retained for 2012-2013, he won't lose much playing time, no matter who the Cavs draft.
Jamison has consistently been the Cavaliers' predominant scoring threat opposite Kyrie Irving. He's retained a positive attitude, while remaining a leader on a young squad. What Tristan Thompson possesses in explosiveness, he lacks in craftiness. At about the same build as Tristan, keeping Antawn around to help Thompson refine his offensive technique would be much more beneficial than simply giving the youngster his minutes.
If the Cavaliers learned anything from LeDivorce, it's the value of playing to win in the present. With the current state of NBA free agency, star players will leave their team for greener pastures once their contract is up. Loyalty is a thing of the past in professional sports. Like it or not, the Cavaliers' timetable for winning runs concurrent to Kyrie Irving's rookie contract.
Unlike football, draft picks in basketball aren´t nearly as valuable, as there aren't 25 different positions to fill. Even if the Cavs managed to score a first round pick for Sessions, it'd likely be somewhere in the 25-30 spot of the draft, where the talent level tends to drop off precipitously. Would it really be worth it for the Cavs to trade Jamison for a second round pick that might develop into a solid player by the time Kyrie's contract is up? Why not make every effort to re-sign both of these players who have proven themselves valuable assets to the team we already have? The Cavaliers need to plan their timetable for winning in the next three to four years. They can´t rely on more draft picks establishing themselves during that span, they need proven talent right now.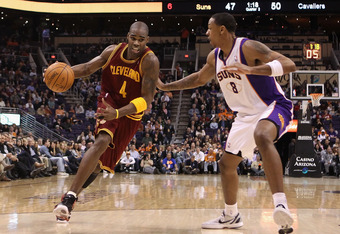 Christian Petersen/Getty Images
Kyrie Irving and the rest of the Cavaliers can't focus on potential trades. They need to focus on the only thing they can control, and that's winning. Another good-but-not-good enough season isn't what the Cleveland fan base needs. With the Indians blowing another golden opportunity to capitalize on a surprising 2011 season, and the Browns in a state of perpetual disarray, the onus is on the Cavs to win now. First-round playoff sweep or not, simply making the playoffs one year removed from a 63-loss season would do wonders for this team's morale moving forward.
Cleveland can prove the doubters and haters wrong starting tonight. While the underwhelming Raptors continue to drift amongst the bottom of the Eastern Conference, the scrappy Bucks have stepped up their game in light of the Knicks' recent free-fall.
The Cavaliers enter the next two games with revenge on their minds. Toronto made mincemeat of the Cavs twice already this season, shooting absolutely lights-out from three point range. In their two meetings, the Cavaliers let Andrea Bargnani look like Dirk Nowitzki and Jose Calderon look like Steve Nash. Even DeMar DeRozan lit up the Cavs from deep. In two games this season, DeRozan has shot 5-9 from three against Cleveland. Over the rest of his career, he's shot 24-129 (0.186) from deep. Needless to say, the Cavaliers must defend the perimeter in tonight's match up, and not allow themselves to get torched by the long-ball.
Playing without Calderon, who will sit due to a sprained ankle, there is absolutely no excuse for the Cavs not to win tonight. Kyrie Irving has struggled mightily in the two contests with Toronto this season, averaging just 9.0 PPG on 20% shooting (5-25). Not having to deal with the pesky Calderon on both sides of the ball should help Kyrie find his rhythm. He's been struggling with his shot as of late, and tonight would be an opportune time for him to make an early statement instead of waiting until the fourth quarter to turn it on.
The Cavs need to take things one game at a time.  No Cavaliers fan, however, can forget how the first contest with Milwaukee turned out. A back-and-forth game ultimately resulted bitterly, with a red hot Antawn Jamison missing two potentially game-winning free throws at the end of regulation. The tough home loss was overshadowed by ex-Cavalier Drew Gooden fracturing Anderson Varejao's wrist on a slap for a rebound. Never a fan favorite or possessive of a high basketball IQ, the move did nothing to help Gooden's image in the eyes of Cavs fans. Maybe we'll just write it off as Drew still being salty over losing playing time to Varejao in the younger stages of their respective careers while teammates in Cleveland. The injury postponed another career year for Andy, and the set-back should be lingering in teammates' minds when the two teams tango tomorrow in Milwaukee.
Byron Scott wants to win now, and so do the Cavaliers players. They need to treat the next two games like playoff games, and come out hungry, aggressive and motivated. The recent winning streak has rejuvenated the team, and they need to take the first step toward becoming the playoff team they want to be. They can do this by prevailing in winnable games against contending opponents, and letting potential trades work themselves out as they may.