Los Angeles Dodgers: Predicting the Opening Day Starting Lineup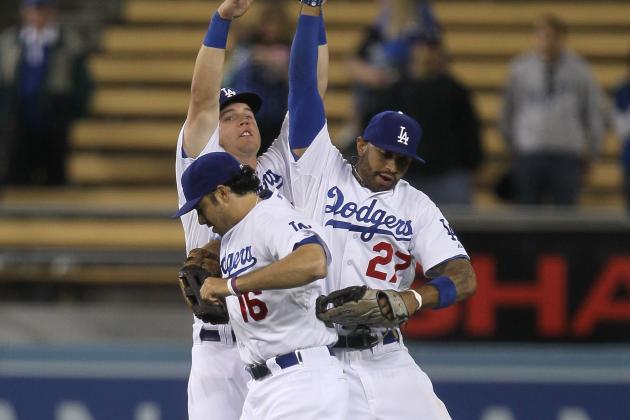 Stephen Dunn/Getty Images

The Los Angeles Dodgers come into 2012 off of a disappointing 2011 campaign, finishing third in the National League Western Division.
The Dodgers finished their season on a high note going 34-20 over the last two months of the season, and finally looked to hit their stride. Especially since many of the young players the Dodgers trotted out last summer were still getting used to the rigors of the major leagues and facing better talent, the strong finish gave hope that 2012 might be the season everything clicks together and brings some glory back to Chavez Ravine.
Second-year manager Don Mattingly does not have too many major decisions to make in determining his lineup for Opening Day this season, as general manager Ned Colletti was active this offseason: He signed second baseman Mark Ellis, starting pitchers Aaron Harang and Chris Capuano and re-signed left fielder Juan Rivera.
Along with bringing in some complementary pieces such as utility man Jerry Hairston Jr., reliever Todd Coffey and backup catcher Matt Treanor, Colletti managed to spread his decreased payroll around to bring in a new wave of Dodgers.
With the core of the team returning, anchored by NL MVP runner-up Matt Kemp, the Dodgers have an established identity going into the early part of spring training. It is only a matter of getting contributors like Andre Ethier, James Loney, Juan Uribe and the aforementioned Rivera to heat up and find their optimal place in the batting order.
Let's check out where each Dodger will be batting come April 5th in San Diego, opening night for the Blue Crew.
Begin Slideshow

»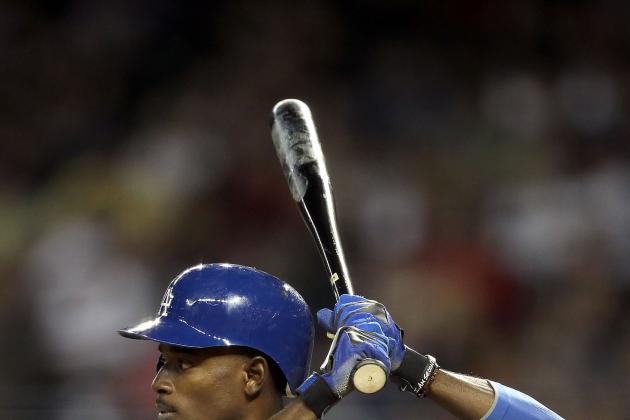 Christian Petersen/Getty Images

Dee Gordon and his flashing speed will most certainly be at the top of the order for the Dodgers this spring. Last week, I took a closer look at analyzing whether Gordon was going to break out this season or regress in his first full year.
One thing is for certain though, if Dee can stay healthy and get on base at least a little bit, the Dodgers are going to wreak havoc on the basepaths and are going to score runs.
Dee made a great impression in his first cup of coffee last year, batting .304 with 24 stolen bases in only 56 games. His slugging percentage and on-base percentage were .362 and .325, respectively, so not particularly high enough for a quintessential leadoff man.
With Gordon's electric speed, the Dodgers have a legitimate chance of watching their leadoff hitter steal well over 80 bases, with perhaps Maury Wills' Dodger record 104 stolen bases at risk.
However, Gordon is working on his ability to take a walk and find ways on base this spring. With three walks and two bunt singles already this spring, Dee is showing the improvements that will make him the catalyst for the Dodgers offense.
His numbers in the minor league statistics also suggest that he is prone to strike out too often, but with only 27 strikeouts in 233 plate appearances in his rookie campaign, the Dodgers must be very pleased with his growth.
Dee is not going to develop any big-time power, but he will be able to use Dodger Stadium's spacious gaps and put up 35 doubles and a dozen triples quite easily in a full year. His slight frame, at only a mere 150 pounds, makes Dee the lightest player in the major leagues and susceptible to more injuries.
Overall, Dee will provide speed, a quality glove and an offensive threat that will get on base for the likes of Matt Kemp and Andre Ethier to knock in.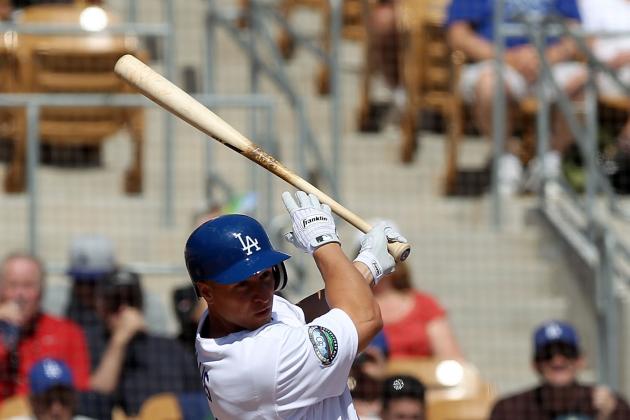 Christian Petersen/Getty Images

Mark Ellis comes over to the Dodgers this season to fill the gap at second base.
Ellis played with both the Oakland A's and the Colorado Rockies last year, posting mediocre numbers offensively while playing his normal excellent defense. Ellis batted .248 overall last year, slightly under his prototypical career .266 average.
Over the course of his nine-year career, Mark has averaged 13 home runs and 66 RBI a season playing almost all of it for the Athletics. His on-base percentage is .331 and his slugging percentage is .391, both very ordinary for second basemen. His two-year deal, $8.75 million with a team option, might be a little high for someone with such a low ceiling for improvement, but his consistency makes his contract worth it.
Mark brings a veteran bat to the lineup that will provide a little bit of power, consistent contact and quality at-bats. Ellis gets on base, but most importantly, stabilizes the infield with his excellent defensive prowess.
However, if Ellis struggles to produce consistently, look for manager Don Mattingly to make a quick change in the order that would move Ellis down to the sixth or seventh spot.
Depending on the way Ellis' season goes, do not be surprised if James Loney finds himself batting in the two-hole or even catcher A.J. Ellis, who also finds ways to get on base frequently.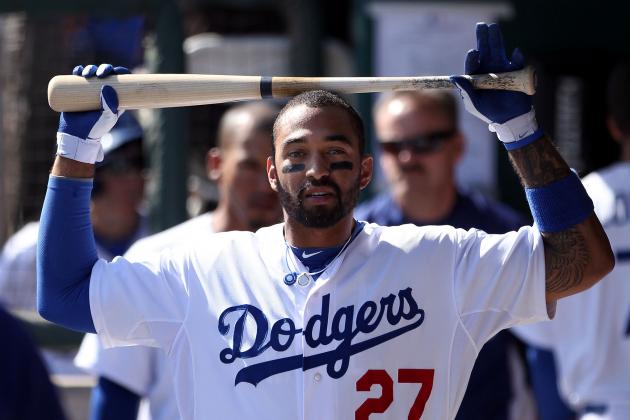 Christian Petersen/Getty Images

The bison, the beast and now the self-proposed 50-50 man.
Matthew Ryan Kemp from Midwest City, Oklahoma, will be the rock of the Dodgers lineup this spring. Kemp, coming off of an NL MVP runner-up season, has solidified his role as the main producer of the Dodger batting order.
Can Kemp repeat the success he had last season, slugging 39 home runs and 126 RBI while posting a .324 batting average and .399 on-base percentage?
Kemp has stated that he is capable of 50 homers and 50 stolen bases, and coming off his All-Star year in 2011, has baseball minds around the country intrigued to watch.
Kemp's improvement has been vast, as only in 2010 he limped to a .249 average with only 28 homers and 89 RBI. Decent numbers for any player, but for someone with as much potential and talent as Kemp, it was only a matter of time before a breakout.
Matt is now amongst the league's best bats, feared by pitchers especially late in the game. His numerous walk-off hits last season showed that he had a flair for the dramatic, willing the Dodgers to victory single-handedly sometimes.
This season, Kemp will continue to dominate National League pitching, posting tremendous numbers even if he fails to achieve the never-before-done 50-50.
However, in order for the Dodgers to take the next step of getting back into contention, they might need another jaw-dropping season from their All-Star center fielder.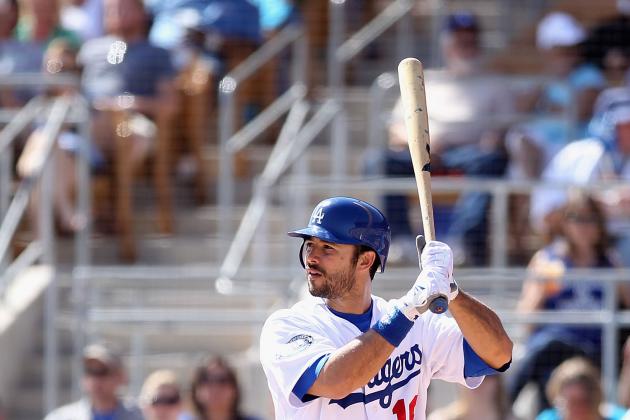 Christian Petersen/Getty Images

Perhaps even more crucial to the Dodgers' success this year is Kemp's fellow outfielders.
Andre Ethier, the Dodgers sweet-swinging right fielder, is in need of a big season after a down 2011 campaign. Ethier is also in a contract year, so in order for him to cash in, he will need to return to the production that made him the most feared bat in the Dodgers lineup.
Ethier last season began a torrid hitting streak. Early on, he posted a 30-game hitting streak, but fell ice cold soon after and was hampered by a knee injury. Coming into camp, he says he has never felt better and that he is ready to return to form.
Andre will bat fourth on most days, with Juan Rivera sometimes making cameo appearances in the clean-up spot. Ethier, who put up 31 home runs and 106 RBI only two seasons ago, is coming off of two injury-marred seasons but still manages to put up batting averages hovering around .300. His career .291 average is a good indicator of his consistency.
Ethier, as long as he can follow his traditional pattern of starting the season on a hitting tear, will bring joy to Dodger faithful coming into Opening Day, as they will have a clean-up hitter that smacks an average of 37 doubles a season and plays some dynamite right field.
If Ethier fails to stay healthy or continues to struggle hitting left-handed pitching, expect to see Rivera in the clean-up hole and potentially even see Jerry Sands making spot starts in right field, as his right-handed power bat is a good alternative to Andre's left-handed bat.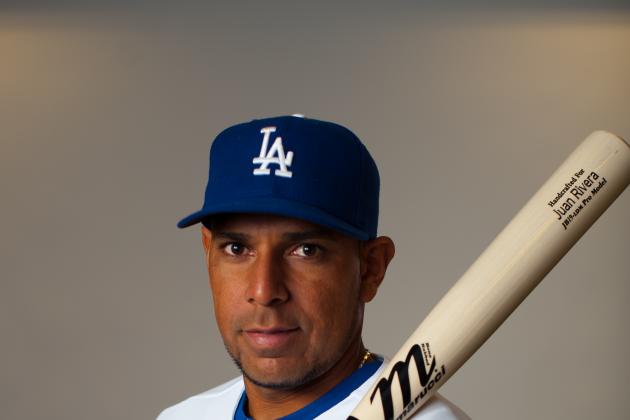 Rob Tringali/Getty Images

Acquired in the middle of last season for basically nothing but cash, Juan Rivera came over from the Toronto Blue Jays and brought some pop to the middle of the Dodgers' hapless offense.
Rivera, a 10-year veteran, signed a one-year, $4.5 million deal with a 2013 team option after posting decent 2011 numbers.
Rivera, who played fairly regularly for the Los Angeles Angels of Anaheim from 2005 to 2010, is a career .277 hitter averaging 21 home runs a season. Rivera slugged only five home runs in 60-some-odd games in Dodger blue, but posted a .333 on-base percentage and a .407 slugging mark.
Expect Rivera to see a couple of games at first base and a couple of games at DH when the Dodgers play traditional Interleague matchups during the dog days of summer.
Rivera is guaranteed to slug 15 home runs and knock in 80 runs this season, which will make him a stable bat that will bridge the gap to Jerry Sands or Scott Van Slyke, two highly touted outfield prospects.
If Rivera does not produce consistently, expect Sands to get a fair amount of time in left. Rivera's lack of speed makes him tough to move too far down the order, but depending on his production he could bat anywhere from fourth to seventh. Expect Juan to bat fifth regularly, producing regularly but not exceeding standard expectations.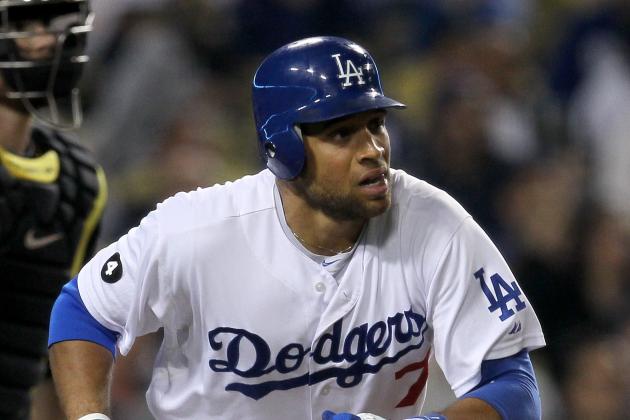 Stephen Dunn/Getty Images

Perhaps the key to the entire 2012 Dodger season, James Loney is playing to salvage his own career as well as potentially being the Dodger slugger to take the team to the next level.
Loney has failed to take his hitting to the level that Dodger faithful hoped after his emergence in 2007. Loney's career average is a solid .288 and he has averaged 87 RBI a year, but his power numbers have never really followed through to the promise his size and swing possess.
Big James smacks an average of 32 doubles a year and is a good gap-to-gap hitter, but needs to step up his game.
Averaging only 14 home runs a year, Loney has failed to be the power first baseman that distinguishes good teams from World Series teams, as most clearly evidenced by the role of Albert Pujols.
Loney's mediocre production led GM Ned Colletti to look at signing power-hitting Prince Fielder, however the lack of financial support made it difficult to make a serious offer.
Loney needs to continue his hot streak from the end of 2011, where he batted over .320 over the last six weeks of the season with some increased power.
He needs to put up .300-plus with 25 home runs and 100 RBI to solidify his place in the Dodgers' future plans, because as much talent as the Dodgers know he has, his game production is not living up to the demands of his position.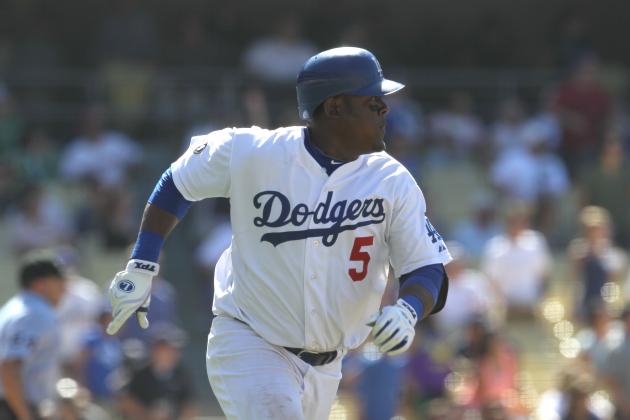 Stephen Dunn/Getty Images

The signing of Juan Uribe last offseason was a highly questioned move, throwing $21 million at a long-time utility man with a little extra weight around the middle. Uribe came over from the San Francisco Giants after helping them win the 2010 World Series, but failed to help the Dodgers at all in 2011.
Uribe had a terrible 2011 year, disappointing in every facet of the game. Spending the bulk of the season on the DL with a variety of injuries, Uribe batted .204 with four home runs and 28 RBI in a mere 77 games.
Defensively, he was an excellent defender for the most part, but his weight stopped him from getting to some balls. Over his career, Uribe has played second base, shortstop and third base, but has found his home for the Dodgers manning the hot corner.
Uribe needs to have a solid bounce-back year and live up to some of his contract. His career numbers are pretty decent, averaging 19 home runs and 76 RBI a year over his 11-year stint in the bigs.
Expect Uribe to stay healthier this year, posting a .240 average with a dozen home runs and providing versatility if needed to play other positions.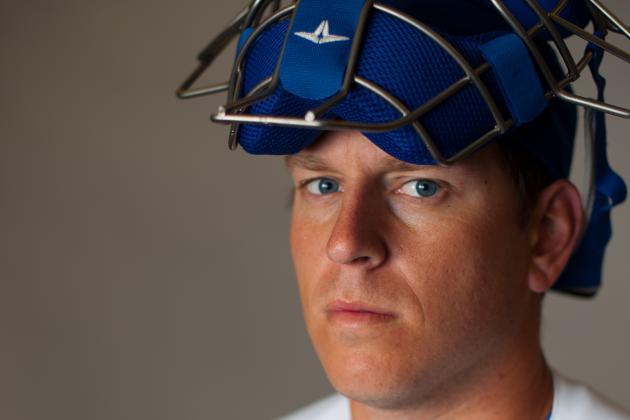 Rob Tringali/Getty Images

The heart-warming, well-deserved success and opportunity given to A.J. Ellis this season could bode well for the Dodgers' offense even though many are skeptical of the production from this position.
Ellis, a career minor leaguer who managed to earn a couple call-ups in 2008 and 2009, finally got a couple decent looks in the past two seasons. Known as a superb defensive catcher, Ellis's offensive abilities have improved slowly but steadily, which has earned him the right to begin 2012 as the Dodgers' catcher in front of new signal-caller Matt Treanor.
Ellis has impressed manager Don Mattingly and GM Ned Colletti with his ability to get on base and create offense even without power or a particularly high average.
A.J., a 30-year-old with less than 100 games of overall experience, is the Dodgers' choice to help teach young catching prospect Tim Federowicz, acquired last summer for outfielder Trayvon Robinson.
Federowicz is another solid defensive catcher and also not known for being an offensive threat, but his potential has Dodger insiders excited for the future behind the dish.
Expect A.J. to put up similar numbers to his career .260 batting average, but do not expect him to repeat the .390 on-base percentage he put up in 2011. With a .330 on-base percentage, a couple of home runs and 50 RBI, Ellis will be a solid backstop and No. 8 hitter for the Blue Crew.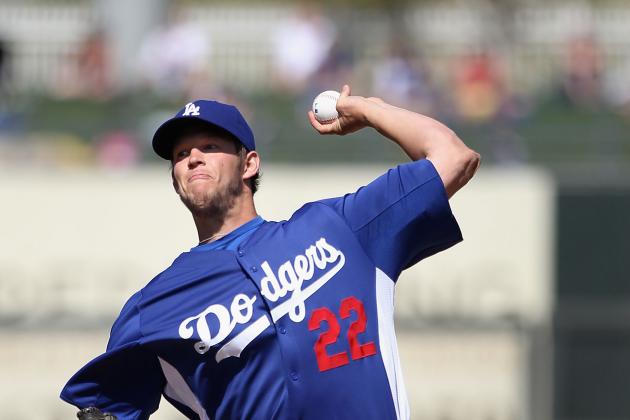 Christian Petersen/Getty Images

Clayton Kershaw, 2011 NL Cy Young winner, will get the opportunity to open this 2012 season both on Opening Day, and the home opener a week later at Dodger Stadium
Because of the way the season shapes up, Kershaw can start both games on regular rest and be the one to trot out to the ecstatic 56,000 Dodger fans on April 10th against the Pittsburgh Pirates.
Kershaw was 21-5 last season, posting a ridiculous 248 strikeouts, a 2.23 ERA and a sub-1 WHIP at .97. As the Dodgers' workhorse, Clayton pitched 223 innings, most of them leaving fans and baseball folk scratching their heads wondering how it was possible to be that good.
Clayton is a great defensive pitcher, a solid hitting pitcher who batted .225 last season, and a clubhouse leader. His social activism work in Africa with his wife Ellen makes him a community leader, and his place in Los Angeles history is the only thing this writer is thinking about.
Since, barring injury, Clayton will be one of the best pitchers in the game for the next decade, the Dodgers need to sign him to a long-term deal soon.
Kershaw has a deal for both 2012 and 2013, but after that he will demand a huge pay increase. His services are worth it, as his intangibles are priceless and his curveball will continue to break knees. Clayton dominates the NL West especially, putting up a sub-1.80 ERA against division foes over the last two seasons.
Expect another 20+ win season with a sub-2.50 ERA in 2012, with another All-Star appearance all but locked up as long as Clayton continues to pitch as he knows how to.
Kershaw is so impressive, he might be following Justin Verlander's example of a pitcher winning the MVP award, just because of his sheer dominance of opposing hitters.