Rafael Nadal: Indian Wells and Five Keys to Reclaiming His No. 1 Ranking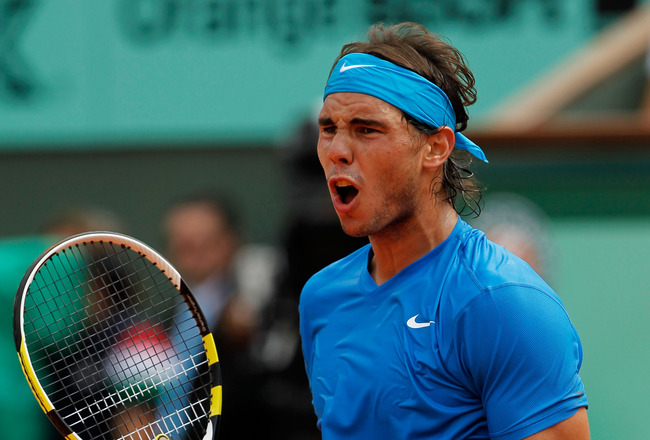 Matthew Stockman/Getty Images
Tennis superstar Rafael Nadal is currently ranked No. 2 on the ATP tour as he storms his way into Indian Wells, California for one of the most important tournaments of the year. Nadal is at the peak of his career and boasts a fearsome game and champion's heart.
So what's wrong?
Not much, actually. He has been a finalist in the last four Grand Slam events, a rare feat in modern tennis. Were it not for his rival Novak Djokovic, he likely could have added at least another Grand Slam trophy, if not two or three.
Nevertheless, Nadal will need to enhance his game to overcome Djokovic and an increasingly stronger field of tennis talent.
Here are five keys for Rafa's return to the top.
5. Use the Australian Open Final for Positive Motivation and Energy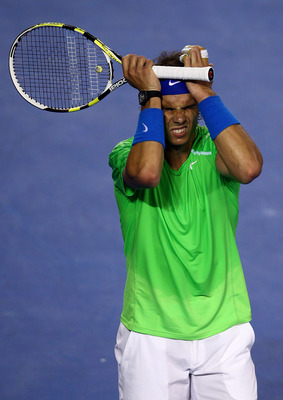 Clive Brunskill/Getty Images
Two reactive conclusions immediately followed Nadal's gut-wrenching loss to Djokovic in the 2012 Australian Open finals.
Reaction A: Nadal will never be the same. He has been broken and will not recover.
Tough defeats can be career changers in sports. Andre Agassi wrote in his autobiography, Open, that his 1995 U.S. Open loss to Pete Sampras crushed his career for a few years.
It takes a lifetime of effort and excellence to be the world's best, and to lose that achievement can be deflating. Nadal has always been on the upswing of his career, but now must learn to bounce back.
Reaction B: Nadal had a breakthrough against Novak. He will be back.
Nadal and his team have reportedly been resting and training for their reprisal. He should be ready and motivated. He is not one to shrink away from battle.
He must look to merge his competitive spirit with internal belief and external comportment. All champions have attitudes, but legendary champions have comebacks.
4. Keep Evolving with Hard Court Adjustments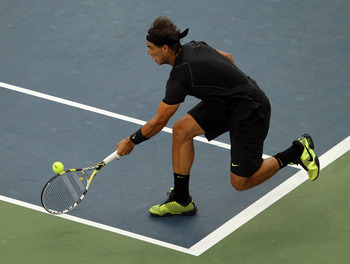 Nick Laham/Getty Images
One of the misleading generalizations about Nadal is that he always plays the same way. While it's true Nadal looks to bludgeon his opponents' backhands with his heavy topspin attacks, he also has made several adjustments in his rise as a well-rounded champion.
Nadal, in Gene Garber's article for ESPN, credited his Wimbledon and U.S. Open victories as an adjustment in techniques, which included stepping closer to the baseline, picking the ball up earlier and flattening his serve.
In the 2012 Aussie Open final, Nadal's fourth-set comeback was spurred by a harder, flatter forehand when he attacked some of Djokovic's shorter shots. It's this development on hard courts that may give him added confidence to swing away and finish off points quicker, even occasionally. Call it an adjustment for patient aggressiveness.
Even as he advances into his late 20s, Nadal might find it increasingly necessary to finish off points quicker to save his legs. If he gets caught hitting too many shallow slice shots, it will be trouble against Djokovic and other emerging contenders.
Indian Wells will provide slow hard courts, ideal to try new adjustments. If there are conditions such as strong wind, Nadal's topspin will give him an advantage. In 2009 at Indian Wells, Nadal buried Andy Murray in winds that topped 45 miles per hour.
Clay courts are ideal training academies, but hard courts are the measure of a well-rounded champion. Look for Nadal to add something new this spring.
3. Change Up a Few Predictable Patterns with Creative Thinking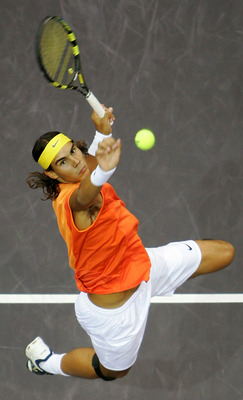 Julian Finney/Getty Images
Against the entire ATP tour not named Novak Djokovic, Nadal has successfully executed his relentless and rigid strategy. There is no reason for panic or radical overhauls to his game.
However, Nadal could take a look at the old-school guide to tennis variety now and then. Granted, modern tennis does not resemble the play nor conditions of Laver's world or Borg's era, but Roger Federer has proven there is plenty of room for creativity and touch in playing world dominant tennis.
Nadal can hit more of his unusual backhand angles that force his opponent out of a predicable pattern.
He could increase attempts to hit his backhand down the line when he is pulled wide on the deuce court. He may find more winners, and at least be in better position to set up his forehand attack.
Nadal has also located his serve well on pressure points. He found some success in serving at Djokovic a few times. Maybe it kept Djoker from extending his long limbs and countering on Nadal's high bounces.
There has been some mention of Nadal's diminished velocity with his first serve, but the key could be more variety of location to enhance his second serve. This has been more difficult for him on the deuce court where he can't pull his opponent wide.
Nadal will also be playing doubles with Marc Lopez at Indian Wells. Nadal said it will allow him to get more practice for different players and shots.
2. Dominate the Spring Season, Starting with Indian Wells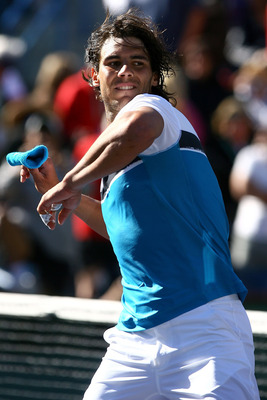 Jeff Gross/Getty Images
Nadal's epic 2010 season started slowly. He lost to Ivan Ljubicic in the semifinals at Indian Wells, and then lost to Andy Roddick in the semifinals at Miami.
A win at 2012 Indian Wells with impressive potential matches against Jo-Wilfried Tsonga, Roger Federer and Novak Djokovic would sound the clarion to the ATP.
Winning at Indian Wells and Miami would hasten Nadal's reclamation for No. 1, but his success is contingent upon the clay court season. He must recapture his former dominance with stops at Monte Carlo, Barcelona, Madrid, Rome and especially the French Open.
Nadal needs to impose his swagger and aura of invincibility that made him the most fearsome clay-court player in history, besides Bjorn Borg. And nothing creates swagger like winning titles.
The road to No. 1 is paved in clay and runs through western Europe.
1. Defeat Djokovic and Gain a Split at Wimbledon and the U.S. Open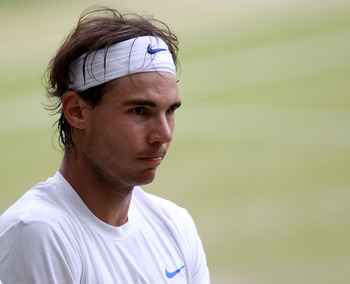 Julian Finney/Getty Images
Yes, Federer fans, your hero may yet be the favorite to win Wimbledon and the U.S. Open. His recent titles at Rotterdam and Dubai showcased his usual dominant self.
But Nadal is chasing Djokovic. There will be no return to No. 1 unless he turns the tables in their rivalry. He will need to equalize their rivalry with another Grand Slam win outside of Paris.
It will be a tall order, resembling his task in 2008 in finally beating Federer at Wimbledon. He will need to overcome an incredibly difficult matchup in the machine-like Djokovic, the one man on Earth who has outplayed him repeatedly.
It's possible, even likely, that Djokovic version 2.0 could still upgrade his own game and put a stranglehold on tennis.
In sports, once an ascendant power rises to the top, it is very difficult for the newly-deposed to return to his or her former level of dominance. More often, the baton will be passed, and the frontrunner will pull away.
But Nadal cannot think about other precedents. He has tremendous focus and belief, and will put his whole heart and talent into training and winning. He knows that he only needs to win his next match. Then he must prepare again.
We don't know if Nadal will succeed in his quest to recapture his No. 1 ranking.
We do know how hard he will try to climb back up the mountain again.
Keep Reading