2012 NFL Free Agents: Econ 101, or Why Mike Wallace Likely Won't Be a Patriot
March 8, 2012

Jeff Gross/Getty Images
The Pittsburgh Steelers declined to use their franchise tag on wide receiver Mike Wallace. Wallace is not, however, likely to become a true free agent next week.
Wallace, who was drafted in 2009, was signed to a three-year deal. (Incidentally, this option is no longer available to drafted players; the new collective bargaining agreement requires drafted players to sign four-year deals.) That makes him a restricted free agent. Thus, the Steelers can give him a tender that, like the franchise tender, gives him the right to negotiate with other teams, but requires another team signing Wallace to give a draft pick to the Steelers in return.
The Steelers are expected to use the highest tender available, giving Wallace $2.74 million, and requiring a first-round draft pick as compensation if the Steelers fail to match a competing team's offer.
Many analysts see the Patriots as a prime suitor for Wallace—CBSSports.com's Pat Kirwan goes so far as to give Pittsburgh the Patriots' No. 31 draft pick in his latest mock. A look at how Patriots head coach and de facto GM Bill Belichick views the draft through the lens of economics, though, suggests that Wallace isn't likely to be a Patriot anytime soon.
Utility
One problem with Wallace is that his production hasn't been terribly consistent.
Wallace had a great second half of 2010 and a great first half of 2011: in a 16-game span from Week 8 of the 2010 season to Week 7 of the 2011 season, Wallace had 10 games in which he amassed at least 100 receiving yards.
In the nine regular-season games since then, however, the most he's had is 82 yards in the Steelers' 27-0 win over the hapless St. Louis Rams; in three of those nine games, he's been held under 50 yards.
That has to be concerning to any head coach or GM.
Demand
When multiple teams are competing for a player's services, that player can ask for more money. Sometimes, there are intangibles involved in the decision: Randy Moss, for example, wanted to play with Tom Brady, which gave the Patriots an almost insurmountable edge in acquiring his services in 2007. Conversely, Derrick Mason supposedly turned down the Patriots in 2005 because his wife wanted to be in Baltimore.
There's no way to know if Wallace sees New England as a desirable destination, but it's unlikely that New England would be his only suitor, given how much salary cap room some NFL teams have.
Opportunity Costs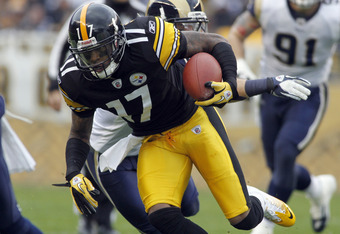 Justin K. Aller/Getty Images
If a person spends money on, say, a pizza, that person can't use those same dollars to buy a movie ticket: the person has "sacrificed" the movie ticket (at least for the time being) to buy the pizza.
Economists call such tradeoffs "opportunity costs."
In the case of an RFA tender, the opportunity cost has two components: money and draft picks.
In 2007, the Patriots were willing to give a second-round pick for Wes Welker because, in part, they felt they couldn't find a player of Welker's caliber late in the second round of that year's draft (a draft from which they figuratively ran screaming, trading away four consecutive picks).
Moreover, they felt that giving Welker $18 million over five years was not too steep a price to pay for Welker.
It's quite likely that signing Wallace to a five-year deal would cost the Patriots (or, for that matter, any other team) at least twice that much money. It would also cost them their first-round draft pick.
So the burning question is this: does Bill Belichick see giving Wallace $7 million (or more) a year, plus handing over a premium draft pick to a team they see as a perennial playoff rival, as the best possible use of those resources?
For example, he might view giving half that money to Brandon Lloyd, and using a draft pick on, say, Reuben Randle or Stephen Hill, might be a better use of the money. That would give him two chances to fill the pressing need of a vertical receiver. Moreover, the Patriots would save at least a couple of million dollars per year to use on defense or perhaps re-sign their own free agents, such as center Dan Connolly.
There are enough alternate scenarios that it seems unlikely the Patriots will part with their No. 31 pick for Wallace.