Chicago Bears: Why Mario Williams Should Be Their Top Target
March 6, 2012
Bob Levey/Getty Images
If you want Aaron Rodgers to wake up in the middle of the night with a cold sweat, then the Chicago Bears must sign Mario Williams.
Actually, forget about Rodgers. If you want to put the fear of God into every NFL quarterback, the Bears must make it a priority to line up Williams opposite Julius Peppers.
Just imagine how scary that Bears defense would be with Williams on one side, Peppers on the other and Brian Urlacher just waiting in the middle of the field.
Oh and don't forget about Lance Briggs and Charles "Peanut" Tillman.
The Houston Texans decided on Monday not to use the franchise tag on their former first overall pick. The main reason behind their decision was because the franchise tag would have cost them $22 million.
Now before you overact to that outrageous number, he will not be paid $22 million by any team next season. Williams can expect to sign a contract much like the one Peppers signed two seasons ago.
Peppers, at the age of 30, signed a six-year deal with $91.5 million. He received $42 million guaranteed over the first three years of the deal. Williams just turned 27, so it is possible he could get a longer deal and, in turn, receive more money, but it should roughly be the same yearly salary of $15 million.
If you are worried about the Bears cap space, don't. With the recent cuts of Anthony Adams and Frank Omilaye, they have roughly $28 million in cap space.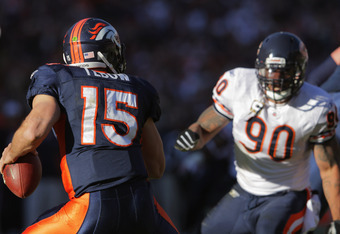 Doug Pensinger/Getty Images
The only real concern with Williams is that he only played in five games last season. He suffered a torn pectoral muscle. He did register his fifth sack of the season on the play on whichhe was injured.
Williams didn't miss a game over his first four seasons in the league but missed three in 2010, as well as the 11 last season.
In 82 career games he has 53 sacks, with a high of 14 coming during the 2007 season. He also has a career touchdown reception, so maybe he could help give Jay Cutler a big target in the red zone.
I have no idea what Phil Emery is thinking, but I did mention this possibility on my podcast this week and if nothing else, I may have given everyone the perfect defense to stop Robert Griffin III next season on Madden.
For those worried about going after a wide receiver like Vincent Jackson, the Bears could always go after a second-tier receiver like Robert Meachem and Pierre Garcon and then address it with their first-round pick.
In my opinion, I would be very happy with adding Michael Floyd and Garcon on offense, while having Williams on defense.
If Emery wants to win quickly, he should give Lovie Smith a bag of money and have him waiting on Williams's doorstep at midnight on Monday.
Make sure to follow me on Twitter @dachicagofan, and check out my weekly Bears podcast every Monday on my site The MG Experience.