Fantasy Baseball 2012: Shortstop Rankings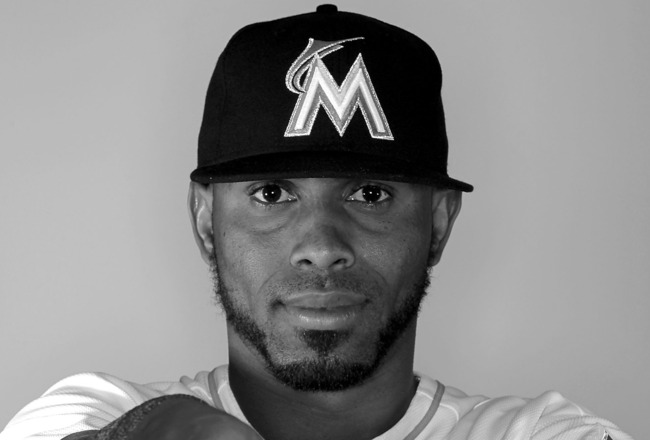 Marc Serota/Getty Images
This is the next installment of my fantasy baseball rankings series; shortstops will be ranked in this slideshow.
I rank my top 20 shortstops with their projected stats included.
If you want to read my previous rankings slideshows, here are the links:
http://bleacherreport.com/articles/1083138-2012-fantasy-baseball-catcher-rankings
http://bleacherreport.com/articles/1084862-2012-fantasy-baseball-first-base-rankings
http://bleacherreport.com/articles/1089319-2012-fantasy-baseball-2nd-base-rankings
1. Troy Tulowitzki, Rockies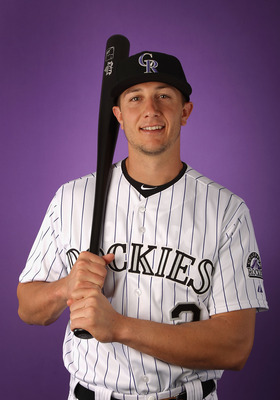 Christian Petersen/Getty Images
Troy Tulowitzki is one of the most consistent hitters in baseball and without a doubt the best shortstop. He can hit 30 home runs each year and steal plenty of bases.
The only downside to drafting him is his slow starts, but when he gets hot you never want to face opponents who own him.
Don't hesitate to spend a first-round pick on him.
Projected Stats:
.308, 94 R, 30 HR, 109 RBI, 12 SB
2. Jose Reyes, Marlins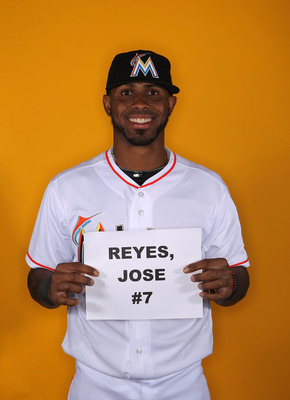 Marc Serota/Getty Images
Jose Reyes has elite speed and is an excellent contact hitter. The Miami Marlins lineup is an upgrade from the Mets lineup, too.
However, Reyes is always an injury risk, and he hasn't played a season without a DL trip for a long time.
If you want Reyes you will likely have to take him in the second round, maybe even the first. He's a high-risk, high-reward pick.
Projected Stats:
.295, 95 R, 8 HR, 58 RBI, 35 SB
3. Asdrubal Cabrera, Indians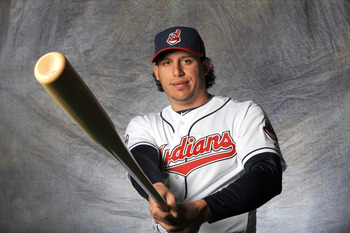 Rich Pilling/Getty Images
Cabrera's power surge was unexpected. He hit a career-high 25 home runs, had 92 RBIs and scored 87 runs in 2011 for the Cleveland Indians.
Repeating last year's numbers is a long shot, but Cabrera is still a great fantasy starter and one of the better shortstops.
Projected Stats:
.275, 81 R, 18 HR, 79 RBI, 17 SB
4. Starlin Castro, Cubs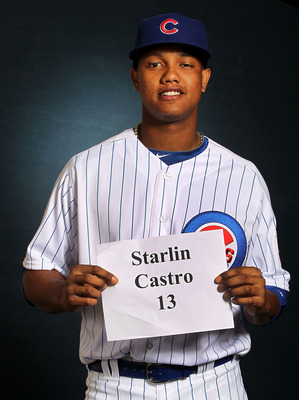 Jamie Squire/Getty Images
Castro can be counted on for a high average and is an excellent base-stealer. It's scary to think that he's still entering his prime.
Castro has major upside since he's still only 21. His numbers will probably be similar to last year since the Chicago Cubs lineup hasn't gone through any major changes.
Projected Stats:
.302, 86 R, 9 HR, 67 RBI, 25 SB
5. Elvis Andrus, Rangers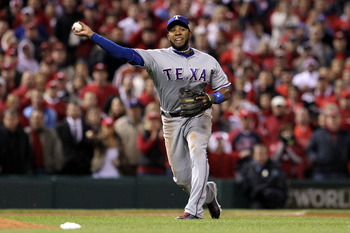 Jamie Squire/Getty Images
Andrus hits leadoff in the most powerful lineup in baseball—the Texas Rangers—so he's sure to score lots of runs, and he can always steal 30-plus bases.
He still has upside at age 23, too. His power is very limited, though.
Projected Stats:
.274, 92 R, 5 HR, 53 RBI, 34 SB
6. Alexei Ramirez, White Sox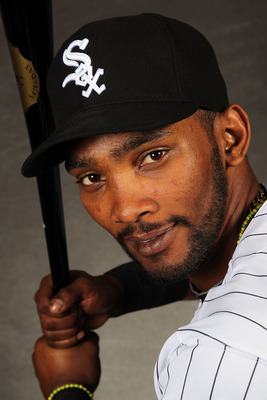 Jamie Squire/Getty Images
Ramirez had a slight regression in his numbers last year, but they were still pretty solid. His plate discipline improved too.
If the Chicago White Sox lineup can improve, Ramirez's numbers may be able to go up from last year. He can always be counted on for 15 home runs and can hit 70 RBI.
Projected Stats:
.278, 82 R, 18 HR, 72 RBI, 11 SB
7. Derek Jeter, Yankees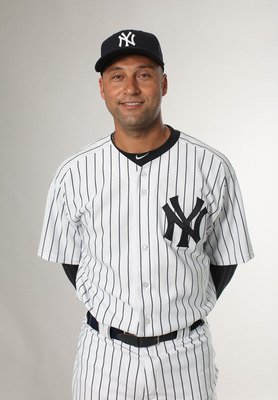 Nick Laham/Getty Images
Jeter is declining naturally at age 37, but hitting in a loaded New York Yankees lineup and hitter-friendly park is helping him continue to be a serviceable hitter.
He only hit six home runs last year, and that number can only go up. He still scores lots of runs too.
Projected Stats:
.290, 90 R, 10 HR, 65 RBI, 18 SB
8. Jimmy Rollins, Phillies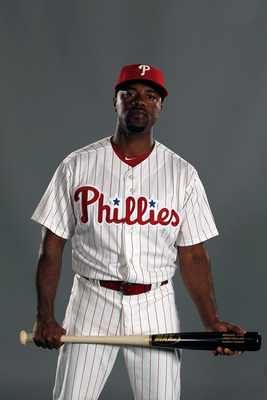 Jonathan Ferrey/Getty Images
The Philadelphia Phillies' Jimmy Rollins is aging and declining like Jeter, but also has productive seasons left in him. He can steal a lot of bases and still has decent pop.
He's an injury risk if you draft him, though.
Projected Stats:
.266, 80 R, 15 HR, 60 RBI, 27 SB
9. Erick Aybar, Angels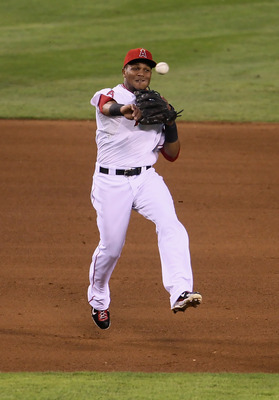 Jeff Gross/Getty Images
Aybar had the best season of his career in 2011, and he's just now entered his prime.
Aybar has great speed and will be hitting in a better Los Angeles Angels of Anaheim lineup with Albert Pujols arriving and Kendrys Morales returning to that lineup.
Projected Stats:
.281, 78 R, 9 HR, 61 RBI, 28 SB
10. J.J. Hardy, Orioles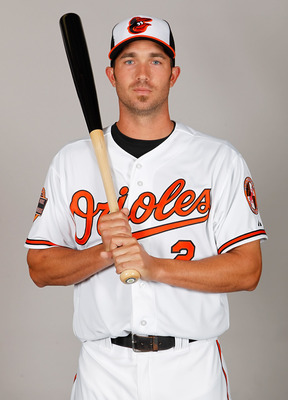 J. Meric/Getty Images
Hardy unexpectedly hit 30 home runs last season. Hitting in a stacked Baltimore Orioles lineup helped increase his numbers.
He won't repeat his numbers from 2011, but his power stroke is still there.
The downside to drafting Hardy is the lack of stolen bases.
Projected Stats:
.260, 74 R, 24 HR, 75 RBI, 0 SB
11. Jhonny Peralta, Tigers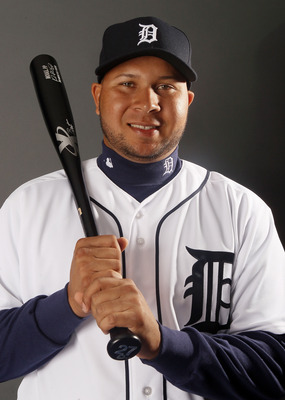 Elsa/Getty Images
Peralta posted career-high numbers for the Detroit Tigers last year, but had a slow second half. His numbers will likely regress.
He still has pop though, and hitting in the Tigers lineup will certainly help his numbers stay up.
Projected Stats:
.272, 69 R, 18 HR, 82 RBI, 1 SB
12. Sean Rodriguez, Rays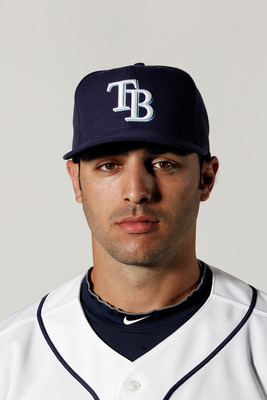 Jonathan Ferrey/Getty Images
The Tampa Bay Rays' Rodriguez showed improvement in his plate discipline last season, and he has power that he hasn't showcased in the majors yet.
Look for him to reveal his power stroke this season. He can steal plenty of bases too—and 20 isn't out of reach for him.
Rodriguez is a player who should be on everyone's sleeper list.
Projected Stats:
.255, 66 R, 16 HR, 65 RBI, 17 SB
13. Yunel Escobar, Blue Jays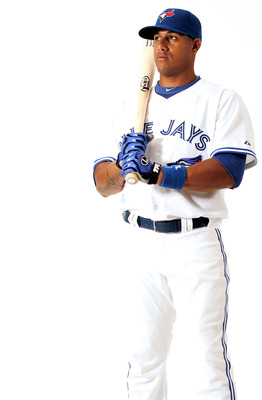 Jonathan Ferrey/Getty Images
Escobar is a solid contact hitter for the Toronto Blue Jays and has a little bit of pop, but he doesn't have very much speed.
Escobar is a high-end backup at best for fantasy owners.
Projected Stats:
.279, 80 R, 12 HR, 55 RBI, 3 SB
14. Ian Desmond, Nationals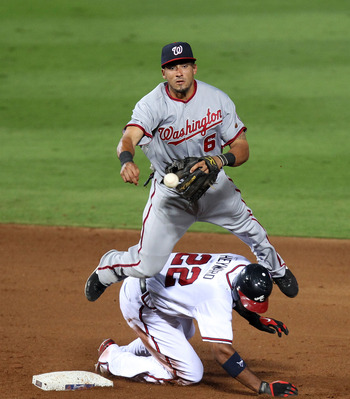 Mike Zarrilli/Getty Images
Desmond struggled with his plate discipline last season, but he finished strongly. He has plenty of speed, but his power is limited.
His abysmal fielding may put his starting job in danger too, but the Washington Nationals lineup is stacked, so his numbers will benefit from that.
Projected Stats:
.254, 63 R, 11 HR, 56 RBI, 20 SB
15. Dee Gordon, Dodgers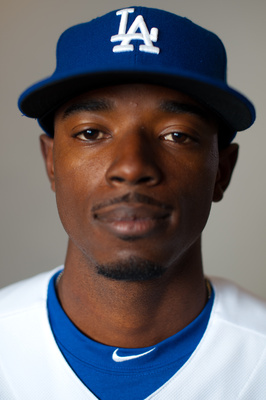 Rob Tringali/Getty Images
Gordon has zero power but his speed is unbelievable. He can steal 40 bases in a season.
He lacks plate discipline and needs to learn to take more walks, so his .304 average in his late debut was likely a fluke.
The steals alone make the Los Angeles Dodgers shortstop a viable option, though.
Projected Stats:
.277, 75 R, 0 HR, 37 RBI, 41 SB
16. Zack Cozart, Reds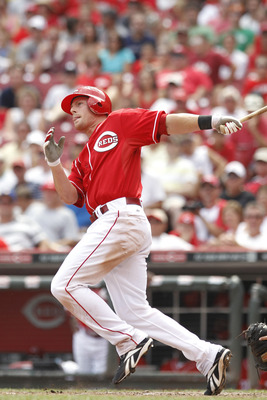 Joe Robbins/Getty Images
Cozart has good power for a shortstop and has great speed too, making the Cincinnati Reds prospect a sleeper with high upside.
His breakout season won't likely come this year, and his average will fall back to Earth, but he's a must-have in keeper leagues.
Projected Stats:
.255, 63 R, 12 HR, 58 RBI, 20 SB
17. Mike Aviles, Red Sox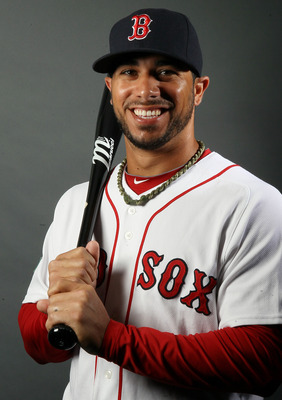 Elsa/Getty Images
Aviles will be hitting in a better lineup from now on, and there won't likely be a platoon at shortstop like the Boston Red Sox used to have when Jed Lowrie was their shortstop.
Aviles has plenty of speed and may be able to lurk near his career-high .304 batting average.
Projected Stats:
.275, 60 R, 10 HR, 59 RBI, 16 SB
18. Stephen Drew, Diamondbacks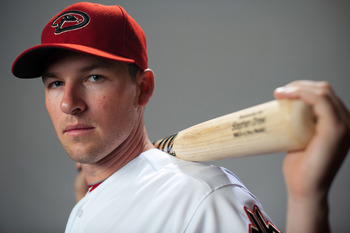 Rob Tringali/Getty Images
Drew had his worst season ever last year, and his season-ending injury made matters worse.
He may have to sit out at the beginning of the season for the Arizona Diamondbacks to get back to full health, but his performance can only improve from last season.
Projected Stats:
.268, 62 R, 10 HR, 54 RBI, 5 SB
19. Alex Gonzalez, Brewers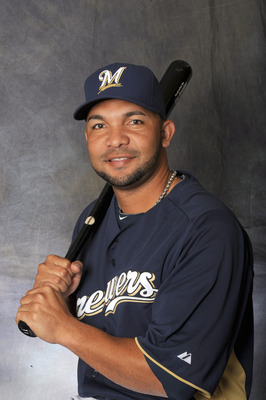 Rich Pilling/Getty Images
The Milwaukee Brewers' Alex Gonzalez has terrible plate discipline and has no speed, but he still has plenty of pop to make a serviceable backup at shortstop.
Projected Stats:
.244, 57 R, 17 HR, 66 RBI, 1 SB
20. Jed Lowrie, Astros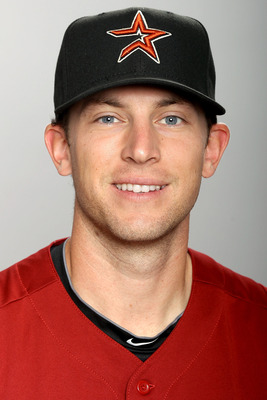 Matthew Stockman/Getty Images
Lowrie has platooned with the Red Sox, limiting his fantasy value.
He has the starting shortstop job with the Houston Astros now though, and there doesn't seem to be anyone who will take at-bats away from him currently.
This makes him a decent fantasy shortstop, and his pop isn't too bad.
Projected Stats:
.262, 57 R, 11 HR, 56 RBI, 3 SB
Keep Reading