Tennis: The Dubai Championships and the Power of Money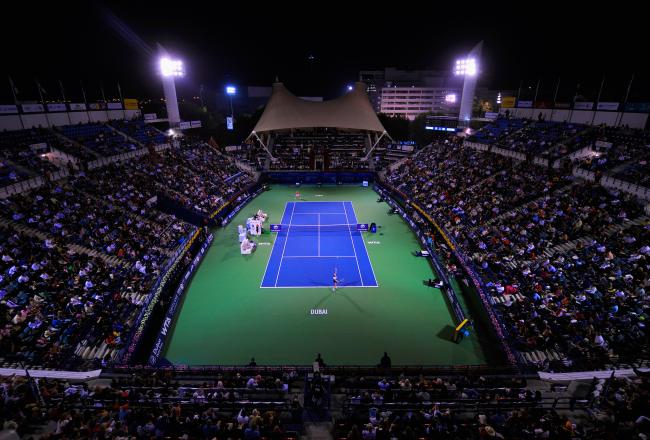 Michael Regan/Getty Images
If you are a tournament organizer and want to gather all the top tennis players in the world in your event, you will need to be lucky enough to be granted a date by the ATP or ITF and put up a Masters 1000 or a Grand Slam tournament, right?
Wrong! If you have Petrodollars you can also do it in a smaller event.
The Dubai Duty Free Tennis Championships is the only ATP tour event that manages to attract all the top-level players in a one week, 32-player-size draw contest.
The convincing argument is something called an "appearance fee," which is extra cash that tournament promoters pay for top players to be in their events. The regular prize money offered by the ATP tour 500-level and below are no longer enough motivation get the big dogs off their couches.
Having big names in a tournament is guaranteed ticket sales, which is not the greatest share of revenue, but makes it easier to attract sponsors most importantly.
Everybody knows that money is not a problem in the United Arab Emirates, and they certainly take full advantage of that to put up a great show in Dubai.
The tournament distributes a total of $1,700,475 in prize money, and it is estimated that more than three times that amount is paid to the players in the form of appearance fees.
The period of the year between the Australian Open and Indian Wells is when players take different paths in their search for points and a better rank position.
Europeans and fast-surface players choose the indoor events in Rotterdam and Marseille. North American players stay home and play in San Jose and Memphis. Clay court specialists tour to South America—Brazil, Chile and Argentina—and to Mexico.
Is the payment of appearance fees a good thing for tennis?
And the top-ranked players in the world, with the exception of Rafael Nadal this year, go and pick up some extra cash in Dubai.
A smart schedule is extremely important to players of every level. A well-thought and planned sequence of tournaments can and will make a difference in a player's ranking.
In times when scheduling is the center of discussion around the tennis world, money seems to be the one thing that puts an end on it. Money will always influence a player's schedule.
The tournament in Dubai and a few other millionaire exhibitions around the world exist to prove wrong the naive people who think that players like Roger Federer, Novak Djokovic, Rafael Nadal and Andy Murray no longer play for money.
For as much as we don't want to believe in it, money is a powerful resource and seems to solve any thing in the world we live in nowadays.
Of course, it isn't politically correct and players will never admit it. But the signs are there and, at the end of the day, it seems that it is indeed all about money.
This article is
What is the duplicate article?
Why is this article offensive?
Where is this article plagiarized from?
Why is this article poorly edited?