NHL Referee Tim Peel Should Be Immediately Fired After Brutal Blown Calls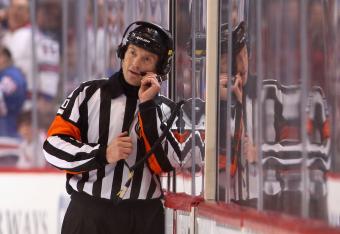 Christian Petersen/Getty Images
"The Blown Call of the Year."
That's what many called NHL referee Tim Peel's complete lapse of judgement in a Feb. 8th game between the Carolina Hurricanes and Anaheim Ducks.
Midway through overtime, Peel let a blatant trip of Carolina forward Jussi Jokinen go totally uncalled, giving Anaheim the puck deep in the Hurricanes' zone. The should-be penalized player, Corey Perry, then proceeded to blast home the game-winning goal a mere six seconds later.
Around the hockey world, Peel's horrific mistake fortunately wasn't ignored.
Yahoo! Sports asked if it was the "Worst blown call of the season?", later describing Peel rather accurately with the words "visually challenged." Deadspin titled their video of the play "Awful Uncalled Penalty Sets up Game-Winning Goal."
But the NHL stayed mum.
Then, on the night of March 3rd, it was time for Peel to ref a 'Canes game again. Carolina was facing the red-hot Tampa Bay Lightning in the final game of a six-game home stand, and the two teams battled valiantly to a 3-3 draw after 60 minutes of play.
So when overtime began and Tim Peel still hadn't made a bad call on the night, everyone in the arena knew that it was just too good to be true.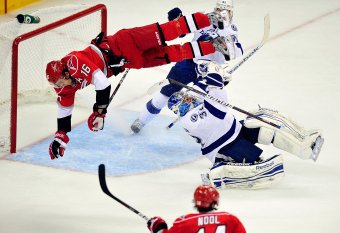 Grant Halverson/Getty Images
They were correct.
On a fast break 90 seconds into overtime, 'Canes center Brandon Sutter, rushing towards the net in an attempt to score on a centering pass, found himself on a crash course for Tampa goalie Matheiu Garon.
While leaping to go over top of Garon, Steven Stamkos gave Sutter a subtle shove downwards and all chaos erupted. Both Sutter and Garon smashed into each other in a glorious collision, and, all the while, Stamkos watched smugly from the side.
Peel, governing that end of the ice, blindly failed to see the real explanation for the incident and called a two-minute roughing penalty on Sutter.
One minute and 36 seconds later, Stamkos scored in ironic fashion to give the Lightning the extra point.
In the post-game interviews, Sutter put it honestly simple, telling reporters, "It was a horrible call." Coach Kirk Muller decided not to weigh in personally, but the fans did it for him, chanting their oft-used "Ref You Suck" call to arms for all 1:36 of the Bolts' power play.
But the NHL stayed mum.
Long before these back-to-back mistakes involving the Hurricanes, however, Peel had already established a bad reputation.
Peel's questionable call on Nashville's Shea Weber during overtime.
In May 2011, during the Western Conference semi-finals series between the Vancouver Canucks and Nashville Predators, Peel called a very questionable penalty on the Preds' Shea Weber halfway through overtime. The Canucks then cashed in on the ensuing man-advantage, taking a 2-1 series lead they would never relinquish.
"Tim Peel is a terrible official. Plain and simple," posted the Predators blog "The View from 111" the following morning. No one disagreed.
But the NHL stayed mum.
Now, as the controversy surrounding Peel grows by the hour, firing him looks like an undoubtedly justified solution—but, yet again, the National Hockey League stands in the way.
In addition to utterly ignoring the Peel debate over the past year, the League hasn't fired a referee since 2009, when former official Dean Warren filed a still-pending lawsuit against the NHL regarding his dismissal.
What's to say that they can't fire Peel anyway? Well, like Warren was, he's a member of the National Hockey League Officials Association; for the NHL, firing him would just be another one-way ticket to a high-profile court appearance.
Without a doubt, Peel deserves to be immediately fired after his third incredibly terrible blown call in a span of 10 months.
But will that actually happen?
Probably not.
Mark Jones is currently Bleacher Report's featured columnist and community leader for the NHL's Carolina Hurricanes. In his 40 months so far with the site, he has written more than 350 articles and received more than 425,000 total reads.
This article is
What is the duplicate article?
Why is this article offensive?
Where is this article plagiarized from?
Why is this article poorly edited?

Carolina Hurricanes: Like this team?