It's Now or Never for Andy Murray After His Loss to Roger Federer
March 3, 2012

Mark Kolbe/Getty Images
How does it feel to be Andy Murray? For the past few years he has sniffed success but has not tasted Grand Slam victory. For all of his improved consistency and fight, he doesn't possess the weapons of his three great adversaries.
Murray has become this generation's version of Michael Chang, counter-punching and scrapping his way to the edge of prominence. His confidence is higher, and it seems his time has arrived to take a seat atop tennis.
He defeated the great Novak Djokovic in the semifinals of the Dubai Duty Free Tennis Championship but went down quickly in the finals to Roger Federer, putting up a fight but not posing much of a challenge. Federer rolled 7-5, 6-4 in a match that  barely topped 90 minutes.
Murray's window of opportunity is closing quickly. On the verge of his twenty-fifth birthday, he has about two years to seize a Grand Slam victory or two. Then his run will likely end.

Ad In
In the first set against Federer, Murray displayed elements of his improved game. He has been adding more bite to his baseline counter-strokes, leaning in extra hard on his double-backhand. He has been looking to move forward on shorter balls and to hit winners before Federer can completely control his fate.
Murray has realized it's not enough to wait for a Grand Slam to fall into his lap. He is trying to leapfrog three great players who possess powerful advantages—Federer's masterful forehand and shotmaking; Rafael Nadal's brutally effective high topspin; Djokovic's crushing baseline blows.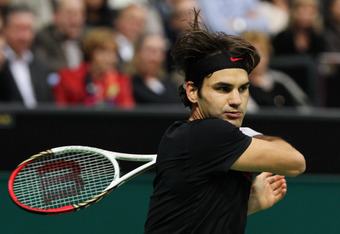 Dean Mouhtaropoulos/Getty Images
Ad Out
Despite Murray's more aggressive approach, Federer still controlled most of the points. At key moments, Federer's forehand pushed Murray around as if he were toying with a practice partner.
In the sixth game of the first set, Murray twice faced Federer at break point, but each time he was overpowered at the baseline. Murray gave facial shrugs at the baseline as if it could somehow provide an answer to his failed opportunities.
For 50 minutes, Murray and Federer were even. At 5-5 and love-30, facing Murray's serve, Federer hit a spinning backhand that barely cleared the net and dropped in front of a scrambling Murray. It was the kind of shot that only Federer could produce, one that has escaped Murray his whole career. You could see the pressure starting to crack Murray's resolve.
The next point, Murray made a mistake by trying a drop shot when he was at the left side of the net and with an option to hit an outright winner. Federer easily retrieved the ball and went on to break Murray two points later. Then he closed out Murray at love.
For 50 minutes, Murray and Federer fought to a draw, but two minutes later it vanished in a puff of smoke. It was as if Federer were some kind of diabolical magician, setting up an illusion of victory that disappeared just as Murray reached out to touch it.
Federer finished off Murray with a fairly routine second set, breaking him twice. He set up match point with a couple smashing forehands deep in the corner to Murray's backhand, blowing him off the baseline.
At match point, Federer cloned another vicious forehand and sent Murray back to the locker room to look for answers. Federer, 30, still has a lot more clout to his forehand than his younger adversary.

Match point
 
Murray was staring at the same obstacle that faced Michael Chang 15 years ago. Chang possessed great retrieving skills, solid strokes and great desire to add to his lone French Open victory, but there was always Pete Sampras, Andre Agassi, Jim Courier and other more powerful players.
Chang got whitewashed by Thomas Muster for the 1995 French Open championship. He got scorched by Boris Becker in the 1996 Australian Open finals. And he was annihilated by Sampras in the 1996 U.S. Open finals in a match that could have brought him the No. 1 ranking. It was not to be.
Now Murray fights to win his elusive Grand Slam. He was obliterated by Federer and Djokovic in his three Grand Slam finals appearances. Murray is great but cannot beat his three top rivals when they are at their best. He has to play his very best tennis and hope that they come down a notch.
Murray has two years left to win a Grand Slam. If it hasn't happened by then, it never will. Younger and more skilled players will be coming, and he will need Grand Slam-winning confidence to keep alive his resolve and spirit, and to try to win more.
Murray could win one or two Grand Slams, but he better cash in soon. Otherwise, the odds are against him.